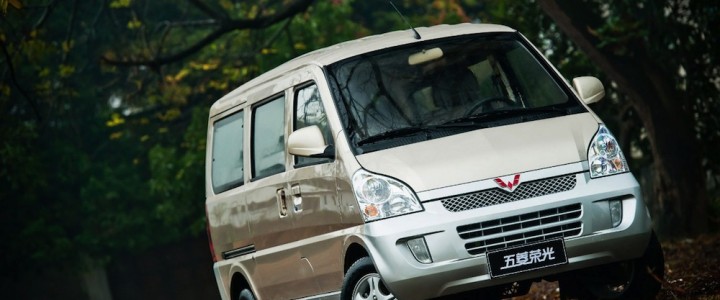 Wuling
Wuling refers to two related automotive organizations based in China, both of which use the same Wuling name and logo.
Wuling Motors
In 2007, a joint venture between the Wuling Group and Dragon Hill Holdings Limited established the Liuzhou Wuling Automobile Industry Co., Ltd. in Liuzhou, Guangxi, China.
Doing business as Wuling Motors, the organization produces engines, special purpose vehicles such as mini-electric cars, people movers, trucks and buses, and auto-parts. It has three subsidiaries:
Liuzhou Wuling Motors United Development Co., Ltd.
Liuzhou Wuling Special-purpose Vehicle Manufacturing Co., Ltd
Liuzhou Wuling Liuji Power Co., Ltd.
SAIC-GM-Wuling
In 2002, a joint venture between SAIC Motor, General Motors, and Liuzhou Wuling Motors Co Ltd. was established as SAIC Wuling Automobile Co., Ltd.
Abbreviated as SGMW, the joint venture is based in Liuzhou, Guangxi Zhuang Autonomous Region, in southwestern China. The joint venture makes commercial and consumer vehicles sold in China under the Wuling and Baojun brands, respectively.
The venture quickly gained success after its creation, becoming a major mass-volume automotive producer in the interior of China and one of the largest manufacturers of microvans in China.
1,286,000 vehicles in 2011
1,445,000 vehicles in 2012
SGMW's vehicles range in price from $5,000 to $10,000 USD.
It has made its mark in the area of microvans, which are compact commercial vehicles known as bread box cars, or mianbao che in Chinese. One of its more popular microvan models is the Wuling Sunshine, which sells more than 450,000 units per year, making it the most popular vehicle model in China, according to SGMW.
Wuling Automobile also has two other divisions outside of its primary automotive business, including:
Wuling Engine, which manufactures Wuling-branded engines for small autos and motorcycles.
Wuling Automobile, which manufactures generator sets under the Longward brand.
Name And Logo Use
Both SGMW and Liuzhou Wuling Automobile Industry Co. Ltd. utilize the Wuling brand name and the red, five-diamond "W" logo.
Wuling News
Follow GM Authority's Wuling coverage here: Wuling news.