2017 Opel Insignia Family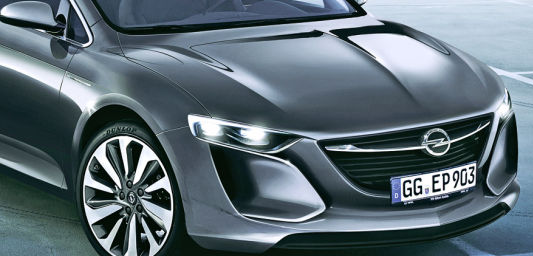 2017 Opel Insignia Family
We expect the Opel Insignia family to be completely overhauled (redesigned and re-engineered) for the 2017 model year, representing the second generation of the Insignia nameplate.
Following is speculative and unconfirmed information about the 2017 Opel Insignia. This page is a continuous work-in-progress and will be updated on a regular basis as we await official details from General Motors and Opel.
If you notice any inaccuracies about the information provided, have recommendations, or suggestions to share, please let us know here.
Following are our expectations of the 2017 Opel Insignia:
Four-door sedan, five-door hatchback, and five-door wagon body styles
Noticeably longer than the first-generation model it replaces
Unveiled in 2016 as a 2017 model year vehicle to launch in the second half of 2016
All-new exterior design in line with the latest Opel-Vauxhall-Buick design language
All-new interior that is of a higher quality and is also more space-efficient than the first-generation model, resulting in more interior room
Based on GM's new global E2XX platform directly shared with the 2016 Chevrolet Malibu
Front-wheel drive with optional all-wheel drive
Roughly 300 pounds (136 kg) lighter than last-generation Insignia, improving fuel economy and driving characteristics such as acceleration, braking, and handling
New and existing range of gasoline and turbo-diesel engines. Notable new arrivals include:

1.5L LFV Ecotec could be the mid-level gasoline engine
2.0L Turbo I4 LTG could be the most uplevel gasoline engine, below the Insignia OPC
All engines will likely be mated to an eight-speed automatic transmission or six-speed manual transmissions

The latest IntelliLink infotainment and active safety/driver assistance systems
High-performance Insignia OPC variant
Pricing in line with the first-generation Insignia
Very closely related if not identical to the upcoming 2017 Buick Regal as well as the next-generation 2018 Holden Commodore (see section entitled Global Variants)
The 2017 Buick Insignia could be offered in the following four body styles:
Four-door sedan (4-turer)
Five-door, sedan-like hatchback (5-turer)
Five-door wagon (Sports Tourer)
Ruggedized five-door wagon (Country Tourer)
We expect the performance-oriented Insignia OPC to return for the second-generation Insignia range.
It will likely be powered by a high-output variant of GM's Turbocharged 2.0-liter I4 LTG engine making close to 300 horsepower and 300 pound-feet of torque, mated to a choice of a six-speed manual or eight-speed automatic transmission hooking up to the latest Haldex all-wheel drive system, like the one in the new Buick Envision crossover.
More information on the new Opel Insignia OPC coming soon.
The 2017 Opel Insignia will be sold in various global markets under different brands and nameplates, as follows:
Brand
Model
Market
Opel
Insignia
Europe, Russia, CIS
Vauxhall
Insignia
United Kingdom
Buick
Regal
China, North America
Holden
Commodore
Oceania (Australia
New Zealand)
We expect that the second-generation Opel/Vauxhall Insignia and 2017 Buick Regal to serve as the replacement of the next-generation, 2018 Holden Commodore. We base this on several factors, including that:
The next-generation, 2018 Commodore has been confirmed to be based on a front-drive platform; the Insignia/Regal will be based GM's new, front-drive E2XX platform
Dimensionally, the Holden Commodore has been on the larger end of midsize vehicles; just as well, the new Insignia/Regal will grow in length to be on the larger end of the midsize segment
The next-gen Commodore will have a wagon variant to succeed the Commodore Sport Wagon; the second-generation Insignia will offer such a vehicle