2021 GMC Yukon Denali
The 2021 Yukon Denali debuts a more confident stance and improved proportions enabled by its longer wheelbase and new chassis. As bold as the new exterior design is, the biggest stories are found inside the new Yukon.
"Yukon was the model in which Denali originated in 1999, and now more than 20 years later, we're introducing the quintessential Denali," says Helen Emsley, executive director of Global Buick and GMC Design. "It delivers a first-class experience with an all-new, exclusive interior and a bolder, more distinctive exterior design."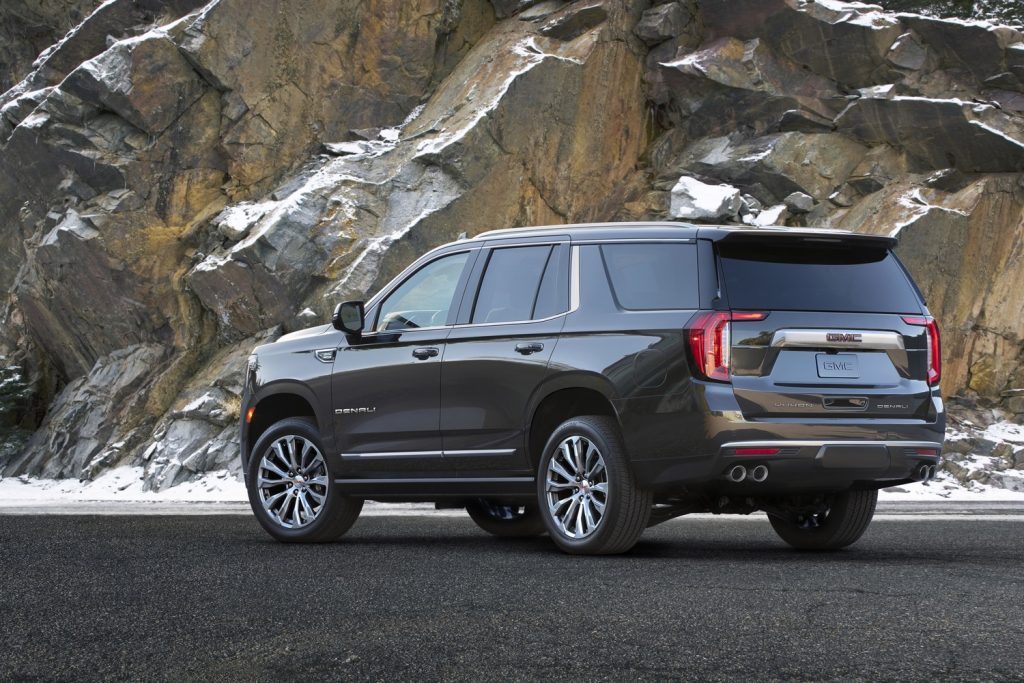 Exterior Design
Denali's trademark Galvano chrome grille is larger and more detailed, with a precise dimensional pattern featuring over 10,000 individual reflective surfaces. Advanced lighting technology distinguishes the Yukon Denali from other SUVs. GMC's C-shaped front lighting signature is conveyed through a prominent "light blade" that delivers uniform LED illumination for the daytime running lamps. LEDs are also used for the headlamps, taillamps, fog lamps and other illuminative elements, with lenses constructed from durable material with an almost crystalline quality.
Additionally, the Hunter Metallic exterior color option is only available on Yukon Denali models.
Interior Design
For the 2021 model year, the Yukon Denali model features a first-ever exclusive interior, complete with a brand new instrument panel, unique seats and a choice among four unique color themes, each with its own personality – outfitted with premium and authentic materials.
Each of the four color themes include authentic wood trim, with a fully natural look and texture. Leather surfaces are cut and stitched by hand in a unique Denali pattern.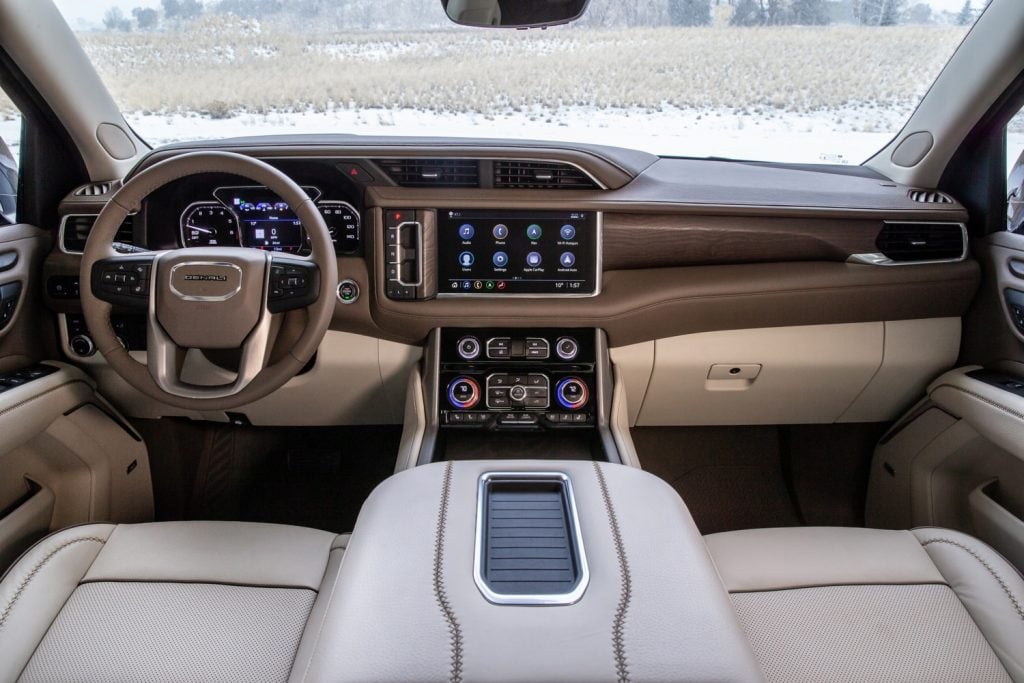 As always, Denali offers the highest level of premium features and content in the new Yukon and Yukon XL. Highlights include:
HD Surround Vision Camera
15-inch-diagonal multicolor Head-Up Display
Rear Pedestrian Alert
Fourth-generation Magnetic Ride Control
Premium available options include:
22-inch wheels
Panoramic sunroof
Air Ride Adaptive Suspension
Active Response 4WD System

Denali, GMC's premium luxury sub-brand, has driven much of the brand's consistent growth in recent years by adding an elevated level of design and premium craftsmanship. Introduced on the 1999 Yukon, Denali has since grown to include all GMC product lines but has always been synonymous with Yukon. About 60 percent of Yukon buyers select Denali, making it a focal point for the next-generation design.
Powertrain
The 2021 GMC Yukon Denali offers two engine choices, which includes the addition of a diesel option:
6.2-Liter Ecotec3 L87 V8 (Gasoline) – Features variable valve-timing and direct injection, and produces an SAE-certified 420 horsepower / 313 kilowatts @ 5600 RPM with 460 pound-feet / 623 newton meters of torque @ 4100 RPM.
3.0-Liter Duramax LM2 I6 (Diesel) – Features dual-overhead cams and direct injection, and produces a GM-estimated 277 horsepower / 207 kilowatts @ 3750 RPM with 460 pound-feet / 623 newton meters of torque @ 1500 RPM.
Price
Pricing on the 2021 GMC Yukon Denali will be announced closer to the official launch later this year.
Availability
We expect the 2021 Yukon Denali to go on sale sometime during the first half of the 2020 calendar year.
Discussion
Discuss the 2021 GMC Yukon Denali in our GMC forum.
News
Follow our coverage of GMC Yukon Denali news.
2021 GMC Yukon Denali Pictures
More 2021 GMC Yukon Info
2021 GMC Yukon Denali Pages