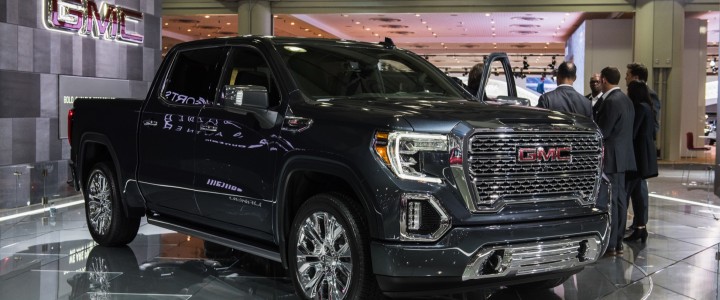 2020 GMC Sierra 1500
The 2020 Sierra 1500 is expected to receive a few minor updates and changes.
Following is speculative and unconfirmed information about the 2020 GMC Sierra 1500. This page is a continuous work-in-progress and will be updated on a regular basis as we await official details from General Motors and GMC.
If you notice any inaccuracies about the information provided, or have edits to suggest, please let us know here.
2020 Sierra 1500 Expectations
An all-new, fourth-generation Sierra Light Duty was released for the 2019 model year. The 2020 Sierra 1500, or light duty (LD), is expected to continue with a few minor changes and updates:
New exterior colors
Slight changes to equipment groups and packages
Potential addition of news models, such as a potential extreme off-road variant
Potential introduction of new features, such as an oversized or panoramic moonroof
Potential addition of a power tailgate from the Chevy Silverado
Platform
The 2020 Sierra 1500 will continue riding on the GM T1 platform that also underpins the 2020 Sierra HD, 2020 Yukon, and other full-size GM trucks and SUVs.
Production
The 2020 Sierra 1500 will be assembled at the following factories:
Availability
We expect the 2020 Sierra 1500 to become available at the end of Q2 2019 or the beginning of Q3 2019.
Beyond 2020
We expect the fourth-generation Sierra 1500 to remain in production thru the 2025 model year.
An all-new, next GMC Sierra 1500 will launch after the 2025 model year.
Discussion
Discuss the 2020 GMC Sierra 1500 in our GMC forum.
News
Follow our coverage of GMC Sierra news and Sierra 1500 news.
2020 GMC Sierra 1500 Pictures
2020 Sierra 1500 pictures currently not available. In the meantime, we are providing photos from the previous model year, which is mostly the same as the 2020 Sierra 1500, but with a few small expected changes.