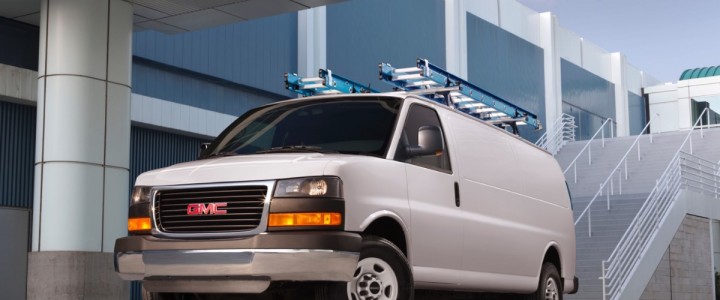 GMC Savana
The Savana is a line of full-size vans from General Motors' GMC brand. The Savana replaced the Vandura in 1996.
The vehicle spans a single generation, though it did receive a facelift for the 2003 model year.
During normal months, the Savana is outsold by its Chevy-branded twin — the Chevrolet Express — by a ratio of 3 to 1.
The Savana was introduced for the 1996 model year and was manufactured until 2002 with fairly little changes.
2003 Model Year Update
The 2003 update to the Savana delivered a revised front fascia. The rest of the body was left untouched.
In 2004 Stability Control (Stabilitrak) was added to all passenger vans and in 2008 the interior was updated and side impact roof airbags were made standard on all passenger van models. In 2006, the 6.6L Duramax Diesel V8 LGH was added as an option.
The Savana 1500 (1/2 ton, <8500 pounds GVWR) model was discontinued in June 2014 for the 2015 model year, making the 2015 GMC Savana only available as 2500 and 3500 models. According to sources, the Savana 1500 was discontinued due to low purchase figures and more stringent Corporate Average Fuel Economy (CAFE) requirements. With the end of the Savana 1500, certain features such as all wheel drive and driver's side passengers doors were discontinued.
In addition, the Chevrolet City Express compact cargo van — a rebadged Nissan NV200 — could be considered a replacement for the Savana 1500.