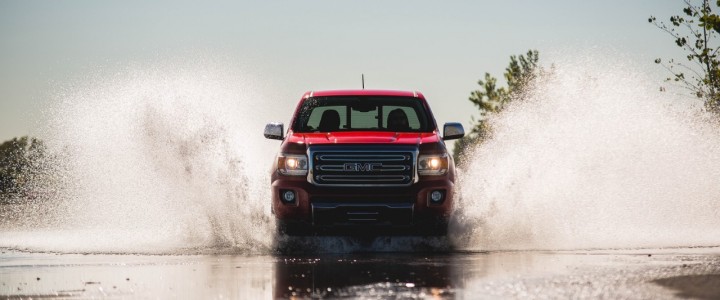 2019 GMC Canyon
The GMC Canyon is expected to receive a mid-cycle refresh for the 2019 model year consisting of updates to exterior, interior, technology and powertrain. To note, a mid-cycle refresh can otherwise be referred to as a facelift or a mid-cycle enhancement (MCE) in GM speak.
Following is speculative and unconfirmed information about the 2019 GMC Canyon. This page is a continuous work-in-progress and will be updated on a regular basis as we await official details from General Motors and Canyon.
If you notice any inaccuracies about the information provided, or have edits to suggest, please let us know here.
Expectations
Following are our expectations of the 2019 GMC Canyon refresh:
Revised exterior
Refreshed interior
Changes to features and equipment group structure
Possible addition of sunroof
Possible revision of engines, with an all-new 2.7L Twin-Turbo I-4 joining the 3.6L V-6 LGY
Possible addition of the new GM 10-speed automatic transmission on some models, trim levels and/or powertrain combinations
Possible addition of off-road variant equivalent to the Chevy Colorado ZR2
Body Styles
The 2019 GMC Canyon continues to be offered as a midsize pickup truck with several cab and bed configurations:
Extended Cab, Long Box
Crew Cab, Short Box
Crew Cab, Long Box
Powertrain
The 2019 GMC Canyon will likely be offered with new engine and transmission choices, which we currently do not know. For reference, the 2018 Canyon is available with the following powertrain:
| Engine | Transmission | Horsepower @ RPM | Torque @ RPM | Rear Axle |
| --- | --- | --- | --- | --- |
| 2.5L I-4 LCV gasoline | 6-speed manual N8D | 200 @ 6300 | 191 @ 4400 | 4.10 |
| 2.5L I-4 LCV gasoline | 6-speed automatic MYB | 200 @ 6300 | 191 @ 4400 | 4.10 |
| 3.6L V-6 LGZ gasoline | 8-speed automatic M5T | 308 @ 6800 | 275 @ 4000 | 3.42 |
| 2.8L I-4 LWN diesel | 6-speed automatic MYB | 181 @ 3400 | 369 @ 2000 | 3.42 |
Platform
Like all second-generation units of the GMC Canyon, the 2019 Canyon continues to ride on the GMT 31XX platform shared with the following vehicles:
2015 and newer Chevrolet Colorado
2013 and newer Chevrolet and Holden Colorado for international markets
2014 and newer Chevrolet Trailblazer, also known as the Holden Colorado 7 and Holden Trailblazer
Production
The 2019 GMC Canyon is assembled by GM USA at the GM Wentzville factory in Missouri.
Availability
We expect the 2019 GMC Canyon to follow the regular GM model year rollover sequence, and launch on or before the third quarter of calendar year 2018.
Beyond 2019
We expect that the current, second-generation GMC Canyon will remain in production for at least the 2019, 2020, and 2021 model years, and that an all-new, future GMC Canyon will launch on or after the 2022 model year.
Discussion
Discuss the 2019 GMC Canyon in our GMC forum.
News
Follow our coverage of GMC Canyon news.