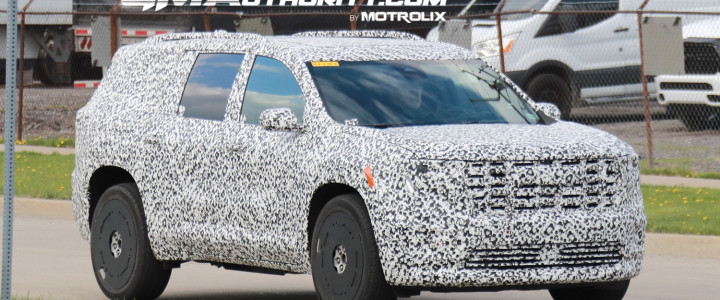 2024 GMC Acadia
We expect the 2024 GMC Acadia to receive a complete overhaul (redesign and re-engineering), representing the first model year of the all-new, third-generation crossover SUV.
Following is speculative and unconfirmed information about the 2024 GMC Acadia. This page is a continuous work-in-progress and will be updated on a regular basis as we await official details from General Motors and GMC.
If you notice any inaccuracies about the information provided, or have edits to suggest, please drop us a note here.
2024 GMC Acadia Quick Facts

| | |
| --- | --- |
| Assembly location | Lansing Delta Township Plant, Michigan, USA |
| Layout | Front-Engined, Transverse |
| Engine | Turbo 2.5L I-4 LK0 |
| Platform: | C1-2 |
| Max Horsepower | 315 (estimated) |
| Max Torque | 317 (estimated) |
| Transmission | 8-Speed Auto |
| Drive wheels | Front-Wheel-Drive, All-Wheel-Drive |
| Availability | North America, select export markets |
| Predecessor | 2023 GMC Acadia |
| Successor | 2025 GMC Acadia |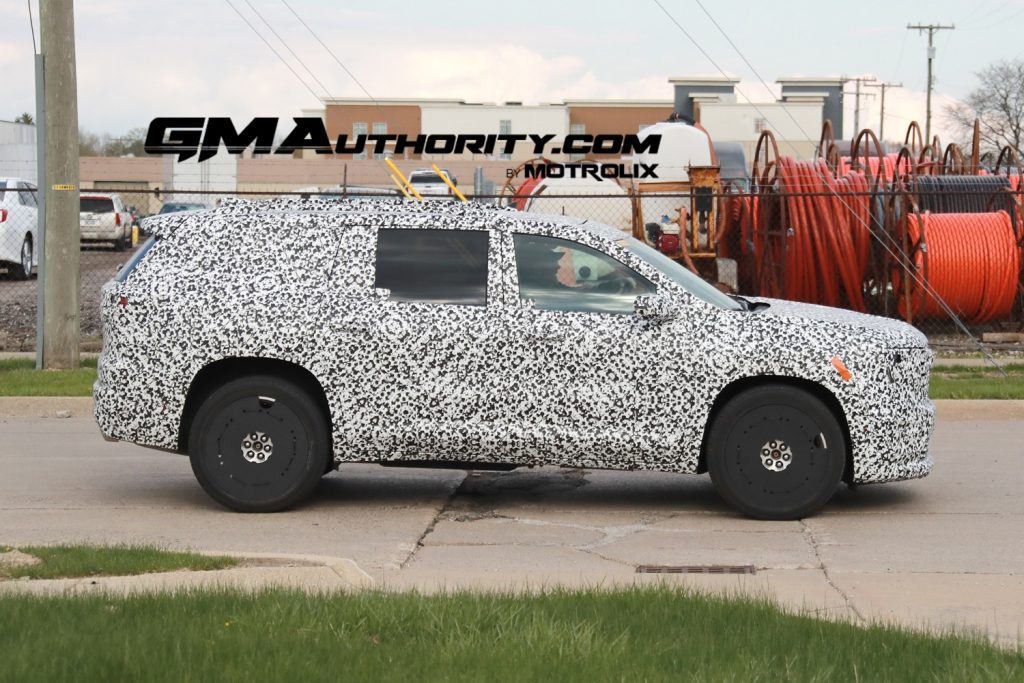 Background
The GMC Acadia received a mid-cycle enhancement (MCE) – otherwise known as an update, refresh or facelift – for the 2020 model year. The 2024 model will represent an all-new generation of the nameplate.
Positioning
The 2024 GMC Acadia will grow in size compared to the current, second-generation Acadia, which ran from the 2017 thru the 2023 model years. In fact, the 2024 Acadia will see the crossover SUV return to roughly the size of its first generation, which was available through the 2016/2017 model years.
Model Line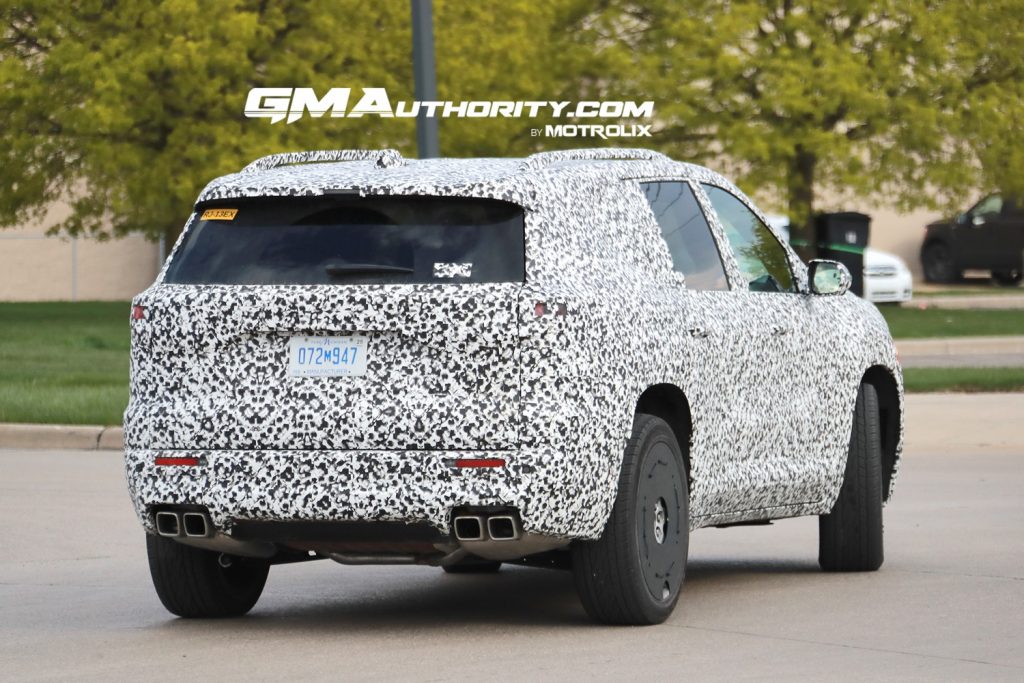 Exterior
Larger exterior dimensions, roughly the size of the first-gen Acadia
Traditionally-shaped roofline and greenhouse
Upright-shaped front fascia
Quad exhaust tips
Interior
Complete overhaul of interior, with better ergonomics and more usable space
Revamped gauge cluster (instrument panel), with higher-end trims receiving a fully digital instrument panel
Revamped infotainment system with a larger screen and revamped software
New and improved active safety (ADAS) features, including Super Cruise semi-autonomous highway assistant
New steering wheel
New and carefully-selected colors and materials, especially noticeable on AT4 and Denali trims
Powertrain
As exclusively reported exclusively by GM Authority, the 2024 GMC Acadia will be powered by the turbo 2.5L LK0 inline four cylinder engine. The new boosted four cylinder will connect to GM's eight-speed automatic transmission.
While exact power and torque figures are not yet known, we expect the new boosted four to be rated at 315 horsepower and 317 pound-feet of torque.
Front-wheel-drive will be standard, while all-wheel-drive will be optional.
2024 GMC Acadia Powertrain

| Engine | Aspiration | Transmission | Power (hp / kW @ RPM) | Torque (lb-ft / Nm @ RPM) | Axle Ratio |
| --- | --- | --- | --- | --- | --- |
| 2.5L LK0 I-4 | Turbocharged | 8-Speed Auto (TBD) | Expected 315 / 235 @ TBD | Expected 317 / 430 @ TBD | TBD |
Platform
All third-generation units of the GMC Acadia will ride on the long-wheelbase variant of the GM C1 platform (or "Chi"). A shorter variant of the same architecture underpinned the second-gen model. However, the platform will be iterated for the 2024 model year, gaining several improvements like GM's state-of-the-art Global B electrical architecture. As a result, the platform is referred to internally as C1-2, with the "2" referring to the second generation of the architecture.
The third-generation Buick Enclave and third-generation Chevy Traverse will share the C1-2 platform directly with the 2024 Acadia.
A shorter version of the first-gen C1 platform is used to underpin the following vehicles:
2017 – 2024 Cadillac XT5 (first generation)
2018 – 2024 GMC Acadia (second generation)
2019 – 2025 Chevrolet Blazer
2020 – 2025 Cadillac XT6 (first generation)
2020 and newer Chevrolet Blazer XL / three-row Blazer
2020 and newer "baby" Buick Enclave (China market)
Production
The 2024 GMC Acadia will be assembled by GM USA at the GM Lansing Delta Township plant in Michigan, a move from the GM Spring Hill plant in Tennessee where the second-gen model was made.
Availability
As first reported by GM Authority, the 2024 GMC Acadia will enter production in January 2024. The new model will continue being available in North America and the Middle East, while likely expanding to other international markets like South Korea, where GM introduced the GMC brand in 2022.
Spy Shots
Our spies have caught the 2024 GMC Acadia undergoing testing on the following occasions:
See more 2024 GMC Acadia spy shots.
Beyond 2024
We expect production of the all-new, third-generation GMC to run at least through the 2029 model year. After that, the nameplate will likely transition to a battery electric powertrain, if not before.
Sales
See GMC Acadia sales numbers for all markets.
Discussion
Discuss the 2024 GMC Acadia in our GMC forum.
[/toggle]
2024 Acadia News
2

Enabling OTA software updates, among other benefits.

1

New design, new proportions, new powertrain.

61

Customers want a bigger vehicle.

1

Longer, wider, taller, more powerful.