GM Hydra-Matic 10L80 10-Speed Automatic Transmission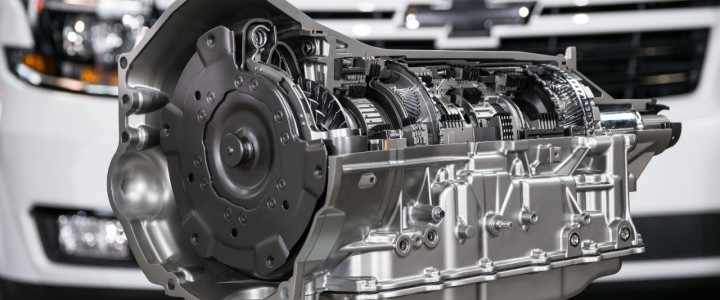 GM Hydra-Matic 10L80 10-Speed Automatic Transmission
The General Motors Hydra-Matic 10-speed 10L80 automatic transmissions is a heavy duty (high performance) variant of the Hydra-Matic 10LXX transmission family.
The 10L80 moniker is decoded as follows:
10, for 10 forward gears
L, for longitudinal placement within the vehicle's powertrain system
80, for the robustness level of the transmission (a higher number, such as 90, means that it is capable of handling more power compared to a 10L45)
Advantages
Vehicles equipped with the 10L80 transmission benefit from higher fuel economy and performance when compared to the Hydra-Matic 8-speed 8LXX and Hydra-Matic 6-speed 6LXX transmissions it will replace during its lifecycle.
The improved performance is the result of smaller steps between each ratio, maximizing engine power under acceleration, while a wide 7.39 overall gear ratio spread and a lower numerical top gear ratio results in improved efficiency by reducing engine revolutions at highway speeds.
Specifications
GM 10-Speed 10L80 vs. 8-speed Hydra-Matic Transmissions - Gear Ratios
Transmission:
10-speed 10L80
8-speed 8LXX
Gear ratios (:1)
First:
4.70
4.56
Second:
2.99
2.97
Third:
2.15
2.08
Fourth:
1.80
1.69
Fifth:
1.52
1.27
Sixth:
1.28
1.00
Seventh:
1.00
0.85
Eighth:
0.85
0.65
Ninth:
0.69
–
Tenth:
0.64
–
Reverse:
4.87
3.82
We will update this section with more detailed specs on GM's Hydra-Matic 10L80 10-speed transmission when they become available.
Vehicle Applications
The new GM 10-speed 10L80 automatic was announced in April 2017 for the 2018 Chevrolet Tahoe Performance Package. It is believed (but not confirmed) that the 2017 Chevrolet Camaro ZL1 uses an even more capable variant of the 10LXX transmission family known as 10L90.
GM Hydra-Matic 10-Speed 10L80 Automatic Transmission Applications

| Vehicle | Transmission | Transmission RPO Code | Horsepower Capacity | Torque Capacity |
| --- | --- | --- | --- | --- |
| 2018 Chevrolet Tahoe RST | 10L90 | TBA | 420 | 460 |
Development
The Hydra-Matic 10LXX transmission family was developed in collaboration with the Ford Motor Company.
Production
The 10L80 transmission is produced at the GM Powertrain facility in Romulus, Michigan.