General Motors BEV2 Vehicle Platform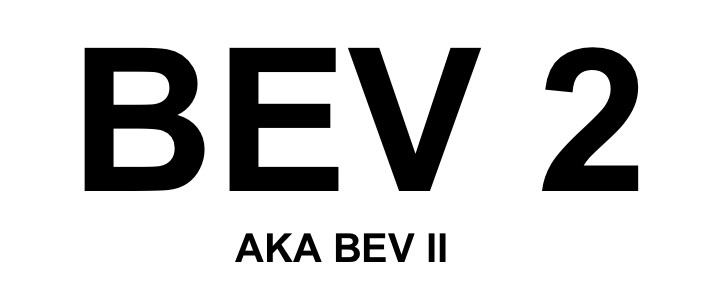 General Motors BEV2 Vehicle Platform
The BEV2 vehicle architecture is a General Motors platform designed to underpin electric vehicles. The platform was engineered from the ground up to underpin electric cars.
Short for Battery Electric Vehicle 2 and sometimes spelled with Roman Numerals like BEVII, the platform made its debut with the 2017 Chevrolet Bolt EV. It is planned to underpin two other future GM battery electric vehicles.
Features
It is believed that BEV II was designed to support electric vehicles of all shapes and sizes, from subcompacts like the Bolt EV to compacts, midsize, and full-size cars. The flexible approach is known as a "skateboard" design in engineering circles.
Notable components of the platform include:
Electric motor mounted in the front of the vehicle, under the "hood" of a conventional car
Battery placed under the floor of the vehicle
MacPherson strut suspension in the front and torsion-beam arrangement at the rear, though the latter could potentially be changed for other vehicle types
Front-wheel-drive configuration, though all-wheel-drive and rear-wheel-drive is theoretically possible
Flexible wheelbase configurations
Extensive use of high-strength steels
Specifications
BEV 2 Platform Vitals

| | |
| --- | --- |
| Type: | unibody welded steel |
| Size: | various sizes, including subcompact, compact, midsize, full-size |
| Supported vehicle type: | car, crossover |
| Drive wheels: | FWD (AWD and RWD potentially possible) |
| Layout: | front-mounted electric motor, battery under floor |
| Predecessor: | Gamma II (in Chevrolet Spark EV) |
| Successor: | All New GM EV Platform (2021) |
Development
GM initially started out developing the Bolt EV on the Gamma 2 platform, but as development progressed, engineers created a new platform now known as BEV2, which doesn't share components with Gamma.
"There are no Bolt EV parts tied to the G2 architecture," lead product engineer Josh Tavel was quoted as saying. In another interview, Tavel stated that the Bolt EV shares the liquid sound deadener with other Gamma platform vehicles.
Interestingly, the Bolt is assigned the G2UC-E internal program code, which decrypts as follows:
Though the program code indicates that the Bolt uses the G2 platform, the discrepancy is explained by the fact that the Bolt EV program originated on the Gamma architecture, but then evolved to create its own platform, even as the vehicle program maintained the G2UC-E code.
Powertrain
Currently, the only powertrain in the BEV 2 platform is the 60 kWh lithium-ion battery/rechargeable energy storage system and an electric drive unit that makes 200 horsepower (150 kW) and 266 pound-feet of torque (360 N-m).