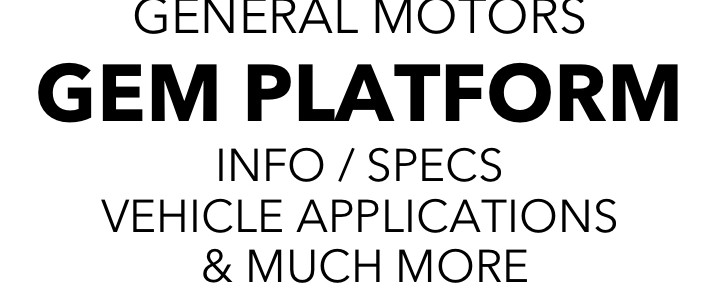 GM GEM Platform
GEM, short for Global Emerging Markets, is an upcoming General Motors vehicle architecture designed to support entry-level passenger cars and crossover utility vehicles for developing markets.
Replacing two prior GM platforms, the GEM architecture made its debut on the 2018 Buick Excelle Sedan.
Names:
GM GEM platform, GM Global Emerging Markets Platform,GM Amber Platform
Predecessor:
GM Gamma platform
GM-PATAC K platform
individual one-off platforms"
Successor:
none
Type:
unibody
Size:
scalable for B-segment and C-segment
Supported vehicle type:
Passenger car, crossover utility vehicle (CUV)
Layout:
Front-Engine, FWD
Powerplant layout:
transverse
Debut date:
2018-2019
Expected Vehicle Applications
Chevrolet:
Onix, Prisma, Cobalt, new 5-passenger CUV, Spin, Sail, Cavalier, Lova RV
Buick:
Excelle sedan, Excelle wagon, new 5-passenger CUV, GL6
GMC:
none
Cadillac:
none
Buick:
none
Overview
The GEM initiative is based on the strategy of developing low-cost, entry-level vehicles for emerging/developing markets on one common platform.
Announcement
In July 2015, General Motors announced that it will invest $5 billion into a new Chevrolet vehicle family for developing markets. At the time, the undertaking was internally known as Project Amber. At some point in 2016, it was been renamed to GEM.
Purpose
In its July 2015 announcement, GM stated that the purpose of the new emerging markets platform is to enhance the competitiveness of its mainstream Chevrolet brand in the world's primary emerging markets, including China, India, Brazil and Mexico. However, we have since learned that the GEM platform will also be used to underpin some Buick vehicles in the Chinese market.
It is understood that the undertaking, initially called Project Amber, had three primary objectives:
To bring to market vehicles for emerging markets faster, and
To develop and produce emerging market vehicles at a lower cost
To increase scale in low-cost emerging-market vehicles while removing redundancies in engineering, manufacturing, and sourcing
The result is that the GEM platform will serve as the basis of the many Chevrolet vehicles for the GM International (GMI) division (comprised of Latin America, China and Southeast Asia), as well as some vehicles for GM China.
In doing so, GEM will replace the GM Gamma platform for vehicles in developing markets, the China-local GM-PATAC K platform, along with various vehicle-specific "one-off" platforms.
Cost
In its announcement, General Motors stated that it will invest $5 billion in the new global emerging markets platform.
Market-Driven
The reason for investing such a large sum in a platform for developing market vehicles is simple: General Motors projects that between 2015 and 2030, growth in emerging markets will outpace expansion in the world's mature economies. Meanwhile, buyers in these emerging markets will come to expect higher levels of technology, safety and efficiency than currently is available in affordable vehicles typical to these regions.
"This new vehicle family will feature advanced customer-facing technologies focused on connectivity, safety and fuel efficiency, delivered at a compelling value," added Mark Reuss, GM executive vice president for global product development.
GM will be able to meet the high content levels of these new models by consolidating several disparate architectures currently used for vehicles in developing markets today into a single platform and engine family. Savings will be derived from the larger sourcing and manufacturing scale.
Though the vehicles will all be derived from the same new platform, specific models for various regions and countries will be tailored to suit the market's prevailing customer preferences or regulatory requirements.
Engineering
The engineering contract for the GEM platform as well as for all car lines for all emerging markets is believed to have been awarded to PATAC – the Pan Asia Technical Center, a joint venture between GM and SAIC.
An insider has described the engineering process behind the GEM platform as follows: Chinese management from PATAC sends Chinese engineers, designers, homologation experts, supply chain/sourcing experts, and other employees to markets where GEM-based vehicles will be sold in order to explore and understand the various differences and conditions in those non-Chinese markets.
They will learn how to address and solve different homologation, safety and design requirements for each market where GEM-based vehicles will be sold. In the process, they will also acquire knowledge and skills associated with engineering a global platform, while also selecting and managing suppliers.
Manufacturing
GM President Dan Ammann did not share specifics about how the new GEM plan will affect the company's manufacturing footprint in the emerging markets, but did say to not expect the consolidation of vehicle architectures to equate to a reduction of existing manufacturing capacity in the affected regions.
"The fundamental story here is a story of growth," he said. The 2 million vehicles planned to eventually be built from the new platform exceeds the current number of vehicles GM currently sells from a variety of platforms, he added.
Sourcing
Since the GEM platform is positioned as an emerging country platform developed predominantly by a Chinese engineering arm, it is highly likely that parts sourcing will be lead and managed by PATAC. As such, vehicles riding on the GEM platform will likely contain a high amount of Chinese suppliers.
Volume
The volume for the vehicles on the GM GEM platform is roughly 2.2 million per year, mostly in the B and C segments. Of that, about 1.2 million is forecasted for the Chinese market. Start of production (SORP) for the first GEM-based Chinese model is April 2019. The model is scheduled to see an annual volume of 112,000 units.
Flexibility
The GEM vehicle platform will be able to span several vehicle size classes and various body styles, such as sedans, hatchbacks, wagons, crossovers and MPVs.
Launch
An official GM investor's presentation stated that the "GEM launch beginning in 2019", and that its launch will "provide future opportunities" from a financial performance standpoint.
Exemptions
It is believed that GM Korea along with Holden, GM's Australian and New Zealand division, will not see any/many GEM-based vehicles. Instead, these developed markets that happen to be part of GM International will have a lineup sourced from the GM North America portfolio.
Potential Vehicle Set Relation
Though yet to be confirmed, it is possible that the GEM platform is part of the GM VSS initiative (Vehicle Set Strategy) that has GM consolidating to four global platforms. The four GM vehicle sets have been identified as follows:
As such, it is possible that the GEM platform is actually part of the VSS-F initiative.
Marketing
wide-ranging vehicle architecture to enhance the competitiveness of its mainstream Chevrolet brand in the world's primary emerging markets.
The single new vehicle "platform," and an all-new engine to accompany it, will replace several current platforms that serve as the foundation for a variety of vehicles GM currently sells in markets such as China, India, Brazil and Mexico,
Engines
The GM GEM platform will support a new global engine for developing markets.
Vehicle Applications
Expected applications of the GM GEM platform are as follows.
Markets: Mexico, Central America, South America
Chevrolet Onix (second generation)
Chevrolet Prisma (second generation)
Chevrolet Cobalt (Latin-market, second generation)
New Chevrolet B-segment, 5-passenger crossover utility vehicle (CUV)
Chevrolet Spin (second generation)
Markets: China (Shanghai GM), Southeast Asia
Chevrolet
Chevrolet Sail
Chevrolet Cavalier (Chinese-market, second generation)
Chevrolet Prisma equivalent for China
Chevrolet Lova RV (second generation)
New Chevrolet B-segment, 5-passenger crossover utility vehicle (CUV)
Buick
Buick Excelle sedan
Buick Excelle wagon
New Buick B-segment, 5-passenger crossover utility vehicle (CUV)
Buick GL6
It is currently unclear whether the GM GEM platform will also underpin vehicles from GM's joint venture partners, namely Baojun and Wuling.
Predecessors
The GM GEM platform will replace the following existing platforms:
Individual platforms used to underpin "one-off" vehicles
Successor
It is currently unknown what platform will replace the GM GEM platform. One potential option is one of the GM Vehicle Sets such as VSS-F, which is more of a flexible vehicle set than a platform in its own right.