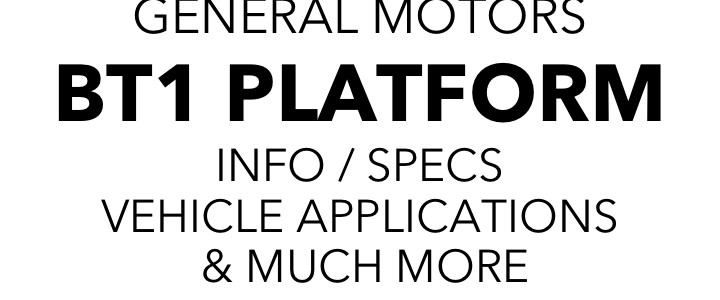 GM BT1 Vehicle Platform
The BT1 platform, otherwise known as BT1, is an upcoming General Motors electric vehicle architecture designed for pickup trucks and SUVs. It will underpin pickup trucks and SUVs from three GM brands, including Chevrolet, Cadillac, and GMC-Hummer.
The BT1 architecture is a variant of the GM T1 platform that underpins the following vehicles:
Names:
GM BT1 platform, BT1, BT1XX
Predecessor:
none
Successor:
currently none
Type:
Body on frame
Size:
Full Size
Supported vehicle type:
Pickup truck or SUV
Layout:
Underfloor battery packs, 2WD (RWD) or AWD
Powertrain type:
battery electric, single or dual motor
Debut date:
2020 calendar year
On sale date:
2021 calendar year as 2022 model year
Vehicles
Chevrolet:
Pickup truck and SUV
GMC:
Hummer pickup truck and potential SUV
Cadillac:
Escalade or Escalade-like EV
Buick:
none
Overview
The BT1 platform is a variant of the T1 body-on-frame platform. The "B" in the name stands for "battery".
General Motors developed the T1 architecture to accommodate battery electric powertrain configurations, with BT1 being the natural progression of the platform.
The architecture is capable of supporting various battery electric powertrain types, including single and dual motor configurations, along with pickup truck and UV body styles.
Internally with GM, some projects associated with BT1 are referred to as "Project O", in referencing to Chevrolet Camaro chief engineer Al Oppenheiser, who is believed to have been reassigned to the BT1 program around 2018-2019.
Engines & Transmissions
BT1 supports various battery electric powertrains.
One of the powertrains that will be used by BT1-based vehicles is a dual-motor configuration making roughly 1,000 horsepower.
Vehicle Applications
Anticipated applications of the BT1 platform include:
Chevrolet
Electric pickup truck, potentially an electric Chevrolet Silverado
GMC
Electric GMC-Hummer pickup truck
Electric GMC-Hummer SUV
Cadillac
Electric Cadillac Escalade variant
Production
All GM vehicles based on the BT1 platform are expected to be assembled it the GM Detroit-Hamtramck plant. The facility will become GM's first factory to produce only electric vehicles.