GM Alpha Vehicle Platform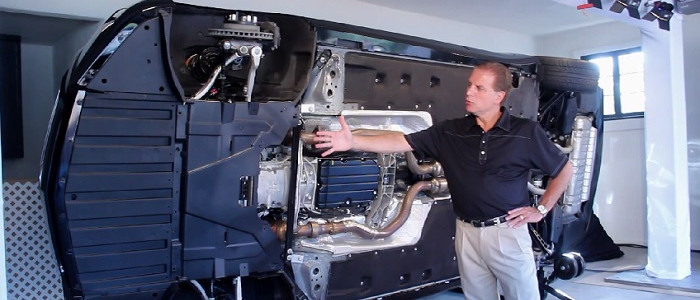 GM Alpha Vehicle Platform
The General Motors Alpha platform is a vehicle architecture designed to underpin compact and mid-size vehicles with a longitudinal front-engine, rear-drive configuration. The platform was engineered with a focus for world-class driving dynamics and light weight, and can be adapted to underpin luxury and non-luxury vehicles alike.
Alpha made its debut with the 2013 Cadillac ATS sedan, followed by the 2014 Cadillac CTS sedan. The sixth-generation 2016 Chevrolet Camaro is the third and final vehicle to utilize the Alpha architecture.
Overview
Alpha was designed to support compact and mid-size vehicles with a focus on being lightweight and providing exceptional driving dynamics. It debuted with the arrival of the 2013 Cadillac ATS, which is now discontinued, and was also used by the CTS, which has also been discontinued. That said, the architecture underpins the sixth-generation Chevrolet Camaro as well, which is expected to remain in production through the 2026 model year.
A 50/50 weight distribution enabled vehicles that rode on the Alpha platform to be quite nimble. It was even used to create a purpose-built, track-dedicated product: the Cadillac ATS-V.R.
Notable components of the Alpha platform include:
Front-engined, longitudinally-mounted layout
A four wheel independent suspension system with a McPherson Strut in the front and a 5-link independent setup in the rear
Rear- and all-wheel-drive applications
Flexible wheelbase configurations
Extensive use of high-strength steels
Various suspension systems have been used in conjunction with the Alpha platform, including conventional shock-over-strut assemblies, Magnetic Ride Control, and DSSV dampers.
Engines
The Alpha platform is capable of supporting a wide range of General Motors engines, including naturally-aspirated and force-inducted variants of four-, six-, and eight-cylinder engines. Vehicles riding on the Alpha architecture currently use the following engines:
Vehicle Applications
Non-Production
Alpha 2
The Alpha platform is succeeded by Alpha 2, an updated variant of the first iteration of the architecture.
The Alpha 2 underpins the following vehicles:
GM Alpha Vehicle Platform Pages