General Motors Spring Hill Plant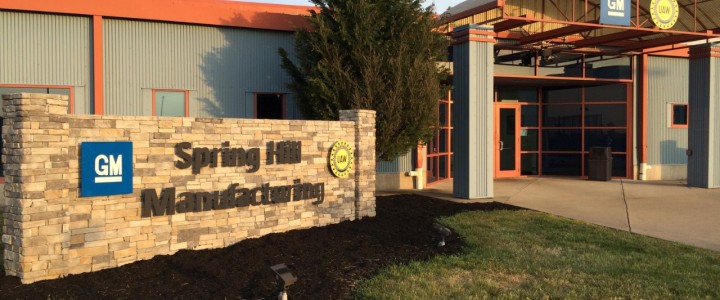 General Motors Spring Hill Plant
The GM Spring Hill facility, otherwise known as Spring Hill Manufacturing, is located in Spring Hill, Tennessee, United States and produces the Cadillac XT5, Cadillac XT6, and second-generation GMC Acadia. The plant also manufactures propulsion systems and polymer injection moldings.
Of Spring Hill Manufacturing's 2,100 acres, 700 acres are dedicated to farming, while an additional 100 acres are a dedicated wildlife habitat where native grasses and wetlands reside. The wildlife preserve has been recognized and certified by the Wildlife Habitat Council (WHC).
Quick Facts
Year opened: 1990
Facility size: 7.9 million square feet on 2,100 acres
Location:
100 Saturn Parkway
Spring Hill, Tennessee 37174
United States
Facilities:

Flexible Vehicle Assembly plant

Stamping plant
Body shop
Paint shop

Two polymer injection molding operations
Global Propulsion Systems plant

Employee information (as of June 30th, 2021):

Hourly: 2,823
Salaried: 429
Total: 3,252

Shifts: 3
Union local: UAW Local 1853
Products
Currently, the Spring Hill plant builds three crossovers on GM's C1 platform and manufactures propulsion systems, stampings and injection moldings. It will soon be responsible for the production of battery-electric vehicles on the BEV3 platform.
Past Vehicles
Holden Acadia – 2018 – 2019
1990 – 2007 – Saturn vehicles
September 2008 – November 2009 – Chevrolet Traverse (moved to Lansing Delta Township plant)
September 2012 – October 2015 – Chevrolet Equinox (moved to CAMI plant)
Current Powertrain Production:
Turbocharged, direct-injected 2.0L I-4 LSY Ecotec engine:

Cadillac XT4
Cadillac XT5
Cadillac CT4
Cadillac CT5
GMC Acadia
Chevy Blazer

Turbocharged, direct-injected 2.7L I-4 L3B Ecotec engine:

Chevrolet Silverado
GMC Sierra
Cadillac CT4

Small-Block 5.3L V-8 L84 engine for:

Chevrolet Silverado
Chevrolet Tahoe
Chevrolet Suburban
GMC Sierra

Small-Block 5.3L V-8 L87 engine for:

Chevrolet Tahoe
GMC Yukon / Yukon
Cadillac Escalade

Stamping: producing internal and external parts for vehicles manufactured at Spring Hill and those manufactured at other plants
Injection moldings: molding internal and external parts for vehicles manufactured at Spring Hill
Past Powertrain Production:
Small-Block 6.2L V-8 L86 engine for:
Turbocharged and direct-injected 2.0L I-4 LTG Ecotec engine
Naturally-aspirated 2.4L I-4 LEA Ecotec engine
History
Spring Hill Manufacturing originally opened in 1990 and produced Saturn vehicles until March 2007. The plant's major historic events are outlined below:
October 2020: GM announces plans to build Cadillac Lyriq at Spring Hills plant
January 2020: GM announces $40 million investment into the Spring Hill propulsion facility to increase capacity of the 5.3L V8 engines for GM's full-size truck and SUV programs
January 2019: GM announces $22 million investment into the Spring Hill propulsion facility to build 6.2L V8 engines with advanced fuel technology
2018: GM adds third shift at Spring Hill Assembly to meet demand for GMC Acadia and Cadillac XT5
2017: GM invests $294 million for upgrades to support upcoming Cadillac crossover launch.

GM later invested another $27 million to prepare the plant to assemble a right-hand-drive crossover for export to Australia as the Holden Acadia

2016: GM invests $148 million to repurpose flexible machining and assembly equipment to build V8 engines
December 5, 2016: Spring Hill launches production of a small gas engine powering small car and compact-crossover vehicles
September 26, 2016: Spring Hill launches production the small block 6.2L V8 engine
August 17, 2016: Spring Hill produces 5-millionth L850 Ecotec Engine
October 9, 2015: last second-generation Chevrolet Equinox rolls off the line
February 24, 2015: Spring Hill produces its 100,000th Chevrolet Equinox
April 23, 2014: Spring Hill produces 4-millionth Ecotec Engine
September 4, 2014: Spring Hill begins production of the second-generation Chevrolet Equinox
August 8, 2012: Spring Hill commences production of 2.5L Ecotec engine
November 2009: last first-generation Chevrolet Traverse rolls off the line, with production moved to Lansing Delta Township
September 2, 2008: Spring Hill begins production of the first-generation Chevrolet Traverse
March 2007: last Saturn Vue and Ion rolls off the line
2006: Spring Hill launches production of Ecotec 2.0L turbocharged direct injection engine
October 3, 20013: Spring Hill produces 3,000,000th vehicle
2002: Spring Hill begins production of the Ecotec engine for the Saturn Vue and Ion
August 29, 2002: last Saturn S-series rolls off the line
2000: Spring Hill breaks ground on new Powertrain plant, which produced the Ecotec 4-cylinder engine
July 30, 1990: first Saturn — a red SL Sedan rolls off the line
1989: first Saturn 1.9L engine produced in the Powertrain facility
1988: topping out ceremonies for Powertrain plant
Investments
January 2017: plant adds third shift and 650 jobs
April 2016: $788.7 million investment
February 2016: $148 million investment to make small block 6.2L V-8 engine
August 2014: $185 million investment to make small gas engines
August 2013: $167 million added to previously-announced $183 million pledge for two future midsize vehicles
November 2011: $61 million to reopen assembly plant as flex operation and $183 million for future midsize vehicle
June 2011: $32 million to increase production capacity of Ecotec 4-cylinder engine
September 2010: $483 million for all-new Ecotec 4-cylinder engine production and increase in Ecotec engine production capacity
2007-2010: $58 million to support upgrades to the 2.4L engine for E85 capability; production of the new 2.0L turbo with direct injection for 100 percent export to Europe, and upgrades to 2.4L engine for direct injection technology emission
State Economic Impact
2020 wages: $285,901,722.90
2020 taxes withheld: $36,615,557.83
News
Follow this link for GM Spring Hill plant news coverage.
Pictures