General Motors Lansing Grand River Plant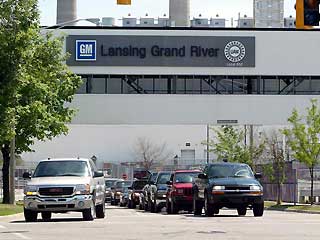 General Motors Lansing Grand River Plant
The GM Lansing Grand River facility, sometimes abbreviated LGR, is located in Lansing, Michigan, United States. It currently produces the Chevrolet Camaro as well as the Cadillac ATS and CTS.
Constructed in 1999 and opened in 2001, Lansing Grand River is one of GM's newest plants in North America. The plant is designed around GM's Global Manufacturing System (GMS) and focuses on maximum performance in safety, people systems, quality, customer responsiveness, cost and environment.
Year opened: 2001
Facility size: 3.4 million square feet on 111 acres
Location:
920 Townsend Street
Lansing, Michigan, 48921
United States
Employee information:

Hourly: 2,312
Salaried: 243
Total: 2,325 (when running on a three-shift operation)

Facilities:

Body shop
Paint shop
General assembly
Central utilities complex
Logistics optimization center

Union local: UAW Local 652
Products
Currently, Lansing Grand River assembles three vehicles based on GM's Alpha platform:
Chevrolet Camaro family
Cadillac ATS family
Cadillac CTS family
Previously In Production
Second-generation Cadillac CTS family:
Cadillac CTS Sedan and CTS-V Sedan
Cadillac CTS Sport Wagon and CTS-V Sport Wagon
Cadillac CTS Coupe and CTS-V Coupe
First-generation Cadillac CTS family:
Cadillac CTS Sedan
Cadillac CTS-V Sedan
Investments
2015: $175 million investment for new tooling and equipment for the sixth-generation Chevrolet Camaro plus a return of hundreds of workers to add a second shift
2014: $174 million stamping facility that will create or retain about 145 jobs
2013: $44.5 million for logistics optimization center, creating 200 jobs
2012: $88 million for the third-generation CTS
Milestones, Accomplishments & Awards
Chevrolet Camaro named 2016 Motor Trend Car of the Year
Cadillac CTS Sedan named 2014 Motor Trend Car of the Year
Cadillac ATS named 2013 North American Car of the Year
2013 Cadillac ATS named Autobytel Luxury Car of the Year
2013 Cadillac ATS named Motor Press Guild Vehicle of the Year
2013 "Best of the Year" Drivers' Choice award by PBS' MotorWeek
J.D. Power and Associates Bronze Plant Award for initial quality
Cadillac CTS Coupe receives MotorWeek's 2011 Drivers' Choice Award: Best Coupe
Cadillac CTS-V Sedan, Coupe and Wagon named to Car and Driver 10Best List for 2011
Cadillac CTS-V Coupe named AutoWeek's Best of the Best Car for 2011
State Economic Impact
Wages: $213,309,320
Payroll Tax: $41,314,638
Economic impact figures include:
News
Follow this link for GM Lansing Grand River plant news coverage.
Pictures