General Motors Flint Engine Plant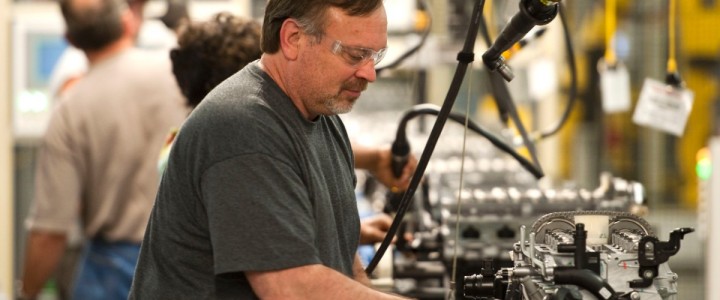 General Motors Flint Engine Plant
The GM Flint Engine plant, otherwise known as General Motors Flint Engine Operations, is located in Flint, Michigan, United States. The facility currently produces engines for various GM vehicles.
Year opened: 2002
Facility size: 1,165,212 square feet
Location:
2100 Bristol Road
Flint, Michigan, 48552
United States
Employee information:

Hourly: 462
Salaried: 99
Total: 561

Union local: UAW Local 659
Plant manager: Tamberlin Golden
(Info as of February 28, 2020)
Note: GM Flint Engine Operations is not the same facility as the similarly-named GM Flint Assembly plant, which handles vehicle production.
Products
Currently, the GM Flint Engine plant produces the following powertrain products:
1.5L L3A for Chevrolet Volt (second generation, 2016 and newer)
1.4L Turbo LE2 for Chevrolet Cruze (second generation, 2016 and newer)
1.5L Turbo LYX for Chevrolet Equinox (third generation, 2018 and newer)
1.5L Turbo LYX for GMC Terrain (second generation, 2018 and newer)
Upcoming 3.0L Duramax diesel for Chevrolet Silverado 1500 Diesel (2019 and newer)
Upcoming 3.0L Duramax diesel for GMC Sierra 1500 Diesel  (2019 and newer)
Investments
2015: $263 million for new engine line
2013: $215 million for new small Ecotec gasoline engine
2012: $7 million for two office buildings to serve both engine units
2011: $84 million to expand production of 1.4L engines
2010: $138.3 million to expand production of 1.4L engines
2009: $250 million to build 1.4L engines
Accomplishments & Awards
2016: 1.5L DOHC 4 cylinder named one of Ward's Ten Best Engines in the world
2008 and 2009: 3.6 liter V6 VVT with SIDI named one of Ward's Ten Best Engines in the world
2005: first GM Powertrain plant to go "Landfill Free", with zero plant waste sent to landfills since March, 2005
State Economic Impact
State Wages: $91,181,847
Income Tax: $19,835,318