General Motors Detroit-Hamtramck Plant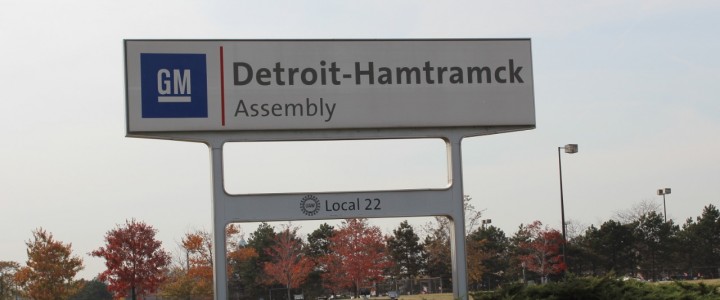 General Motors Detroit-Hamtramck Plant
The GM Detroit-Hamtramck facility, otherwise known as D-HAM Assembly, is located in Detroit, Michigan, United States. Technically speaking, the plant's footprint spans two U.S. cities — Detroit and Hamtramck, the only GM facility to do so. D-HAM currently produces the Chevrolet Impala and Volt, Cadillac CT6, and Buick LaCrosse.
Year opened: 1985
Facility size: 4.1 million square feet
Location:
2500 East Grand Boulevard
Detroit, Michigan, 48211
United States
Employee information:

Hourly: 2,715
Salaried: 250
Total: 2,965

Shifts: two eight-hour shifts, five days per week
Union local: UAW Local 22
Products
Currently, Detroit-Hamtramck builds four vehicles on a single production line, making it one of the most complex manufacturing assembly facilities in North America.
Past (by model year):
1986-2000 Cadillac Eldorado
1986-2004 Cadillac Seville
1987-1993 Cadillac Allante
1988-1993 Buick Riviera
1988-1991 Oldsmobile Toronado/Toronado Trofeo
1994-2005 Cadillac Deville
2000-2005 Buick LeSabre
2004-2005 Pontiac Bonneville
2006-2011 Buick Lucerne
2006-2011 Cadillac DTS
2011-present Chevrolet Volt
2012-2015 Opel Ampera
2012-2015 Vauxhall Ampera
2013-2015 Holden Volt
2013-2015 Chevrolet Malibu
2013-2016 Cadillac ELR
Investments
December 2009: $336 million for Chevrolet Volt and Opel Ampera production
April 2010: $121 million for Chevrolet Malibu
May 2011: $69 million for Chevrolet Impala
December 2013: $121 million for Logistics Center
April 2014: $384 million for second-generation 2016 Chevrolet Volt, 2016 Cadillac CT6 and more
Milestones, Accomplishments & Awards
Named a 2014 Michigan Environmental Leader by the Michigan Department of Environmental Quality for outstanding voluntary environmental stewardship.
One of several GM facilities to earn EPA's Energy Star Challenge for Industry in 2013 and 2014
2014 Neighborhood Environmental Partners Program Award recipient for improving environmental awareness and the quality of life in the community by the Michigan Department of Environmental Quality (DEQ)
Michigan Clean Corporate Citizen Award four years running (2011, 2012, 2013, 2014) for exemplary environmental performance and stewardship
State Economic Impact
State Wages: $212,973,527
Income Tax: $40,845,478
Plant Green Initiative
The D-Ham plant is active in various environmentally-friendly initiatives including:
A 16.5-acre wildlife habitat conservation area that has received recognition and certification from the Wildlife Habitat Council (WHC)
A 30kW solar carport located in the visitor's parking lot that is capable of simultaneously charging up to 10 electric vehicles
Recycling roughly 70 thousand wood pallets and 609 tons of cardboard annually
Housing Michigan's largest ground-mounted solar array for generating 516 kW. Developed in partnership with a local utility company, the array is 6.06 acres in size and is capable of providing 10 percent of the plant's fixed energy demand.
News
Follow this link for GM Detroit-Hamtramck plant news coverage.
Pictures