General Motors Detroit-Hamtramck Plant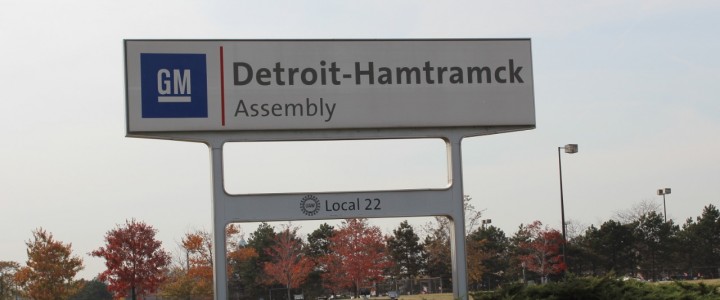 General Motors Detroit-Hamtramck Plant
The GM Detroit-Hamtramck facility – also referred to as D-HAM Assembly or the controversial Poletown Plant – built over 4 million vehicles from 1985 through 2020. Notably, current GM CEO Mary Barra was once the plant manager of D-Ham.
Currently, the site is being rebuilt as GM's Factory ZERO plant, which will be the launchpad for GM's multi-brand EV strategy. Notably, the name 'Factory ZERO' is a reflection of the advancement towards GM's zero-crashes, zero-emissions and zero-congestion future.
The General is managing to go forth with its retooling of the assembly plant despite complications brought on by the coronavirus (COVID-19) pandemic. The restructuring is expected to cost $2.2 billion, which is part of the revised tax credit agreement with the state of Michigan wherein the automaker will invest $3.5 billion in its various operations in the state over the next 10 years. The agreement also stipulates that the automaker's tax incentives will be cut by 75 percent if its workforce drops below 34,750, but above 27,875 employees.
General Information
Year opened:
1985
Facility size:
4.1 million square feet
Location:
2500 East Grand Boulevard
Detroit, Michigan – 48211 – United States
Employee information
Hourly:
205
Salaried:
157
Total:
362
Union local:
UAW Local 22
While officially located in Detroit, Michigan, the plant's footprint spans two U.S. cities, technically speaking — Detroit and Hamtramck, and the only GM facility to do so. Adding to its significance is the fact that it will be GM's first EV-exclusive assembly plant.
Products
In the final years leading up to the introduction of Factory ZERO, D-HAM produced the Chevrolet Impala and Chevy Volt, Cadillac CT6, and Buick LaCrosse, all of which have been discontinued.
With four vehicles built on a single production line, Detroit-Hamtramck was one of the most complex manufacturing assembly facilities in North America. Fittingly, the transition to Factory ZERO should compound this facet exponentially.
Below is a listing of every vehicle ever produced at D-HAM by model year:
History & Statistics
Origin
A bit of the controversy that surrounds the origin of GM's Detroit-Hamtramck assembly plant. As we've reported, GM proposed a new plant that sat at the edge of Hamtramck and Detroit back in the 1980s, when Detroit was desperate for economic development. However, the proposed 300-acre plot of land, known as Poletown, was already occupied by a small community of approximately 1,500 homes, over 125 businesses, and over 15 churches.
Government officials used Michigan's highly controversial eminent domain powers to seize the land from its owners and gift it to the automaker. A civil case was eventually taken to the Michigan Supreme Court, which ruled in favor of the City of Detroit. According to Mika Meyer PLC, the court found that the City of Detroit was "constitutionally authorized to exercise its eminent domain powers in such a way that condemned private property could be transferred to another private party (General Motors) for the purpose of constructing a privately owned automobile assembly plant on the property. The Poletown Court held that this was a proper public use for which the City's eminent domain powers could be exercised because the proposed automotive assembly plant would provide a generalized economic benefit to the City and thus serve the public health, safety and welfare." The outlet also notes that the Poletown decision was eventually overruled in the Wayne County v Hathcock case in July 2004.
Investments
December 2009: $336 million for Chevrolet Volt and Opel Ampera production
April 2010: $121 million for Chevrolet Malibu
May 2011: $69 million for Chevrolet Impala
December 2013: $121 million for Logistics Center
April 2014: $384 million for second-generation 2016 Chevrolet Volt, 2016 Cadillac CT6 and more
January 2020: $2.2 billion planned for Factory ZERO retooling
State Economic Impact
State Wages: $38,977,768.43 (2020)
Income Tax: $7,714,695.69 (2020)
Milestones, Accomplishments & Awards
Named a 2014 Michigan Environmental Leader by the Michigan Department of Environmental Quality for outstanding voluntary environmental stewardship
One of several GM facilities to earn EPA's Energy Star Challenge for Industry in 2013 and 2014
2014 Neighborhood Environmental Partners Program Award recipient for improving environmental awareness and the quality of life in the community by the Michigan Department of Environmental Quality (DEQ)
Michigan Clean Corporate Citizen Award four years running (2011, 2012, 2013, 2014) for exemplary environmental performance and stewardship
Plant Green Initiative
The D-Ham plant participated in various environmentally-friendly initiatives and objectives, including:
Creating a 16.5-acre wildlife habitat conservation area

Received recognition and certification from the Wildlife Habitat Council (WHC)

Building a 30kW solar carport located in the visitor's parking lot

Capable of simultaneously charging up to 10 electric vehicles

Recycling roughly 70 thousand wood pallets and 609 tons of cardboard annually
Housing Michigan's largest ground-mounted solar array for generating 516 kW

Developed in partnership with a local utility company
6.06 acres in size
Capable of providing 10 percent of the plant's fixed energy demand
Detroit-Hamtramck - Michigan - USA News
57

A new Impala has not been built since February 2020.

20

The license plate area in the SUV is offset, while that of the Pickup is centered.