GM Defense Concord Production Facility
GM Defense Concord Production Facility
GM Defense LLC is a subsidiary of General Motors, and through a partnership with global engineering firm Ricardo it is set to produce the GM Defense ISV (Infantry Squad Vehicle), which is a military-grade vehicle commissioned for the U.S. armed forces. Production of the ISV takes place at this recently inaugurated the North Carolina facility in Concord.
Notably, this facility was initially slated to be GM's (Chevy's) motorsport facility for NASCAR programs, but was repurposed for GM Defense.
GM Defense Concord Production Facility Quick Facts

| | |
| --- | --- |
| Year Opened: | 2021 |
| Facility Size: | 75,000 Square Feet |
| Location: | 4540 Fortune Ave NW, Concord, NC 28027 |
| Employee Roster: | TBD |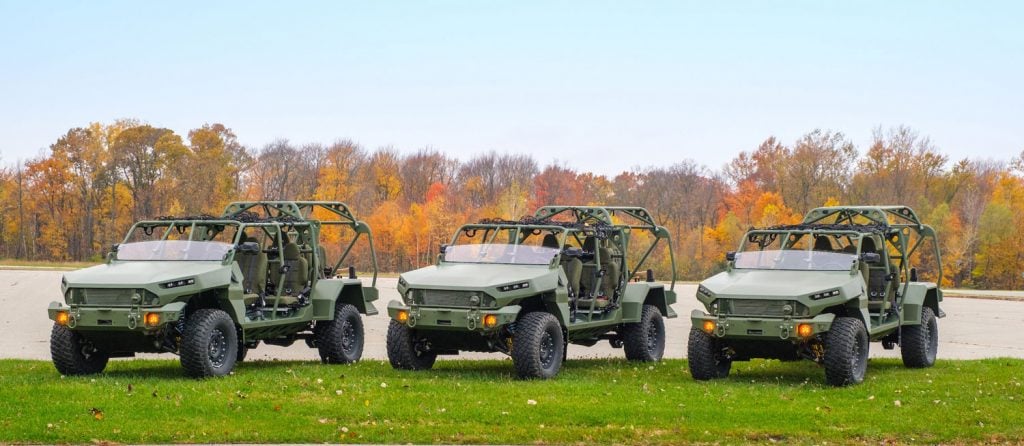 Highlights
The new 75,000-square-foot plant includes some of the latest manufacturing tools, including a digital operating system utilizing Bluetooth-enabled tools to meet U.S. Army requirements with extreme precision. The advanced tools will help ensure the highest level of quality while enabling greater efficiencies throughout the ISV build.
"Our ability to build vehicles after the start of construction in just over 90 days, combined with the rapid delivery of the first ISV to the U.S. Army 120 days after contract award, underscores the world-class manufacturing capabilities and innovation we bring to our customers," said Herrick, former interim president of GM Defense and GM's vice president for Global Product Programs. "I look forward to supporting Steve as he the expands the company's North Carolina footprint and pursues new defense and government contracts."
Products
The site exclusively produces the GM Defense ISV, which is based on the award-winning Chevrolet Colorado ZR2 midsize truck architecture and features 90 percent commercial-off-the-shelf parts, including Chevrolet Performance race components proven to perform under tough off-road conditions. The expeditionary vehicle is designed to provide a 'better boot' to infantry soldiers, helping to eliminate the traditional march of wars past and providing rapid mobility to the fight on nearly any battlefield.
The non-UAW facility currently produces two GM Defense ISV units per week, assembling the vehicle by hand. The frame and chassis are sourced from a GM supplier, while the 2.8-liter LWN turbo-diesel Duramax engine comes directly from GM. Meanwhile, the chrome-moly exoskeleton – including the GM Defense-designed Roll Over Protection System – is manufactured and sent in from Hedrick Motorsports, which is based just minutes from the facility.
GM Defense Concord Facility Photos
GM Defense News
0

More-effective delivery of military solutions to global customers.

5

Full production expected next year.