General Motors Bay City, Michigan Plant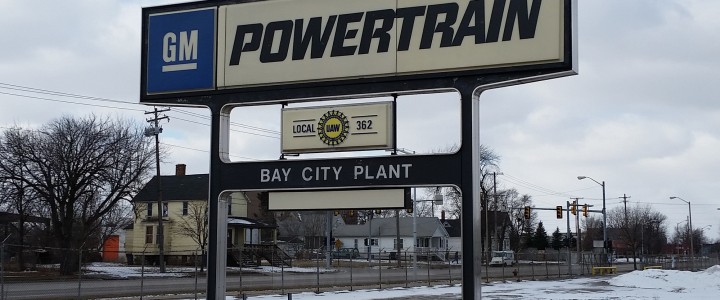 General Motors Bay City, Michigan Plant
The GM Bay City plant, otherwise known as GM Bay City Powertrain, is located in the town of Bay City near Detroit, Michigan, USA. The facility currently produces various powertrain components for a wide range of GM vehicles. It is located approximately 90 miles North of Detroit on I-75 (exit 162A).
Fast Facts
Year opened:

1892 as National Cycle Manufacturing Company
1918 as a General Motors facility

Activity: powertrain
Facility size: 975,000 square feet
Location:
10301 Philadelphia Rd.
White Marsh, MD, 21162
United States
Contact: 1 (989) 894-7210
Staff: 379 total

296 hourly
83 salaried
Union local: UAW Local 362
Products
GM Bay City powertrain produces engine and transmission components using the latest technology and improved product quality for General Motors vehicles that are used in Chevrolet, Buick, GMC and Cadillac models, including:
Piston Pins
Connecting Rods
Camshafts
Oil Pumps
Balance Shafts
History
The GM Bay City plant has a rich history. It originally opened in 1892 as National Cycle Manufacturing Company and produced a new bicycle to replace old high-wheeled types.
In 1916, William Durant and Louis Chevrolet bought the plant, adding it to the General Motors portfolio in 1918.
Investments
GM has invested $264.9 million into the Bay City plant since 2010, including:
2010: $10 million for production of camshafts and connecting rods for the Chevy Volt program
2010: $32 million for production of next-generation small block engine
2010: $20 million for production of camshafts for the next generation Ecotec engine
2010: $12.7 million to support engine production for the Chevrolet Volt, Chevrolet Cruze and a new Chevrolet small car (Sonic)
2011: $25 million for production of connecting rods and camshafts for 1.4-liter engine capacity increase
2013: $31.7 million to produce components for a new V6 engine and components for the small Ecotec gasoline engine
2016: $118 million for production of future high-efficiency engine components
2017: $20 million to support production of cam rough machining operations for future engine programs
Milestones, Accomplishments & Awards
Wildlife Habitat Council Certification
QNPM Phase III Recertification
ISO 14001 certified since 1999
State Economic Impact
State Wages: $42,384,810
Income Tax: $8,354,873
News
Follow this link for GM Bay City plant news coverage.
Pictures