General Motors Toluca Plant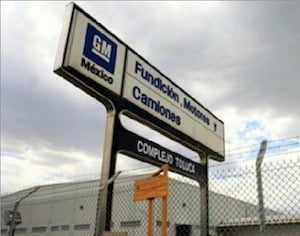 General Motors Toluca Plant
The GM Toluca facility, sometimes referred to as the Toluca Complex or Complejo Toluca (in Spanish), is located in the city of Toluca de Lerdo, State of Mexico, Mexico. It currently produces propulsion systems and conducts aluminum foundry operations.
Year opened: 1965
Facility size: 42.9 hectares (4.618 million square feet)
Address: Avenida Industria Automotriz Delegación Sta Ana Tlapaltitlán 50160 Toluca de Lerdo, México
Phone: +52 800 508 0000
Employee information:

Hourly: TBD
Salaried: TBD
Total: TBD

Facilities:

Propulsion Systems Assembly
Aluminum Foundry

Production shifts: TBD
Products
The Toluca plant currently produces various propulsion systems, including:
Propulsion Systems Assembly

V-8 engines
I-4 small gasoline engines (SGE)

Aluminum foundry, which produces monoblocks and cylinder heads for engines made at the plant as well as at other GM plants.
News
Follow this link for GM Toluca plant news coverage.