General Motors Bekasi, West Java, Indonesia Plant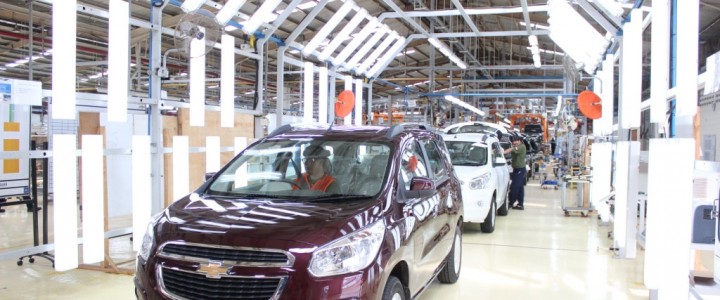 General Motors Bekasi, West Java, Indonesia Plant
The General Motors Bekasi facility was a vehicle assembly plant in Bekasi, West Java province, Indonesia about 10 miles (16 km) east of Jakarta. The plant has been shut down since 2015.
Year opened: 1995

1995 – 2005 (closed in 2005)
2013-2015 (closed in 2015)

Year closed: June 2015
Operations:

General vehicle assembly
Body shop
Stamping/press shop
Paint shop
Warehouse

Facility size: 58,000 m2 plant on 108,000 m2 of land
Address:
Jalan Raya Bekasi KM. 27
Pondok Ungu
Bekasi Barat
Medan Satria
Kota Bks
Jawa Barat 17132
Indonesia
Telefone: +62 21 30406800
Employee information: 500-700
Annual production capacity: 40,000 units on one line with one shift
Products
The GM Bekasi factory produced the Chevrolet Spin MPV from 2013 through 2015. After that, production was moved to the GM Sao Caetano do Sul factory operated by GM Brazil.
Chronology
1927: General Motors establishes GM Java, becoming the first car manufacturer in Indonesia.
1995: GM opens Bekasi plant.
2004: GM closes Bekasi plant amid the decade's financial crisis and manufacturing strikes
2011: GM decides to re-establish Indonesian manufacturing presence after bankruptcy in 2009-2010.
2012: construction of the revamped plant completed on July 27.
2013: GM officially re-opens Bekasi plant on May 8, representing a return of GM manufacturing to Indonesia

Total investment in the plant was $150 million USD.
Facility is fully-owned by General Motors Indonesia, a subsidiary of General Motors Southeast Asia.
At launch, plant receives an Environment Analysis Permit from the BPLHD of Bekasi (Badan Pengelolaan Lingkungan Hidup Daerah, a local agency for environmental management).
Plant conforms to GM's global standard for environment management and protection, which is higher than local requirements.
GM says that the Bekasi plant is a critical part of GM's growth strategy in Indonesia and Southeast Asia, enlarging the automaker's manufacturing footprint as well as the footprint of the Chevrolet brand in the region. The plant's location fulfills GM's philosophy of "build where we sell and source where we build."

2013: the plant employs roughly 700 people as of May 13, more than 95 percent of which are local employees.

The employees are trained in all areas including the practice of building quality vehicles and safety, people, cost, delivery and environmental management.
Training was conducted in accordance with GM's global standards.

2013: GM says that it expects the number of employees to grow to more than 800 employees when a second shift is added by the end of 2013.
2015: GM announces plans to transition to a national sales company on February 26th, therein discontinuing vehicle production at Bekasi. All jobs at the plant were lost.

As part the change in strategy, GM announces plant to shift attention and branding to Crossovers and Sport Utility Vehicles (SUVs) in Indonesia as "part of its ongoing focus on strengthening the performance of its global operations".
GM Indonesia chief Michael Dunne leaves position and is replaced on an interim basis by GM Indonesia Chief Financial Officer, Pranav Bhatt.
Closure
The Bekasi plant was shuttered for three primary reasons:
Poor sales performance of the Chevrolet brand in the local Indonesian market
Poor sales performance of the Chevrolet Spin in the local Indonesian market
High production cost of the Chevrolet Spin at the plant due to importing of parts
Indonesia is a very unique market for the automotive industry: the country has a population of roughly 240 million people, but fewer than four in every 100 own a car.
In manufacturing the Chevrolet Spin locally, GM was hoping to take on Japanese rivals like Toyota and Honda, as the small people mover (MPV) proved popular in various developing markets in South America (such as Brazil). Priced to start around $12,000, the locally-produced Spin had the Toyota Avanza directly in its crosshairs.
Unfortunately the strategy didn't pan out: despite GM's long-standing presence in Indonesia, which dates back to 1927 as the first automaker in the country, Spin sales never took off as GM had planned. GM sold less than 11,000 Chevrolets in Indonesia in 2014, giving it a market share of less than 1 percent. Of the (less than) 11,000 units sold in 2014, the Spin made up 8,412 units, with another 3,000 exported for sale in other markets. Meanwhile, Toyota and its Daihatsu partner sold more than 578,000 vehicles during the same timeframe. In fact, Japanese automakers cumulatively account for over 90 percent of the Indonesian market.
The Spin's low sales volume in Indonesia was further exacerbated by high production costs of the model, caused by the circumstance that most parts to build the car had to be imported. This made the Bekasi plant a financial burden. In 2014, production volume at the plant was less than a quarter of the facility's annual capacity of 40,000 vehicles.
"We could not ramp up Spin production to boost the volume as we had expected… although the product was really good," Stefan Jacoby, GM executive vice president and president of GM International, which includes markets beyond the Americas, Europe and China, told Reuters. "The logistics chain of the Spin was too complex; we had low volume so we could not localize the car accordingly, and from the cost point of view we were just not competitive."
Jacoby admitted that GM got it wrong in going head-to-head with the Japanese in a market he dubs their "backyard".
As events were unfolding against GM in the country, automakers globally were focusing on developing self-driving vehicle technologies while also shifting investments to take on more lucrative market opportunities such as emerging markets in South America, Russia, and India. The necessity of funds for more lucrative investment opportunities and markets required GM to act quickly to seal the financial leak that was the Bekasi plant.
In closing the facility, GM Indonesia was overhauled to become a national sales company, selling vehicles made elsewhere. GM also decided to focus more on crossovers and SUVs as part of a broader repositioning of the Chevrolet brand across Southeast Asia, emphasizing its American heritage for SUVs such as the Captiva and Trailblazer. Crossovers and SUVs also tend to be more profitable than cars and MPVs.
The overhaul aims to turn GM Indonesia "not only into profitability, but into a sustainable business model," Jacoby said.
As of 2017, Chevrolet markets the following vehicles in Indonesia:
Spark city car
Trax subcomapct crossover
Captiva compact crossover
Trailblazer midsize SUV
Colorado midsize pickup truck (international market version, which different from the Chevy Colorado sold in the U.S. and Canada)
Orlando compact MPV
Pictures
News
Follow this link for GM Bekasi factory news coverage.