General Motors OBB, Ecuador Plant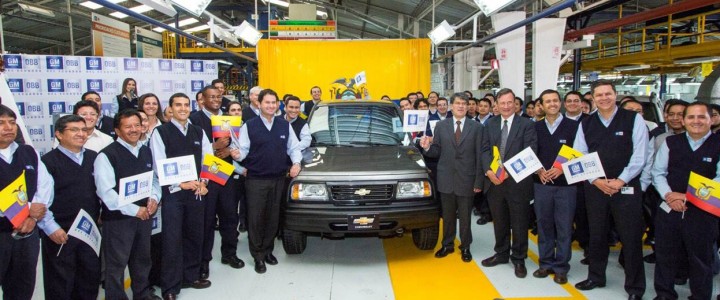 General Motors OBB, Ecuador Plant
The GM OBB plant, otherwise known as OBB Assembly Plant or GM Ecuador Plant, is located in the metropolitan district of Quito, Ecuador. It currently produces various Chevrolet vehicles for the Ecuadorian and South American markets.
Fast Facts
Year opened: 1975
Activity: vehicle assembly
Facility size: TBD
Location:
Avenida Galo Plaza Lasso c/c calle Enrique Guerrero Portilla
#OE1-134, Metropolitan District Quito
Ecuador
Phone: +593 2-297-7700
Employee information: about 1,100 direct
Production capacity: unknown
Products
The General Motors OBB Assembly plant currently produces the following vehicles:
The factory has previously produced a variety of SUVs and pickup trucks, including:
Chevrolet Blazer (K5)
Chevrolet Silverado (C-10)
Chevrolet Luv
Chevrolet Vitara (Suzuki Vitara first generation, from 1990 – 2013)
Suzuki Grand Vitara SZ (third generation)
Chevrolet Aveo family (Daewoo Kalos)
Historic Timeline
The OBB plant was opened in 1975 by Ómnibus BB (OBB) Transportes S.A., an Ecuadorian company owned by entrepreneur Bela Botar Kendur of Hungarian origin. The facility was the first assembly plant in Ecuador that initially assembled buses.
In 1981, GM became a shareholder in OBB, investing in order to manufacture light vehicles. The combination of GM, which brought colossal global production and product experience, and OBB's entrepreneurial spirit marked a new stage in Ecuador's automotive industry.
The GM OBB plant is currently the largest assembly facility in Ecuador. It produces 80 percent of Chevrolet vehicles sold in the country. The plant's most emblematic vehicles have been the Chevrolet Blazer K5 (first light vehicle of Ómnibus BB) and the Chevrolet Vitara. Notably, the Vitara was produced for 23 consecutive years and became an icon in the Ecuadorian automotive market.
Photos