General Motors Norsom Plant – Shenyang, Liaoning, China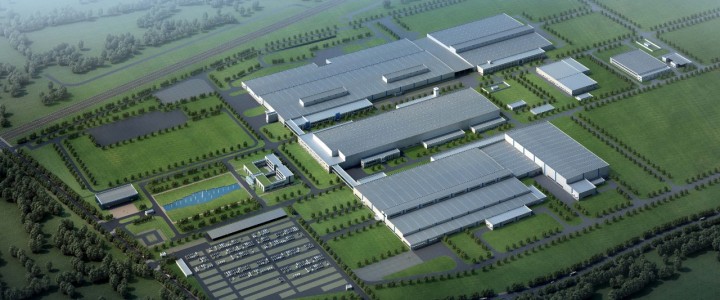 General Motors Norsom Plant – Shenyang, Liaoning, China
The GM Norsom plant, officially known as SAIC-GM (Shenyang) Norsom Motors Co., Ltd. and previously known as Jinbei General Motors, is located in Shenyang, Liaoning, China. The plant currently produces the Buick GL8, Chevrolet Captiva and
Chevrolet Cavalier.
Overview
Shanghai GM Norsom Motors opened in 2004. The factory is a joint venture between the Shanghai Automotive Industry Corp. (SAIC) and GM China. The SAIC-GM joint venture holds a 50 percent stake while GM China and SAIC each hold 25 percent stakes in the facility.
The plant celebrated its tenth anniversary in 2014 by opening its Phase III manufacturing facility and producing the first new Chevrolet Cruze, a vehicle specific to the Chinese market that was later rebranded as the Chevrolet Cavalier.
The Phase III of the plant has an annual production capacity of 300,000 vehicles and 450,000 engines, for a total annual production capacity of 500,000 vehicles and 450,000 engines between all parts (phases) of the plant. The facility is capable of producing up to five models on three platforms. As of 2004, Norsom has produced about 1.7 million vehicles.
The facility includes press, body, paint, powertrain and general assembly shops. It also has auxiliary powertrain facilities, a distribution center and a high-speed test track. Adjacent to the new plant is a 2.44-square-kilometer automotive parts and components park.
Advanced global manufacturing technology and processes have been adopted throughout the plant, including:
An environmentally friendly paint shop featuring a fully automated interior and exterior painting process
A world-class fully automated high-speed press
A decoiling and blanking production line
Shanghai GM's first highly-automated flexible body manufacturing system, whose 518 robots give the body shop a domestic industry-leading automation rate of 93 percent
The technology is supported by Shanghai GM's world-class management and quality systems, which enable agility, flexibility and modularity.
Products
Currently, the Norsom Motors factory builds the following vehicles:
Buick GL8
Chevrolet Captiva
Chevrolet Cavalier (previously known as second-generation Chevrolet Cruze for Chinese market)
News
Follow this link for GM-SAIC Norsom plant news coverage.
Pictures