General Motors Joinville, Santa Catarina, Brazil Plant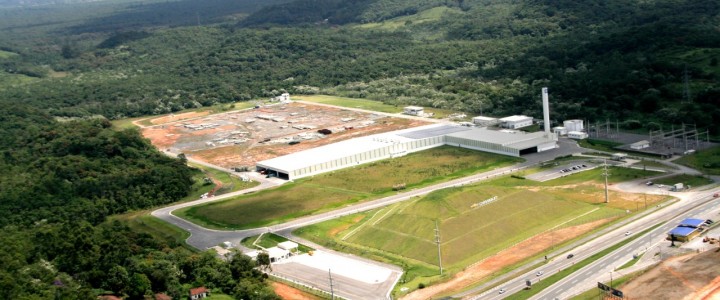 General Motors Joinville, Santa Catarina, Brazil Plant
The General Motors Joinville facility is located in Joinville, Santa Catarina, Brazil. It currently produces powertrain components for Chevrolet vehicles sold in the Brazilian and South American markets.
Year opened: 2012
Operations:

Engine manufacturing
Powertrain component manufacturing

Facility size: 60,000 m2 on 500,000 m2 of land
Address:
Rodovia Governador Mário Covas
Km 47, 1518 – Nova Brasília
Joinville – SC
Brazil
Telefone: +55 47 3801-6319
Employee information: 500 people
Annual production capacity:

120,000 engines and 50,000 cylinder heads when operating on three shifts
Products
The GM Joinville factory produces engines and engine components such as cylinder heads for Chevrolet vehicles sold in the Brazilian and South American markets.
Investments
GM invested roughly $200 million to bring the Joinville plant online.
Processes
The plant uses some of the most advanced processes in the sphere of engine machining and assembly, and cylinder head manufacturing.
For instance, the machining process incorporates flexible machines with control systems that enable rapid production changes to volume, technical changes and product improvements. In addition, the sophisticated engine test system enables operators to test engines without using fuel (gasoline or ethanol). As a result, the electrically powered system essentially eliminates the generation of contaminants inside the plant.
Environmental Responsibility
Like all GM facilities in Brazil, the Joinville plant was built in accordance with the company's global environmental policies. For example, approximately 180,000 square meters of land were preserved as a natural habitat.
According to Adhemar Nicolini, general director of GM Powertrain for Latin America, Africa and Middle East, the GM Joinville plant features a closed looped system that uses water and oil, but does not create industrial waste – "meaning there is zero pollution in the production process."
In 2014, the Joinville plant earned the LEED (Leadership in Energy and Environmental Design) Gold certification from the U.S. Green Building Council. It is the first automotive plant in South America to become LEED Gold certified as a result of investments in sustainability when construction of the plant commenced.
To attain LEED Gold status, the Joinville factory embraced several environmental processes, including:
Installing a 350-kilowatt solar array that powers plant-floor and office lighting, avoiding 10.5 tons of CO2 – the equivalent of energy consumed by 220 homes in Brazil annually. The solar power is also used to heat 15,000 liters of water per day, reducing natural gas costs and avoiding 17.6 tons of CO2 emissions annually. It is the first solar energy system in the Brazilian automotive industry.
Using reverse osmosis – a process that pushes water through a filter to eliminate particles – to filter water from recycled treated wastewater for toilet flushing and industrial uses such as cooling towers. The plant saves the equivalent of nine Olympic-sized swimming pools – 22.9 million liters per year. It's the first application of its kind at an automotive facility.
Harvesting natural light
Using filtering gardens to treat sewage
The Joinville plant is working to achieve landfill-free status, in which no waste from daily operations would be sent to landfill. When certified, it would join six other South America facilities and more than 100 total GM global facilities to have earned this designation.
Pictures
News & Related Coverage