GM 2.0 Liter I4 Turbo Diesel LUZ Engine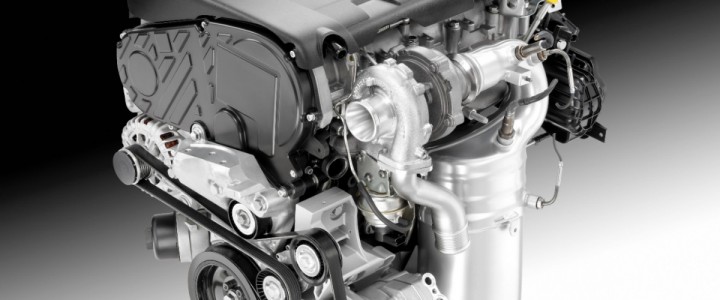 GM 2.0 Liter I4 Turbo Diesel LUZ Engine
The 2.0-liter I4 Turbo Diesel LUZ is an engine produced by General Motors for use in diesel variants of its vehicles. Part of GM's Family B engine range, the LUZ has been adapted for North American emissions standards. It is currently being used in a single vehicle in North America – the 2014 Chevrolet Cruze 2.0TD (Cruze Turbo Diesel).
The Chevrolet Cruze Clean Turbo Diesel achieves an EPA-rated 46 mpg on the highway — better than any non-hybrid or gasoline passenger car in America. The Cruze Diesel can also travel 717 miles on a single tank of fuel. It is the only diesel-powered passenger car offered by GM in the United States and Canada. The impressive performance is thanks to GM's 2.0-liter turbo-diesel four-cylinder LUZ engine.
SAE-certified at 151 horsepower (113 kW) and 264 lb.-ft. of torque (358 Nm), the LUZ enables 0-60 mph performance of about 8.6 seconds in the Cruze. It also produces at least 250 lb.-ft. of torque (339 Nm) between 1,750 and 3,000 rpm and has an overboost feature capable of increasing torque to an estimated 280 lb.-ft. (380 Nm), for short bursts of stronger acceleration.
The Cruze Diesel's unique 2.0L turbo-diesel engine is based on a proven design already used in markets around the globe. It is the cleanest diesel engine produced by General Motors and meets tough North American diesel emission standards, generating 90 percent less Nitrogen Oxide (NOx) and particulate emissions compared to previous-generation diesels.
Engine highlights:
Cylinder Block and Head: the cylinder block is made of strong gray cast iron, with five main bearings. To minimize weight, it features an aluminum cylinder block, which helps the 2.0L turbo-diesel weigh in at only 408 pounds (185 kg). The cylinder head incorporates dual overhead camshafts with four valves per cylinder and maintenance-free hydraulic lifters with low-friction roller-finger followers. Quiet belt-driven cams/valvetrain with high-strength belt material and tensioner rated for 100,000 miles.
Rotating Assembly: a forged steel crankshaft anchors the engine's rotating assembly, delivering exceptional durability over a long engine life. It is used with steel connecting rods, floating piston pin bearings, and high-strength aluminum pistons. The piston also feature a reinforced top ring and integral combustion bowl design that's an integral component of the combustion system. Piston oil jets that help reduce friction and optimize piston temperature for greater performance and efficiency. The jets, mounted at the bottom of each cylinder, are part of the engine's oiling circuit and spray engine oil at the bottom of the pistons.
Central Direct Injection and Common Rail Fuel System: the 2.0L turbo-diesel uses a central direct fuel injection system, with the injectors positioned in the middle of each cylinder and the bowl in the pistons serving as the combustion chambers. This enables a high 16.5:1 compression ratio that enhances power and combustion efficiency. A common-rail fuel system with Piezo fuel injectors creates multiple injections per combustion for greater performance, combustion efficiency and quietness. Piezo injectors allow a more precise metering of fuel for a smoother idle and lower combustion noise. Ceramic glow plugs are employed with the combustion system. They provide greater cold-start performance over conventional metal glow plugs (an engine oil heater is offered for cold climates).
Intercooled Turbocharging System: a variable-nozzle turbocharger broadens the 2.0L turbo-diesel's overall torque curve. It is mounted close to the exhaust outlet of the engine for quicker "spool up" of the turbine and faster "light off" of the exhaust catalyst. The turbocharger bearings are oil-lubricated and cooled via an oil cooler. An intercooling system produces a cooler, denser air charge for greater torque and power.
Variable-Swirl Intake Manifold: a variable-swirl intake manifold design optimizes air charge mixture motion in the cylinders for a more-efficient combustion that enhances performance and reduces emissions.
Variable-Displacement Oiling System: the variable-flow oiling system helps maximize fuel efficiency with a crankshaft-driven oil pump that matches the oil supply to the engine load. The engine's variable-flow pump changes its capacity based on demand for oil rather than using energy to pump oil that is not required.
Exhaust Gas Recirculation: a precise exhaust gas recirculation control system features a high-capacity cooler and bypass feature that enable the engine to meet United States and Canada's tough diesel emissions regulations. The exhaust after-treatment system is similar to what is used on Chevrolet's heavy-duty trucks and vans equipped with the Duramax diesel, including a diesel particulate filter and diesel emission fluid injection. An approximately 4.5-gallon (17 liters) tank holds enough diesel emissions fluid for an estimated 8,000 miles (13,000 km) of driving between refills. The system is also designed for servicing to coincide with oil changes, for greater convenience.
B20 Biodiesel Capability: the 2.0L turbo-diesel is capable of running on B20 biodiesel, a fuel composed of 20 percent biodiesel and 80 percent conventional diesel. B20 helps lower carbon dioxide emissions and lessens dependence on petroleum. It is a domestically produced, renewable fuel made primarily of plant matter – mostly soybean oil.
GM 2.0L I4 LUZ Engine Specs
Type:
Fam. B 2.0L Turbo Diesel engine
Combustion System:
Compression Ignition
Induction System:
Variable Geometry Turbocharger
Displacement:
1956 cc (119 ci)
Engine Orientation:
Transverse
Compression ratio:
16.5:1
Valve configuration:
Dual overhead camshafts
Valves per cylinder:
4
Valve Timing:
Fixed
Assembly site:
Kaiserslautern, Germany
Firing order:
1-3-4-2
Bore x Stroke:
83.00 x 90.40mm
Maximum Engine Speed:
5000 rpm
Fuel system:
Direct Injection
Fuel type:
B20 Bio Diesel
Engine Mass (kg/lbs):
182 kg (401 lb)
Emissions controls
Diesel Particulate Filter
Cooled Exhaust Gas Recirculation Valve
Positive Crankcase Ventilation
Tier 2/LEV II BIN 5
Horsepower hp (kw)
Chervolet Cruze:
151hp (113kW) @ 4000 rpm SAE Certified
Torque lb-ft. (Nm)
Chervolet Cruze:
250 lb-ft (339Nm) @ 1750 – 3000 rpm SAE Certified
Materials
Block:
Cast Iron
Cylinder head:
Aluminum
Intake manifold:
Aluminum
Exhaust manifold:
Nodular Iron
Crankshaft:
Forged Steel
Camshaft:
Nodular Iron
Connecting rods:
Forged Steel
Additional features
Aluminium cam carrier
Poly-V belt accessory drive
Piezo Injectors
Turbocharger with variable geometry nozzle
Oil pan with integrated oil suction pipe
Forged connecting rods
Ceramic glow plugs
EGR cooling system with by-pass throttle
Piston with pinoffset
Close loop control on electronic throttle valve
New Bosch ECU Generation E47B
Oil cooler module with oil green filter
Airmass flow meter sensor with air temperature sensor integrated
Dexos II
Intercooler
GM 2.0L I4 LUZ Engine Vehicle Applications

| Vehicle | Transmission |
| --- | --- |
| Chevrolet Cruze | MDK-FWD-AF40-6 (Gen 2) FWD |