GM 5.5 Liter LT7 Twin-Turbo V8 Engine
GM 5.5 Liter LT7 Twin-Turbo V8 Engine
The LT7 is a future eight-cylinder engine from General Motors based on the high-revving LT6, and is expected to debut in the eighth-generation Chevrolet Corvette ZR1.
Following is speculative and unconfirmed information about the future GM LT7 engine. This page is a continuous work-in-progress and will be updated on a regular basis as we await official details from General Motors.
If you notice any inaccuracies about the information provided, or have edits to suggest, please let us know here.
Overview
Currently, no official information is available about the LT7 engine. However, we have a sufficient amount of details that we learned from insider sources. As mentioned, the LT7 will be based on the LT6 V8 engine, which is utilized by the C8 Corvette Z06. That said, it is not yet known whether or not the boosted application will also make use of a flat-plane crankshaft which enables the Z06 to have a sky-high redline of 8,600 rpm.
Specifications
We expect the GM LT7 engine to be twin-turbocharged and to displace 5.5 liters in a V-8, Dual Overhead Cam (DOHC) configuration.
Depending on the vehicle application, the LT7 is expected to be around 850 horsepower and around 850 pound-feet of torque.
Displacement: 5.5L (335 ci)
Aspiration: Twin-Turbo
Cylinders: 8
Electrification: Hybrid-Electric in C8 Zora
Configuration: V-8, Dual Overhead Cam (DOHC), 32 valve
Vehicle Applications
The GM LT7 engine will serve as the standard powerplant for two mid-engine Chevrolet Corvette models: the C8 ZR1 and the C8 Zora. The ZR1 is expected to launch for the 2024 model year, while the Zora will come about a year thereafter.
| Model Year | Make | Model | Power (hp @ RPM) | Torque (lb-ft @ RPM) | Aspiration | Electric Assist |
| --- | --- | --- | --- | --- | --- | --- |
| 2024 | Chevrolet | Corvette C8 ZR1 | Expected 850 @ TBD | Expected 850 @ TBD | Twin-Turbo | None |
| 2025 | Chevrolet | Corvette C8 Zora | ~1000 @ TBD | ~1000 @ TBD | Twin-Turbo | Hybrid Electric |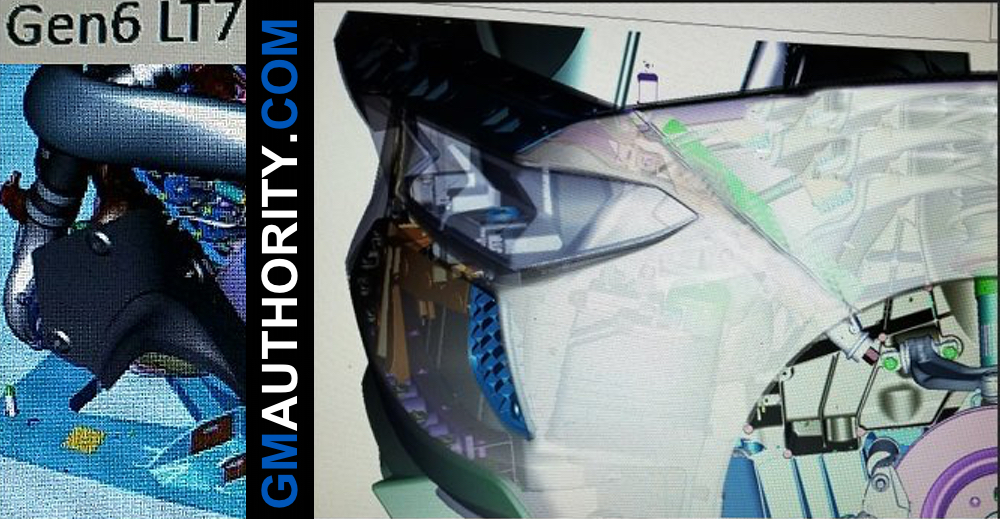 Related Engines
Despite its LT designation, the LT7 will have nothing in common with GM's fifth-generation Small Block overhead valve (push-rod / OHV) engine family, which includes the following motors:
Instead, the LT7 engine represents an all-new, sixth-generation DOHC V8 engine family that's derived from the 4.2L Cadillac Blackwing engine (RPO Code LTA) and the LT6, a naturally-aspirated version of the LT7 that will be used in the C8 Z06.
Pictures
LT7 News
17

Notably, the Z06's LT6 engine doesn't feature this technology.

7

Boosted V8 currently in development.