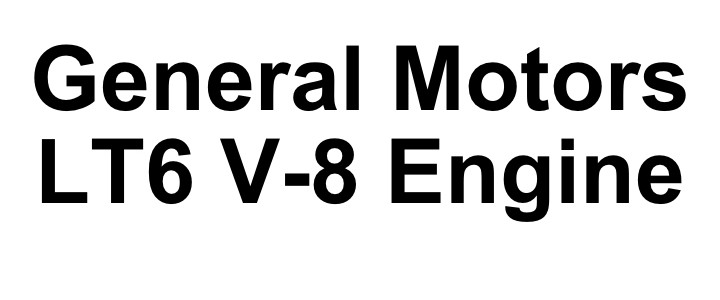 GM LT6 V-8 Engine
The LT6 is believed to be a future eight-cylinder engine from General Motors.
Following is speculative and unconfirmed information about the future GM LT6 engine. This page is a continuous work-in-progress and will be updated on a regular basis as we await official details from General Motors.
If you notice any inaccuracies about the information provided, or have edits to suggest, please let us know here.
Currently, no official information is available about the LT6 engine, including specifics such as its displacement, output, and configuration.
We can, however, deduce a few things by reading the proverbial tea leaves. The biggest hunch we have about an LT6 engine being in the pipeline is the naming space available after LT4 and LT5 in GM's engine RPO codes: though GM has released the supercharged LT4 and LT5 overhead valve V-8 engines, it has yet to release an engine with the LT6 or LT7 RPO designations.
Specifications
LT6 engine specifications are currently not available. We will update this page when we have more concrete information about the motor.
Vehicle Applications
It is currently unclear what vehicle(s) will be powered by the LT6 engine. Potential models include:
| Vehicle | Power (hp @ RPM) | Torque (lb-ft @ RPM) |
| --- | --- | --- |
| TBD | TBD | TBD |
Engine Family
It is currently unclear which GM engine family the LT6 engine will belong to.
On the one hand, the "LT" nomenclature suggests that LT6 belongs to GM's fifth-generation Small Block overhead valve engine family. If that is the case, then the engine will likely be an updated version of the LT1, and will therefore have much in common with the following GM Gen 5 Small Block engines:
Other engines that are part of the same GM Gen 5 Small Block engine family include:
On the other hand, it is also possible that the LT6 motor will feature a Dual OverHead Cam (DOHC) design and therefore not be at all related to General Motors' Gen V Small Block engines.
Whatever the configuration of GM's supposed LT6 engine, we expect it to have eight cylinders.
Pictures
We will update this section when LT6 engine pictures become available.
LT6 news
Follow our coverage of LT6 news and developments.