GM 6.2 Liter Supercharged V8 Small Block LT4 Engine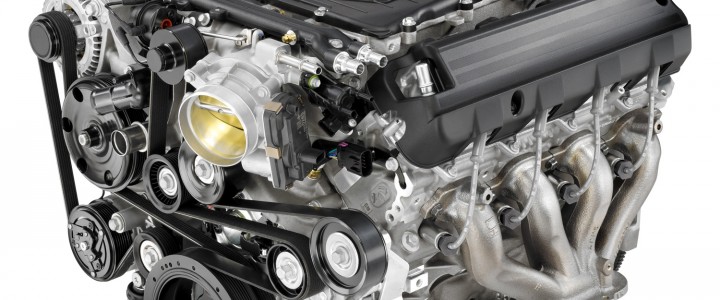 GM 6.2 Liter Supercharged V8 Small Block LT4 Engine
The LT4 is an engine produced by General Motors for use in ultra-high-performance vehicles. Part of GM's 5th-generation Small Block engine family, the engine displaces 6.2 liters, has eight cylinders in a "V" layout, and features a purpose-built supercharger. Currently, the engine is used in the Corvette C7 Z06 and third-generation Cadillac CTS-V; it will likely also be used in the 2017 Camaro ZL1.
Overview
The LT4 is the most powerful production engine ever offered in a General Motors vehicle. The LT4 engine builds on the design strengths of the previous LS9 supercharged engine used in the sixth-generation Corvette ZR1 and leverages the technologies introduced on the seventh-generation Corvette Stingray, including direct injection, cylinder deactivation and continuously variable valve timing, to take Corvette performance to an all-new plateau.
The LT4 is based on the same Gen 5 small block foundation as the 6.2L LT1 naturally-aspirated engine, incorporating several unique features designed to support its higher output and the greater cylinder pressures created by forced induction.
Engine highlights include:
Next generation Eaton supercharger
Dual-Brick Air-to-Liquid intercooler
Rotocast A356T6 aluminum cylinder heads that are stronger and handle heat better than conventional aluminum heads
Lightweight titanium intake valves
Forged powder metal steel connecting rods which are highly machined to an optimized geometry for increased strength while eliminating unnecessary reciprocating mass
High 10.0:1 compression ratio – for a forced-induction engine – enhances performance and efficiency and is enabled by direct injection
Forged aluminum pistons with unique, stronger structure to ensure strength under high cylinder pressures
Stainless steel exhaust manifolds for structure at higher temperatures
Aluminum balancer for reduced mass
Standard dry-sump oiling system with a dual-pressure-control oil pump
Dual-pressure-control and variable-displacement vane pump with increased flow capacity
Dual-equal cam phasing
PCV integrated rocker covers
Direct Injection
High-pressure fuel pump
Active fuel management/Cylinder deactivation
Specifications
GM 6.2 Liter Supercharged V8 Small Block LT4 Engine Specs
Displacement:
6162cc (376 ci)
Engine Orientation:
Longitudinal
Compression ratio:
10.0:1
Valve configuration:
Overhead valves
Valves per cylinder:
2
Assembly sites
For CTS-V, Camaro ZL1
Tonawanda, New York
For Corvette Z06:
Bowling Green, Kentucky
Valve lifters:
Hydraulic roller
Firing order:
1 – 8 – 7 – 2 – 6 – 5 – 4 – 3
Bore x stroke:
103.25 x 92mm
Fuel system:
DI
Fuel Type:
Premium required
Maximum Engine Speed:
6600 RPM
Emissions Controls
Catalytic converter
Three-way catalyst
Positive crankcase ventilation
Horsepower hp (kw)
2015 – present Chevrolet Corvette C7 Z06 (coupe and convertible):
650 hp (485 kW) @ 6400 SAE Certified"
2016 – present Cadillac CTS-V Sedan:
640 hp (477 kW) @ 6400 SAE Certified
2017 – present Chevrolet Camaro ZL1:
650 hp (485 kW) @ 6400 rpm SAE Certified
Torque lb.-ft. (Nm)
2015 – present Chevrolet Corvette C7 Z06 (coupe and convertible):
650 lb.-ft. (881 Nm) @3600 SAE Certified
2016 – present Cadillac CTS-V Sedan:
630 lb.-ft. (855 Nm) @ 3600 SAE Certified
2017 Chevrolet Camaro ZL1:
650 lb.-ft. torque (881 Nm) @ 3600 rpm SAE Certified
[/quicktogglele]
Block:
Cast aluminum
Cylinder head:
Cast aluminum
Intake manifold:
Cast Aluminum Supercharger
Exhaust manifold:
Cast Stainless (Corvette) or Fabricated Stainless (CTS-V)
Main bearing caps:
Cast Nodular
Crankshaft:
Forged steel
Camshaft:
Billet Steel
Connecting rods:
Forged Powder Metal
Additional Features
1.74 L/rev Supercharger
Integrated dual coolant-to-air-intercoolers
Active Fuel Management
Variable Valve Timing (VVT)
Electronic throttle control
Extended life coolant
Extended life spark plugs
Oil Life Monitor System
Dexos 5W30
Dual-pressure control and variable displacement oil pump
Dry sump (Corvette only)
58x crank timing
Vehicle Applications
GM 6.2 Liter Supercharged V8 Small Block LT4 Engine Vehicle Applications

| Vehicle | Transmission |
| --- | --- |
| 2015 – present Chevrolet C7 Corvette Z06 | GM 8-speed HydraMatic auto 8L90 M5U |
| 2015 – present Chevrolet C7 Corvette Z06 | Tremec 7-speed manual TR6070 MEK |
| 2016 – present Cadillac CTS-V Sedan | GM 8-speed HydraMatic auto 8L90 M5U |
| 2017 Chevrolet Camaro ZL1 | GM 10-speed HydraMatic auto 10L90 MGL |
| 2017 Chevrolet Camaro ZL1 | Tremec 6-speed manual TR6060 MJK |
| 2022 – present Cadillac CT5-V Blackwing | GM 10-speed HydraMatic auto |
| 2022 – present Cadillac CT5-V Blackwing | Tremec TR6060 manual (expected) |