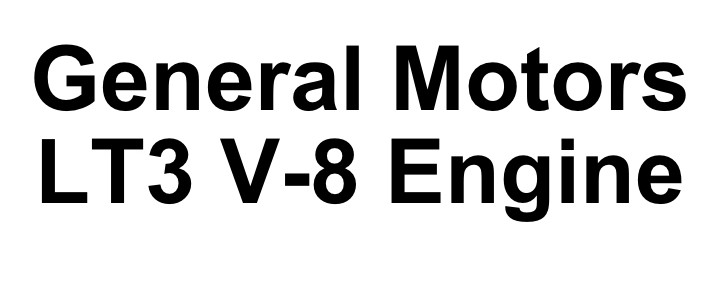 GM LT3 V-8 Engine
The LT3 was gong to be an eight-cylinder engine from General Motors that will no longer come to market, according to GM Authority information.
GM has never communicated any official plans or information about the LT3 engine, especially specifics such as its displacement, output, and configuration. In fact, the automaker has never even mentioned the LT3.
Plans
GM Authority  discovered that the LT3 engine was going to be naturally-aspirated V8 displacing 6.6 liters in an overhead valve / push rod configuration. Sources have said that inspiration for the LT3 was GM's naturally-aspirated 7.0L LS7 V8 engine previously used on the fifth-generation Chevrolet Camaro Z/28.
Engineering work commenced on the LT3 engine some time in 2018, with GM planning to use the LT3 engine for the Z28 variant of the sixth-generation Camaro.
Cancellation
In late 2018, GM underwent a large restructuring that saw the automaker discontinue various existing models while cancelling several models currently in development. One of the models in development at the time of the restructuring that ended up being cancelled was the 2020 Camaro Z28, and along with it went the LT3 engine.
Vehicle Applications
The GM LT3 engine was planned for use on the Z28 variant of the sixth-generation Chevrolet Camaro.
Engine Family
The LT3 was going to be part of GM's fifth-generation Small Block overhead valve engine family. In that regard, it would have had a general configuration and various components in common with the following GM Gen 5 Small Block engines:
LT3 news
For more on the LT3, follow our coverage of LT3 news and developments.