GM 6.2 Liter V8 Small Block LT1 Engine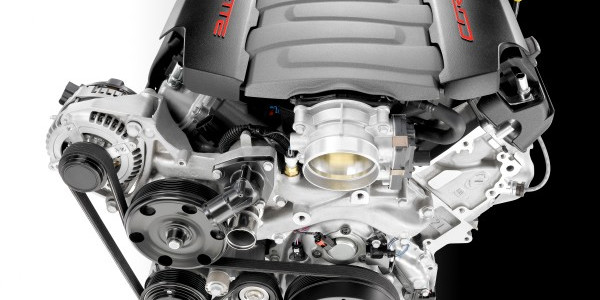 GM 6.2 Liter V8 Small Block LT1 Engine
The 6.2 liter V8 LT1 engine is produced by General Motors for use in performance vehicles and sports cars. It is part of GM's Gen V Small Block engine family and was first introduced in the C7 Corvette (2014-2019) followed by the sixth-generation Chevrolet Camaro (2016-2023).
6.2L LT1 Engine Vitals

| | |
| --- | --- |
| Displacement: | 6.2L / 376 cu. in. |
| Aspiration: | Natural |
| Vehicles: | Corvette C7, Camaro Gen Six |
| Introduced: | 2014 model year |
| Discontinued: | - |
| Predecessor: | LS3 / Gen 4 Small Block |
| Successor: | LT2 |
| Assembly: | Tonawanda, New York |
To clarify, a completely different engine with the LT1 RPO Code was used in the Corvette C4 between 1991 and 1996. That engine displaced 5.7 liters and was the second-generation GM Small Block design, and is therefore not related to this fifth-gen LT1.
Overview
The new 6.2L LT1 engine debuts in the 2014 Chevrolet Corvette Stingray and represents the most significant redesign in the small block's nearly 60-year history – building on its legacy to make one of the world's best engines even better. It is part of a new Gen V small block family, with a cam-in-block architecture and 4.400-inch bore centers (the distance between the centers of each cylinder) that are design features shared with the very first small block upon its launch in 1955.
Several advanced technologies, including direct injection, Active Fuel Management and continuously variable valve timing support an advanced combustion system that helps the LT1 engine – the third small block to carry the name in Corvette's history – produce 460 horsepower and 465 lb.-ft. of torque (with an optional exhaust system) with greater efficiency.
Engine highlights include:
Cylinder block: the all-new Gen V cylinder block shares two key design elements with GM's original small-block V8: a 90-degree cylinder angle and 4.400-inch bore centers.

The bore and stroke dimensions are: 4.06-inch (103.25 mm) bore x 3.62-inch (92 mm) stroke.
Compared to the Gen IV small block, the Gen V's aluminum cylinder block casting is all-new, but based on the same basic architecture.

It was refined and modified to accommodate the mounting of the engine-driven fuel pump and vacuum pump.
It also incorporates new engine mount attachments, new knock sensor locations, improved sealing and oil-spray piston cooling.

Oiling System: the oiling system is revised and features a new, dual-pressure-control and variable-displacement vane pump with increased flow capacity. As with the Gen-III/Gen IV engines, the oil pump is driven by the crankshaft.

Variable displacement enables the pump to efficiently deliver oil pump flow as demanded.
Dual pressure-control enables operation at a very efficient oil pressure at lower rpm coordinated with the Active Fuel Management and operation at a higher pressure at higher engine speeds providing a more robust lube system with aggressive engine operation.
All Gen V engines are designed to be used with GM's Dexos semi-synthetic motor oil. "Thinner" oil is used, too, which helps reduce friction to enhance efficiency.

The LT1 6.2-liter V8 uses 5W30.
The Corvette's LT1 engine features a structural aluminum six-quart oil pan. A dry-sump oiling system with a 10.5-quart capacity is included with the optional Z51 Performance Package.

Oil-Spray Piston Cooling: All Gen V engines feature oil-spray piston cooling, in which eight oil-spraying jets in the engine block drench the underside of each piston and the surrounding cylinder wall with an extra layer of cooling, friction-reducing oil. The oil spray reduces piston temperature, promoting extreme output and long-term durability. The extra layer of oil on the cylinder walls and wristpin also dampens noise emanating from the pistons.
Rotating assembly and windage tray: within the Gen V block is a durable rotating assembly that includes a steel crankshaft and 6.098-inch-long, powder-metal connecting rods, as well as high-strength, aluminum-alloy pistons. The connecting rods have a new profile that enhances strength.

The pistons are lightweight, which enhances high-rpm performance, as they enable the engine to rev quicker. They also have a unique head topography that is essential to the direct injection system. The "bowl" and shape of the top of the piston head is designed to promote thorough mixing of the air and fuel – a dished center section helps direct the fuel spray from the injector – to ensure complete combustion, which improves performance and efficiency, particularly on cold starts.
The crankshaft in the Gen V small block is located with new nodular main bearing caps – a significant upgrade over more conventional grey iron main caps. Nodular caps are stronger and can better absorb vibrations and other harmonics to help produce smoother, quieter performance.
A redesigned windage tray is also used with the Gen V engine, which features a new oil scraper design. This enhances performance and efficiency by improving oil flow control and bay-to-bay crankcase breathing. The cylinder block an main bearing caps maintain the optimal cranksase "windows" that were perfected on the Gen IV engine.

PCV-Integrated Rocker Covers: one of the most distinctive features of the Gen V family is its domed rocker covers, which house a patent-pending, integrated positive crankcase ventilation (PCV) system that enhances oil economy and oil life, while reducing oil consumption and contributing to low emissions. The rocker covers also hold the direct-mount ignition coils for the coil-near-plug ignition system. Between the individual coil packs, the domed sections of the covers contain baffles that separate oil and air from the crankcase gases – about three times the oil/air separation capability of previous engines.
Camshaft Design: also rotating inside the engine block is a hydraulic roller-lifter camshaft. Compared to the Gen IV small-block, the camshaft remains in the same position relative to the crankshaft and is used with a new rear cam bearing. The camshaft also features an all-new "trilobe" to drive the engine-mounted, high-pressure fuel pump for the direct-injection combustion system.
The LT1 camshaft's specifications lift include: 0.551/0.524-intake/exhaust lift, 200/207-crank angle degrees intake/exhaust duration at 0.050 tappet lift and 116.5-degree cam angle lobe separation.
Dual-Equal Cam Phasing: all Gen V engines feature dual-equal camshaft phasing (variable valve timing), which works with Active Fuel Management to enhance fuel economy, while also maximizing engine performance for given demands and conditions.

At idle, for example, the cam is at the full advanced position, allowing exceptionally smooth idling. Under other conditions, the phaser adjusts to deliver optimal valve timing for performance, driveability and fuel economy. At high rpm it may retard timing to maximize airflow through the engine and increase horsepower. At low rpm it can advance timing to increase torque. Under a light loads, it can retard timing at all engine speeds to improve fuel economy.
A vane-type phaser is installed on the front of the camshaft to change its angular orientation relative to the sprocket, thereby adjusting the timing of valve operation on the fly. It is a dual-equal cam phasing system that adjusts camshaft timing at the same rate for both intake and exhaust valves. The system allows linear delivery of torque, with near-peak levels over a broad rpm range, and high specific output (horsepower per liter of displacement) without sacrificing overall engine response, or driveability. It also provides another effective tool for controlling exhaust emissions.
The vane phaser is actuated by hydraulic pressure and flow from engine oil, and managed by a solenoid that controls oil flow to the phaser.

Cylinder Head Design: the Gen V small-block's all-new cylinder head design builds on the excellent, racing-proven airflow attributes of previous small-block heads and matches it with an all-new direct-injection combustion system. It supports tremendous airflow at higher rpm for a broad horsepower band, along with strong, low-rpm torque.

Compared to the Gen IV cylinder head design, the LT1 head features a smaller, 59.02cc combustion chamber. It is designed to complement the volume of the piston's dish. The smaller chamber size and dished pistons work together to produce an 11.5:1 compression ratio. The spark plug angle and depth have been modified to protrude farther into the chamber, placing the electrode closer to the center of the combustion to support the direct injection system.
In addition to the new combustion chamber design, the Gen V head features large, straight and rectangular intake ports that feature a slight twist to enhance mixture motion. This is complemented by a reversal of the intake and exhaust valve positions as compared to the Gen IV design. The exhaust port shapes are optimized for the new valve locations, with new port opening locations at the manifold face.
Large, lightweight intake and exhaust valves are used in the aluminum alloy heads, with 2.13-inch (54mm) hollow intake and 1.59-inch (40.4mm) hollow sodium exhaust valves. The lightweight valves enable the engine to rev quickly and capably to greater than 6,000 rpm.
The valves are held at new 12.5 degrees intake/12 degrees exhaust angles vs. the Gen IV's 15-degree angle. Additionally, the valves are splayed at 2.61 degrees intake/2.38 degrees exhaust to reduce shrouding and enable greater airflow.
Valvetrain components include durable valve springs and roller-pivot rocker arms with a 1.8 ratio – the amount of movement on the valve side of the rocker arm in comparison with the pushrod side.
The Gen V small-block features stiffer, larger-diameter 8.7mm (outside diameter) that provide greater stiffness than the previous 7.9mm design. This enables improved high-speed valvetrain dynamic performance.
The heads are made with 319-T7 aluminum alloy, using a semi-permanent mold process that produces a more accurate casting for optimal mass reduction and minimal machining.

Direct Injection: direct injection is featured on all Gen V engines. This technology moves the point where fuel feeds into an engine closer to the point where it ignites, enabling greater combustion efficiency. It fosters a more complete burn of the fuel in the air-fuel mixture, and it operates at a lower temperature than conventional port injection. That allows the mixture to be leaner (less fuel and more air), so less fuel is required to produce the equivalent horsepower of a conventional, port injection fuel system. Direct injection also delivers reduced emissions, particularly cold-start emissions.

The pistons play an integral role in the direct injection system, as they feature dished heads designed to direct the fuel spray for a more complete combustion. Design of this advanced combustion system was optimized after thousands of hours of computational analysis, representing one of the most comprehensively engineered combustion systems ever developed by General Motors.

High-Pressure Fuel Pump: the direct injection system features very high fuel pressure, up to 15Mpa (150bar), requiring a high-pressure, engine-driven fuel pump in addition to a conventional, fuel-tank-mounted pump. On all Gen V engines, the pump is mounted in the "valley" between cylinder heads – beneath the intake manifold. It is driven by the camshaft at the rear of the engine.

A "soft stop" control strategy for the pump's internal solenoid significantly reduces the characteristic "ticking" sound of direct injection systems. Mounting the pump in valley, where it is covered by an acoustically treated intake manifold, also helps reduce noise, while also maintaining the tight, compact packaging for which all small-blocks have been known.

Active Fuel Management: Active Fuel Management temporarily deactivates four of the cylinders and seamlessly reactivates them when the driver demands full power. When cylinders are deactivated, the engine's pumping work is reduced, which translates into real-world fuel economy improvements. The transition takes less than 20 milliseconds and is virtually imperceptible.

The key to AFM's efficiency and seamless operation is a set of two-stage hydraulic valve lifters, which allows the lifters of deactivated cylinders to operate without actuating the valves. In engineering terms, this allows the working cylinders to achieve better thermal, volumetric and mechanical efficiency and lowering cyclical combustion variation from cylinder to cylinder. As a result, AFM delivers better fuel economy and lower operating costs. The only mechanical components required are special valve lifters for cylinders that are deactivated, and their control system. Active Fuel Management relies on three primary components: Collapsible or "de-ac" (deactivation) valve lifters, a Lifter Oil Manifold Assembly (LOMA) and the engine controller, which determines when to deactivate cylinders.

Exhaust Manifolds: the LT1 engine uses a similar yet cast version of the "four-into-one" short-header exhaust manifold design used on the Gen IV LS7 engine. The cast header passages enable consistent exhaust flow into the "wide mouth" collector at the converter.
High-Flow Intake Manifold and Electronic Throttle: the Gen V's intake manifold ports are designed to match cylinder head, while also accommodating the high-pressure fuel pump for the direct injection system, which is mounted in the valley area between the cylinder heads. It is a composite manifold is manufactured with a lost core process to improve runner-to-runner variation and to reduce flow losses. Acoustic foam is sandwiched between the outside top of the intake manifold and an additional "skull cap" acoustic shell to reduce radiated engine noise, as well as fuel pump noise.

The LT1 intake manifold features a "runners in a box" design, wherein individual runners inside the manifold feed a plenum box that allows for excellent, high-volume airflow packaged beneath the car's low hood line.
An electronically controlled throttle is mounted to the intake manifold. It is a single-bore design with an 87mm bore diameter features a "contactless" design that is more durable and enables greater control.

Cooling System: the Gen V's cooling system is redesigned, compared to the Gen IV engine and features a new offset water pump and thermostat.
58X Ignition System: the Gen V has an advanced 58X crankshaft position encoder to ensure that ignition timing is accurate throughout its operating range. The 58X crankshaft ring and sensor provide more immediate, accurate information on the crankshaft's position during rotation. This allows the engine control module to adjust ignition timing with greater precision, which optimizes performance and economy. Engine starting is also more consistent in all operating conditions.

In conjunction with 58X crankshaft timing, the Gen V applies the latest digital cam-timing technology. The cam sensor is located in the front engine cover, and it reads a 4X sensor target on the on the cam phaser's rotor which is attached to front end of the cam. The target ring has four equally spaced segments that communicate the camshaft's position more quickly and accurately than previous systems with a single segment.
The dual 58X/4X measurement ensures extremely accurate timing for the life of the engine. Moreover, it provides an effective backup system in the event one sensor fails.

Additional Features:

Electronic Power Steering: all Gen V engines have Electronic Power Steering and do not incorporate a conventional, hydraulic power steering system in its accessory-drive system. This enhances both performance and fuel efficiency.
Air Induction Humidity Sensor: this new feature ensures optimal combustion efficiency, regardless of the surrounding air's humidity.
Coil-on-Plug Ignition: the Gen V's individual coil-near-plug ignition features advanced coils that are compact and mounted on the rocker covers, although they are positioned differently than on Gen IV engine. An individual coil for each spark plug delivers maximum voltage and consistent spark density, with no variation between cylinders.
Iridium-Tip Spark Plugs: the spark plugs have an iridium electrode tip and an iridium core in the conductor, offering higher internal resistance while maintaining optimal spark density over its useful life. The electrode design improves combustion efficiency.

E92 Engine Controller: operation and performance of the Gen V is overseen by an all-new engine controller.
Specifications
Type:
6.2L Gen V V8 Small Block
Displacement:
6.2L (6162cc / 376 ci)
Engine orientation:
Longitudinal
Compression ratio:
11.5:1
Valve configuration:
Overhead valves
Valves per cylinder:
2
Assembly site:
Tonawanda, New York, USA
Valve lifters:
Hydraulic roller
Firing order:
1 – 8 – 7 – 2 – 6 – 5 – 4 – 3
Bore x stroke:
103.25 x 92mm
Fuel system:
Direct Injection
Fuel type:
Premium Recommended
Maximum Engine Speed:
6600 RPM
Materials
Block:
Cast aluminum
Cylinder head:
Cast aluminum
Intake manifold:
Composite
Exhaust manifold:
Cast Nodular Iron
Main bearing caps:
Cast Nodular
Crankshaft:
Forged Steel
Camshaft:
Billet Steel
Connecting rods:
Forged Powder Metal
Additional Features
Active Fuel Management
Variable Valve Timing (VVT)
Electronic throttle control
Extended life accessory drive belt
Extended life coolant
Extended life spark plugs
Oil Life Monitor System
Dexos 5W30
Dual-pressure control and variable displacement oil pump
58x crank timing
Emissions Controls
Catalytic converter
Three-way catalyst
Positive crankcase ventilation
Vehicle Applications
GM 6.2L V8 Small Block LT1 Engine Vehicle Applications
Year
Make
Model
Transmission
Power (hp / kW @ RPM)
Torque (lb-ft / Nm @ RPM)
2014
Chevrolet
C7 Corvette Stingray Base Exhaust (Coupe / Convertible)
6-Speed Auto (MYC-6L80) / 7-Speed Manual (MEL-TR6070)
455 / 339 @ 6000
460 / 624 @ 4600
2014
Chevrolet
C7 Corvette Stingray Performance Exhaust (Coupe / Convertible)
6-Speed Auto (MYC-6L80) / 7-speed manual (MEL-TR6070)
460 / 343 kW @ 6000
465 / 630 @ 4600
2015-2019
Chevrolet
C7 Corvette Stingray Base Exhaust (Coupe / Convertible)
8-Speed Auto (M5U-8L90) / 7-speed manual (MEL-TR6070)
455 / 339 @ 6000
460 / 624 @ 4600
2015-2019
Chevrolet
C7 Corvette Stingray Performance Exhaust (Coupe / Convertible)
8-Speed Auto (MYC-6L80) / 7-speed manual (MEL-TR6070)
460 / 343 kW @ 6000
465 / 630 @ 4600
2017-2019
Chevrolet
C7 Corvette Grand Sport (Coupe / Convertible)
8-Speed Auto (M5U-8L90) /7-speed manual (MEL-TR6070)
455 / 339 @ 6000
460 / 624 @ 4600
2016-present
Chevrolet
Camaro SS (Coupe / Convertible)
6-Speed Manual (MN6), 8-Speed Auto, or 10-Speed Auto (MX0)
455 / 339.3 @ 6000
455 / 614.3 @ 4400 rpm
2020-present
Chevrolet
Camaro LT1
6-Speed Manual (MN6) or 10-Speed Auto (MX0)
455 / 339.3 @ 6000
455 / 614.3 @ 4400 rpm
Related Engines
Other members of the Gen V Small Block engine family include:
Supercharged 6.2L V8 LT4
Supercharged 6.2L V8 LT5
Naturally-aspirated 6.2L V8 LT2 (direct successor to LT1)
EcoTec3 motors for pickup trucks, consisting of the following engines:
6.2L V8 LT1 News
19

More naturally aspirated V8 goodness.

5

A national lease is also available on the sport coupe and convertible.