GM 7.0 Liter V8 LS7 Engine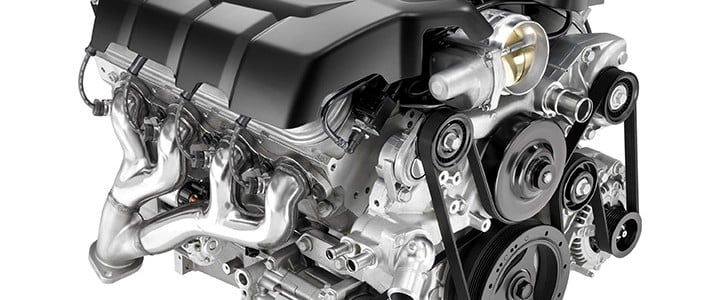 GM 7.0 Liter V8 LS7 Engine
The 7.0-liter V8 LS7 is an engine produced by General Motors for use in high-performance vehicles. Notably, General Motors released a new LS7-based LS427/570 crate motor with an increased output of 570 horsepower and 540 pound-feet of torque, which is a bump of 65 horsepower and 70 pounds of twist.
Being one of a handful of GM engines assembled by hand, the LS7 is part of GM's fourth-generation V8 Small Block engine family and is notorious for its consistent and smooth power delivery. The LS7 is also one of the most powerful naturally-aspirated engines in the world. It was produced for use in the sixth-generation Corvette Z06 and 427 Convertible, as well as the fifth-generation Chevrolet Camaro Z/28.
7.0L LS7 Engine Vitals

| Displacement: | 7.0L / 427 cu. in. |
| --- | --- |
| Aspiration: | Natural |
| Vehicles: | Chevrolet Corvette Z06, Camaro Z/28 |
| Introduced: | 2006 model year |
| Discontinued: | 2015 |
| Predecessor: | LS2 / Gen 3 Small Block |
| Successor: | – |
| Assembly: | Wixom, Michigan |
To clarify, the LS7 engine code can also refer to a 454 cubic-inch Big Block V8 with a 460 horsepower, which was offered in iconic GM muscle cars throughout the 1970s, including the Chevrolet Caprice, Chevelle, Corvette, El Camino, Monte Carlo, and GMC Sprint.
Overview
The LS7 is easily identified under the hood by red engine covers with black lettering. It shares the basic architecture of other Gen IV Small Block V8 engines, but is the largest-displacement variant, featuring pressed-in steel cylinder liners to accommodate the engine's larger diameter, 4.125-inch (104.8 mm) cylinder bores. It also uses a racing-style dry-sump oiling system that helps ensure adequate oil pressure during high-load cornering.
Each LS7 is assembled by hand by a single builder at GM's unique Performance Build Center in Wixom, Michigan. The 100,000-square-foot facility weaves the best practices of low-volume niche manufacturers and the established quality and manufacturing standards at GM to ensure the highest-quality specialized engines.
Engine highlights:
Cylinder Block: the LS7's cylinder block shares two key design elements with GM's original small-block V8: a 90-degree cylinder angle and 4.400-inch bore centers. The LS7 uses unique pressed-in cast iron cylinder liners to accommodate the largest cylinders bores in the engine family. The LS7 block also features very durable, doweled-in, forged-steel main bearing caps, which hold the balanced, forged-steel crankshaft in place and reduce crank flex.
The Gen IV block was developed with math-based tools and data acquired in GM's racing programs, and provides a light, rigid foundation for an impressively-smooth engine. Its deep-skirt design helps maximize strength and minimize vibration. The bulkheads accommodate six-bolt, cross-bolted main-bearing caps that limit crank flex and stiffen the engine's structure. A structural oil pan further stiffens the powertrain.
Deck Plate Honing: a precision machining process typically reserved for high-performance engines is used on the LS7 cylinder block to maximize engine life, reduce friction between engine parts, and increase horsepower. It is advantageous in applications where cylinder head pressures are greater than average – such as with a supercharged engine – to ensure cylinder sealing and prevent scuffing of the piston against the bore wall. In the LS7 engine, this means improved bore life and ring sealing. True bores and better sealing are keys to optimizing power.
Titanium Connecting Rods: lightweight titanium connecting rods are used in the LS7 to reduce the pressure on the rod end bearings and the main bearings, and allow the bearings to be optimally sized for the least amount of friction. The lightweight rods are matched with pistons that feature tapered wrist pins to reduce weight. The piston rings are anodized to reduce blow-by and friction, while the skirts are coated with a polymer material to limit bore scuffing and reduce noise.
Racing-Derived Cylinder Heads: the LS7's large displacement would mean little in terms of horsepower if the engine could not draw in and then expel enough air to take advantage of the powerplant's size. To that end, the LS7 is fitted with high-flow cylinder heads that are derived from racing heads first proven on the track with the Corvette Racing team. The heads feature fully CNC-machined intake, exhaust ports, and 70cc combustion chambers to reduce airflow restrictions, while the high machining consistency of the machining procedure enable's the LS7's high, 11.0:1 compression ratio.
High-Flow Intake Manifold with Acoustic Shell: the LS7's intake manifold ports are designed to match the cylinder head. The composite manifold is manufactured with a lost core process to improve runner-to-runner variation and to reduce flow losses. Acoustic foam is sandwiched between the outside top of the intake manifold and an additional "skull cap" acoustic shell to reduce radiated engine noise.
Dry Sump Oiling System: Corvettes equipped with a manual transmission feature a dry sump oiling system which promotes exceptional lubrication system performance during extended high-rpm use under high cornering loads.
Advanced Electronic Throttle Control: with ETC, there is no mechanical link between the accelerator pedal and the throttle body. A sensor at the pedal measures pedal angle and sends a signal to the engine control module (ECM), which in turn directs an electric motor to open the throttle at the appropriate rate and angle. The ETC system can deliver outstanding throttle response and greater reliability than a mechanical connection.
58X Ignition System: the LS7 has an advanced 58X crankshaft position encoder to ensure that ignition timing is accurate throughout its operating range. The new 58X crankshaft ring and sensor provide more immediate and accurate information on the crankshaft's position during rotation, allowing the engine control module to adjust ignition timing with greater precision, which optimizes performance and economy. Engine starting is also more consistent in all operating conditions.
Hydroformed Exhaust Manifolds: the exhaust manifolds are made of hydroformed stainless steel, which is lighter than cast iron, and feature a unique four-into-one collector designed to maximize airflow. Exhaust pipes on the LS7-equipped Corvette Z06 are three inches in diameter, compared to the 2.5-inch pipes on Corvettes built with the 6.0L LS2.
Specifications
GM 7.0L V8 LS7 Engine Specs
Type:
7.0L Gen IV V8 Small Block
Displacement:
7008 cc (427.6 ci)
Engine Orientation:
Longitudinal
Compression ratio:
11.0:1
Valve configuration:
Overhead valves
Valves per cylinder:
2
Assembly site:
Performace Build Center in Wixom, Michigan
Valve lifters:
Hydraulic roller
Firing order:
1 – 8 – 7 – 2 – 6 – 5 – 4 – 3
Bore x stroke:
104.8 X 101.6
Bore Center (mm):
111.76
Bore Area (cm2) (total engine bore area):
689.75
Fuel system:
Sequential fuel injection
Fuel Type:
Premium Fuel required
Engine Mass (kg/lbs):
206 / 454
Materials
Block:
Cast aluminum
Cylinder head:
Cast aluminum
Intake manifold:
Composite
Exhaust manifold:
Stainless Steel
Main bearing caps:
Forged steel
Crankshaft:
Forged 4140 steel
Camshaft:
Hollow steel
Connecting rods:
Forged Titanium
Additional features
Extended life spark plugs
Titanium Intake Valves
Extended life coolant
Oil level sensor
Oil Life System
Emissions controls
Catalytic converter
Three-way catalyst
Positive crankcase ventilation
Vehicle Applications
GM 7.0L V8 LS7 Engine Vehicle Applications

| Year | Make | Model | Transmission | Power (hp / kW @ RPM) | Torque (lb-ft / Nm @ RPM) |
| --- | --- | --- | --- | --- | --- |
| 2014 – 2015 | Chevrolet | Camaro Z/28 | 6-Speed Manual (MM6-TR6060) | 505 / 377 @ 6100 | 481 / 652 @ 4800 |
| 2011 – 2013 | Chevrolet | Corvette C6 Z06 Coupe | 6-Speed Manual (T-56) | 505 / 377 @ 6800 | 470 / 637 @ 4800 |
| 2013 | Chevrolet | Corvette C6 427 Convertible | 6-Speed Manual (T-56) | 505 / 377 @ 6800 | 470 / 637 @ 4800 |
The GM LS7 engine is also offered as a crate engine via the Chevrolet Performance catalog.
Gen IV Small Block Engine Family
Other members of the Gen IV Small Block engine family include:
Gen IV Vortec motors for pickup trucks, consisted of the following engines:
6.0L V8 LY6
6.0L V8 LFA
6.0L V8 LZ1
4.8L V8 LY2
5.3L V8 LH6
5.3L V8 LY5
5.3L V8 LH8
5.3L V8 LH9
6.2L V8 L92