GM 6.2 Liter V8 Small Block LS3 Engine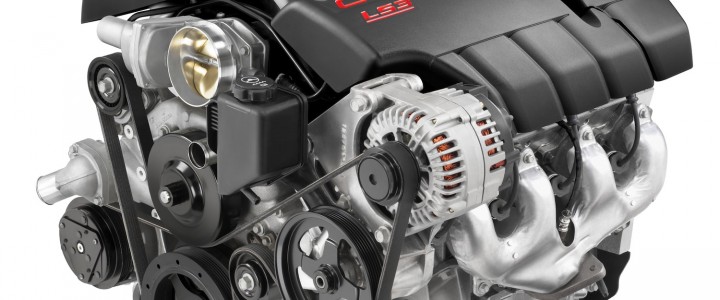 GM 6.2 Liter V8 Small Block LS3 Engine
The 6.2 liter LS3 V8 engine is currently produced by Chevrolet Performance as a crate engine, offering a peak output of 430 horsepower at 5900 RPM. Between 2007 and 2017, the LS3 was used in high-performance vehicles, such as the Camaro and Corvette, among others. It is part of GM's Gen IV engine family, and is the successor to the 6.0 liter LS2 V8, with strengthened casting and larger bores.
6.2L LS3 Engine Vitals

| Displacement: | 6.2L / 376 cu. in. |
| --- | --- |
| Aspiration: | Natural |
| Vehicles: | Chevrolet Corvette, Corvette Grand Sport, Camaro SS ,SS, Pontiac G8 GXP |
| Introduced: | 2007 model year |
| Discontinued: | – |
| Predecessor: | LS6 / Gen 3 Small Block |
| Successor: | LT1 / Gen V Small Block |
| Assembly: | St. Catharines, Ontario, Canada |
Overview
The 6.2L LS3 is a direct descendant of the original Small Block, sharing key characteristics with that legendary engine. As with other members of the Small Block engine family, one of the enablers of the LS3's balance of performance and efficiency is great airflow throughout. Intake flow was improved over previous engines by straightening out and optimizing the flow path from the intake manifold into the cylinder heads, while the exhaust ports are also designed for greater flow. The engine's efficiency provides an optimum reduction in emissions.
Engine highlights include:
Cylinder Block and Rotating Assembly: the engine block was developed with math-based tools and data acquired via GM's racing programs, and provides a light, rigid foundation for an impressively smooth engine. Its deep-skirt design helps maximize strength and minimize vibration. The bulkheads accommodate six-bolt, cross-bolted main-bearing caps that limit crank flex and stiffen the engine's structure. A structural oil pan further stiffens the powertrain.
Within the LS3 block is a durable rotating assembly that includes a steel crankshaft and connecting rods, as well as high-strength, aluminum-alloy pistons. The flat-top pistons are also lightweight, a characteristic that enhances high-rpm performance by enabling the engine to rev quicker.
High-Flow Cylinder Heads and Valvetrain: the LS3's cylinder heads feature rectangular intake ports that support exceptional airflow. They support great airflow at higher rpm for a broader horsepower band, along with strong, low-rpm torque. The intake ports that feed the combustion chambers, as well as the D-shaped exhaust ports, are designed for excellent high-rpm airflow.
High-Flow Intake Manifold with Acoustic Shell: the LS3's intake manifold ports are designed to match the cylinder head. The composite manifold is manufactured with a lost core process to improve runner-to-runner variation and to reduce flow losses. Acoustic foam is placed between the exterior top of the intake manifold and an additional "skull cap" acoustic shell to reduce radiated engine noise.
Dry Sump-Style Oiling System with Manual Transmission: Corvette models equipped with a manual transmission feature a dry sump oiling system which promotes exceptional performance of the lubrication system during extended high-rpm use under high cornering loads.
Advanced Electronic Throttle Control (ETC): the inclusion of ETC results in the elimination of a mechanical link between the accelerator pedal and the throttle body. A sensor at the pedal measures pedal angle and sends a signal to the engine control module (ECM), which in turn directs an electric motor to open the throttle at the appropriate rate and angle. The ETC system can deliver outstanding throttle response and greater reliability than a mechanical connection.
58X Ignition System: the LS3 has an advanced 58X crankshaft position encoder to ensure that ignition timing is accurate throughout its operating range. The new 58X crankshaft ring and sensor provide more immediate, accurate information on the crankshaft's position during rotation. This allows the engine control module to adjust ignition timing with greater precision, which optimizes performance and economy. Engine starting is also more consistent in all operating conditions.
Specifications
Type:
6.2L Gen IV V8 Small Block
Engine Orientation;
Longitudinal
Displacement:
6162cc (376.0 ci)
Compression ratio:
10.7:1
Valve configuration:
Overhead valves
Valves per cylinder:
2
Assembly site:
St. Catharines, Ontario
Assembly site for Corvette Grand Sport Manual Coupe:
Performance Build Center (PBC), Wixom, MI
Valve lifters:
Hydraulic roller
Firing order:
1 – 8 – 7 – 2 – 6 – 5 – 4 – 3
Bore x stroke:
103.25 x 92mm
Fuel system:
Sequential fuel injection
Fuel type:
Premium fuel recommended, not required
Valves per cylinder;
2
Bore Center (mm):
111.76
Engine Mass (kg/lbs):
183 / 403
Engine Mass (kg/lbs) Corvette Grand Sport Manual Coupe:
211 / 466
Materials
Block:
Cast aluminum
Cylinder head:
Cast aluminum
Intake manifold:
Composite
Exhaust manifold:
Cast nodular iron
Main bearing caps:
Powder metal
Crankshaft:
Cast iron with undercut and rolled fillets
Crankshaft Grand Sport Manual Coupe:
Forged steel crank
Camshaft:
Hollow steel
Connecting rods:
Forged powder metal
Additional features
Extended life spark plugs
Extended life coolant
Dry Sump Oil Lubrication System – Grand Sport Manual Coupe Only
Oil level sensor
Oil Life System
Emissions controls
Catalytic converter
Three-way catalyst
Positive crankcase ventilation
Vehicle Applications
GM 6.2L V8 Small Block LS3 Engine Vehicle Applications

| Year | Make | Model | Transmission | Power (hp / kW @ RPM) | Torque (lb-ft / Nm @ RPM) |
| --- | --- | --- | --- | --- | --- |
| 2009-2015 | Chevrolet | Camaro SS Coupe and Convertible | 6-Speed Manual | 426 / 318 @ 5900 | 420 / 569 @ 4600 |
| 2008-2013 | Chevrolet | Corvette and Corvette Grand Sport | 6-Speed Manual (T56) or 6-Speed Auto (MZ6-6L90M) | 430 / 321 @ 5900 | 424 / 575 @ 4600 |
| 2008-2013 | Chevrolet | Corvette w/ Optional Exhaust | 6-Speed Manual (T56) or 6-Speed Auto (MZ6-6L90M) | 436 / 325 @ 5900 | 428 / 580 @ 4600 |
| 2015-2017 | Chevrolet | SS | 6-Speed Manual (T56) | 415 / 310 @ 5900 | 415 / 563 @ 4600 |
Gen IV Small Block Engine Family
Other members of the Gen IV Small Block engine family include:
Gen IV Vortec motors for pickup trucks, consisted of the following engines:
6.0L V8 LY6
6.0L V8 LFA
6.0L V8 LZ1
4.8L V8 LY2
5.3L V8 LH6
5.3L V8 LY5
5.3L V8 LH8
5.3L V8 LH9
6.2L V8 L92