GM 2.0 Liter Turbocharged Ecotec I4 LNF Engine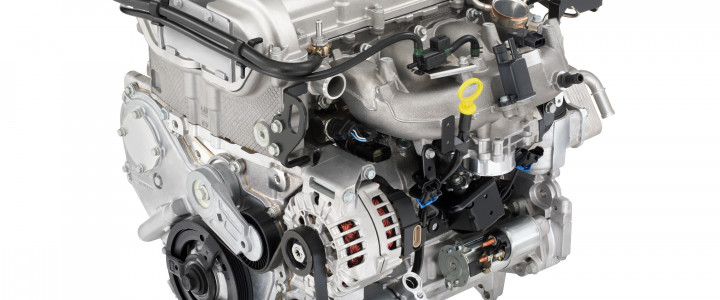 GM 2.0 Liter Turbocharged Ecotec I4 LNF Engine
The LNF is a 2.0-liter, four-cylinder engine was designed and manufactured by General Motors for use in various vehicles, including two-seater sports coupes, compact sedans, and was also utilized by non-GM vehicles, such as the Fisker Karma.
2.0L LNF Engine Vitals

| | |
| --- | --- |
| Displacement: | 2.0L / 124 cu. in. |
| Aspiration: | Forced Induction (Turbocharger) |
| Vehicles: | Chevrolet Cobalt SS, HHR SS, Daewoo G2X Turbo, Opel GT, Pontiac Solstice GXP, Saturn Sky Red Line |
| Introduced: | 2006 Model Year |
| Discontinued: | 2010 Model Year (GM Vehicle Production) |
| Predecessor: | LK9 (B207) |
| Successor: | LDK |
| Assembly: | Spring Hill, Tennesse |
Overview
The turbocharged 2.0-liter LNF engine is a member of the second-generation of the Ecotec engine family, which traces its roots to four-cylinders designed by Opel and Saab. Its line of successors includes the 2.0-liter LTG I4 and 2.0-liter LSY I4, which are both utilized by vehicles currently in production.
Notably, the LNF had an output rating of 260 horsepower and 260 pound-feet of torque in every GM vehicle application that utilized it. The positive crankcase ventilation (PCV) system was not quite as refined as it is in newer turbo-four applications, as such, oil buildup was an issue for the LNF, particularly clogged valves, which were also a bi-product of the direct-injection architecture.
Specifications
GM 2.0L I4 LNF Engine Specs
Engine family:
Ecotec
GM RPO code:
LNF
Displacement:
2.0 Liters
Configuration & Cylinders:
I-4
Vehicle Engine Orientation:
Longitudinal or Transverse
Aspiration:
Turbocharged
Compression ratio:
9.2:1
Valve configuration:
Overhead Valve (OHV)
Valves per cylinder:
2
Assembly site:
GM Tonawanda plant, New York, USA
Valve lifters:
2
Firing order:
1 – 8 – 7 – 2 – 6 – 5 – 4 – 3
Bore x stroke:
4.065 x 3.622-inches (103.25 x 92 mm)
Fuel system:
SIDI (Spark Ignited Direct Injection)
Fuel Type:
Premium Fuel
Maximum Engine Speed:
6,000 RPM
Materials
Block:
Cast Aluminum
Cylinder head:
Cast Aluminum
Main bearing caps:
Iron
Crankshaft:
Forged Steel
Camshaft:
Billet Steel
Connecting rods:
Forged Steel
Emissions Controls
Catalytic Converter
Positive Crankcase Ventilation
Vehicle Applications
GM 2.0L I4 Ecotect Engine Vehicle Applications

| Year | Vehicle | Transmission | Power (hp / kW @ RPM) | Torque (lb-ft / Nm @ RPM) |
| --- | --- | --- | --- | --- |
| 2008-2010 | Chevrolet Cobalt SS | 5-Speed Manual (F35) or 4-Speed Auto (4T45E) | 260 / 194 @ 5300 | 260 / 353 @ 2000 |
| 2008-2010 | Chevrolet HHR SS | 5-Speed Manual (F35) | 260 / 194 @ 5300 | 260 / 353 @ 2000 |
| 2006-2009 | Daewoo G2X Turbo | 5-Speed Manual (AR5) or 5-Speed Auto (5L40-E) | 260 / 194 @ 5300 | 260 / 353 @ 2000 |
| 2009 | Elfin T5 | 5-Speed Manual | 264 / 197 @ 5300 | 259 / 351 @ 2000 |
| 2012 Fisker | Karma | 1-Speed Auto (Hybrid) | 260 / 194 @ 5300 | 260 / 353 @ 2000 |
| 2006-2009 | Opel GT | 5-Speed Manual (AR5) or 5-Speed Auto (5L40-E) | 260 / 194 @ 5300 | 260 / 353 @ 2000 |
| 2006-2009 | Pontiac Solstice GXP | 5-Speed Manual (AR5) or 5-Speed Auto (5L40-E) | 260 / 194 @ 5300 | 260 / 353 @ 2000 |
| 2006-2009 | Saturn Sky Red Line | 5-Speed Manual (AR5) or 5-Speed Auto (5L40-E) | 260 / 194 @ 5300 | 260 / 353 @ 2000 |
Related Engines
As mentioned, the LNF is a member of the second-gen Ecotec engine family, which also includes the following (note: 2.2 and 2.4-liter engines are also a part of the four-cylinder Ecotec family):
2.4-Liters
2.4 LE5
2.4 LAT
2.4 LE9
2.4 LAF
2.4 LEA
2.4 LUK