GM 6.6 Liter Turbo Diesel V8 Duramax LML Engine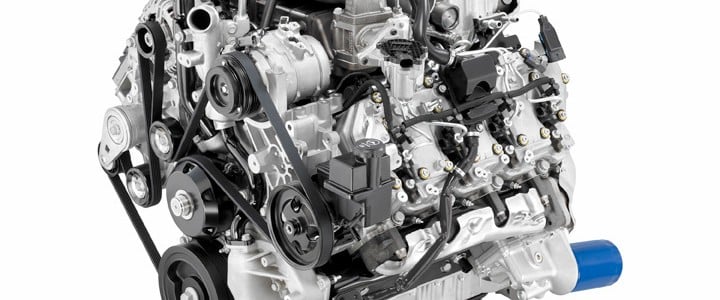 GM 6.6 Liter Turbo Diesel V8 Duramax LML Engine
The 6.6L V8 Duramax LML is an engine that was produced by General Motors for full-size heavy-duty (HD) pickup trucks. Displacing 6.6 liters in a V8 configuration, the LML is part of the Duramax family of heavy-duty workhorse engines.
6.6L LML Engine Vitals

| Displacement: | 6.6L / 403 cu. in. |
| --- | --- |
| Aspiration: | Natural |
| Vehicles: | Chevrolet Silverado HD, GMC Sierra HD |
| Introduced: | 2011 model year |
| Discontinued: | 2016 model year |
| Predecessor: | LMM Duramax V8 |
| Successor: | L5P Duramax V8 |
| Assembly: | Moraine, Ohio, USA |
Overview
With nearly 1.3 million Duramax diesel engines in operation, no other automaker has as much diesel engine development experience in meeting the demands of the heavy-duty truck customer as General Motors. The Duramax 6.6L turbo diesel engine is strong, powerful and efficient. Features such as common rail fuel injection and aluminum heads with a six-bolt-per-cylinder design has helped cement the Duramax's foundation years ago and continues to make the Duramax diesel a relevant product.
In that regard, the LML is known as the first Duramax V8 to feature a "9th injector" fuel system configuration. The accommodation was made to provide fuel during the DPF regeneration process.
Engine highlights:
Cylinder Block and Rotating Assembly: the Duramax block features casting enhanced to support smoother and quieter engine operation. It uses a strong cast iron foundation known for its durability, with induction-hardened cylinder walls and five nodular iron main bearings. A die-cast aluminum lower crankcase strengthens the engine block and serves as the lower engine cover, while also reducing the engine's overall weight.
Working within the cylinder block is a robust rotating assembly that features a forged steel crankshaft, forged steel connecting rods and forged aluminum pistons. The crankshaft is surface-hardened by nitriding, a process widely acknowledged as the most effective means of limiting wear and ensuring durability.
Pistons: the pistons are redesigned without pin bushings to reduce reciprocating weight, which helps the engine rev quicker and respond more immediately to throttle changes. The connecting rods that are used with the pistons feature a smaller-diameter pin bore on the small end to support the strengthened pistons. Piston-cooling oil jets are located at the bottom of the cylinder bores and spray engine oil on the bottom of the pistons. The extra lubrication cools the pistons, reducing friction and operational noise, while also bolstering the engine's durability.
Cylinder Heads: the Duramax diesel features an aluminum cylinder head design, with six head bolts per cylinder and four valves per cylinder. The aluminum material of the heads helps reduce the engine's overall weight, while the six-bolt design provides exceptional head-clamping strength – a must in a high-compression, turbocharged application.
2000-Bar Fuel System with Piezo Injectors: the Duramax uses a common-rail direct injection fuel system. Piezo injectors allow a more precise metering of the fuel, especially for very small quantities of injected fuel, which leads to a smoother idle and lower combustion noise.
Variable Geometry Turbo charging System: a variable-vane turbocharger is employed on the Duramax 6.6L. With the variable-geometry turbocharger, the engine delivers more power with lower exhaust emissions and no decrease in overall fuel efficiency. The system uses self-adjusting turbine vanes and sophisticated electronic controls to automatically adjust boost pressure and exhaust backpressure.
Emissions and Particulate Control Technology: the Duramax diesel features the latest in emission control technology, making it the cleanest Duramax engine ever produced, with NOx emissions reduced by at least 63 percent in the LML version.
B20 Biodiesel Capability: the LML version of the Duramax 6.6L turbo diesel is capable of running on B20 biodiesel, a fuel composed of 20 percent biodiesel and 80 percent conventional diesel. B20 helps lower carbon dioxide emissions and lessens dependence on petroleum. It is a domestically produced, renewable fuel made primarily of plant matter — mostly soybean oil.
Specifications
GM 6.6L Turbo Diesel V8 Duramax LML Engine Specs
Type:
6.6L V8 Turbo Diesel Engine Duramax
Displacement:
6.6L (403 ci)
Engine Orientation:
Longitudinal
Compression ratio:
16.0:1
Valve configuration:
OHV
Valves per cylinder:
4 valves per cylinder
Assembly site:
DMAX Moraine, Ohio, USA
Valve lifters:
Mechanical roller
Firing order:
1 – 2 – 7 – 8 – 4 – 5 – 6 – 3
Bore x stroke:
103 mm x 99 mm
Fuel system:
Direct injection diesel with high pressure common rail
Fuel Type:
Ultra-low sulfur diesel & B20 Biodiesel
Maximum Engine Speed:
3000 RPM
Materials
Block:
Cast iron
Cylinder head:
Cast aluminum
Intake manifold:
Cast aluminum
Exhaust manifold:
Cast nodular iron with steel pipe extension
Main bearing caps:
Cast nodular iron
Crankshaft:
Forged steel
Camshaft:
Steel
Connecting rods:
Forged steel, stress fractured
Additional features:
Charge air cooling
Recommended oil-change interval:
Per the computerized Oil Life System (requires CJ-4 Engine Oil to Maximize Life)
Recommended coolant change interval:
5 Years or 150,000 Miles
Capacities
Engine Oil (qt/L):
10/9.5
Emissions controls
Cooled Exhaust Gas Recirculation (EGR)
Selective Catalytic Reduction (SCR)
Diesel Particulate Filter (DPF)
Intake throttle
Vehicle Applications
GM 6.6L Turbo Diesel V8 Duramax LML Engine Vehicle Applications

| Year | Make | Model | Transmission | Power (hp / kW) @ RPM | Torque (lb-ft / Nm) @ RPM |
| --- | --- | --- | --- | --- | --- |
| 2011-2016 | Chevrolet | Silverado HD | Allison 6-Speed Automatic (MW7-LCT 1000) | 397 / 204 @ 3000 | 765 / 1037 @ 1600 |
| 2011-2016 | GMC | Sierra HD | Allison 6-Speed Automatic (MW7-LCT 1000) | 397 / 204 @ 3000 | 765 / 1037 @ 1600 |
Manufacturing
The 6.6L Duramax LML engine was manufactured at the GM Duramax plant in Moraine, Ohio, USA.