GM Duramax 4.5-Liter V-8 Turbo Diesel Engine (LMK)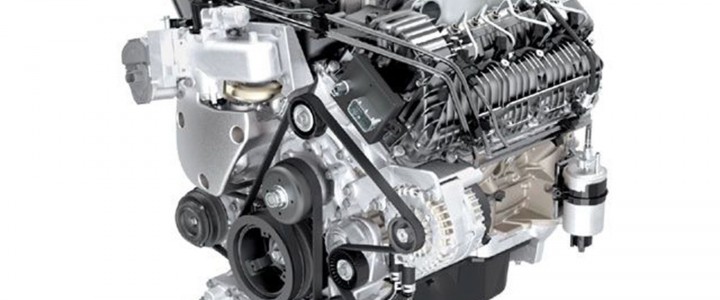 GM Duramax 4.5-Liter V-8 Turbo Diesel Engine (LMK)
The Duramax 4.5L V-8 LMK was a turbo-diesel engine developed by General Motors for use in full-size half-ton pickup trucks, but never brought to production.
Overview
In 2008-2009, General Motors announced that it will introduce a new 4.5-liter Duramax V-8 turbo-diesel engine for its 2010 model year light-duty, half-ton pickup trucks – the Chevrolet Silverado and GMC Sierra. The engine was a clean-sheet design and would give GM the only two half-ton trucks with a diesel engine.
But then the 2008 global financial crisis hit, severely impacting markets and economies worldwide, and taking car sales along with it. In fact, this same crisis would later see General Motors go into Chapter 11 bankruptcy protection, bringing the automaker to the brink of nearly out of business.
On March 11, 2009, General Motors released the following statement:
GM Statement Regarding the Duramax 4.5L V-8 Diesel
Given the current economic climate, GM has reviewed and updated its U.S. product portfolio and has decided to place on indefinite hold its previously announced plan to add a Duramax 4.5L V-8 diesel engine in 2010 to its Chevrolet Silverado and GMC Sierra light-duty trucks.

Chevrolet and GMC will continue to offer a heavy-duty Duramax 6.6L V-8 diesel, which is class-leading in both horsepower and torque. Light-duty truck customers can also choose from several fuel-efficient gasoline engines with GM's Active Fuel Management mated to a six-speed transmission or a new 2-Mode hybrid that provides up to 40 percent improved city fuel mileage and 25 percent improvement in overall fuel efficiency. In fact, no other fullsize pickup has better fuel economy.

GM remains optimistic that the Duramax 4.5L V-8 diesel may be a viable option in its future portfolio.
As such, the Duramax LMK project was shelved before ever seeing the light of day in a production vehicle. Since then, GM hasn't talked about by the company since.
Specifications
Full specifications for the 4.5L Duramax Turbo Diesel LMK engine are not available. However, we do know that the engine made 310 horsepower and 510 pound-feet of torque and that it was a brand-new, clean-sheet design with a compacted-graphite-iron (CGI) block and "reverse-flow" heads.
The engine was reported to have met modern emissions requirements and returned good fuel economy.
Vehicle Applications
The 4.5L Duramax V-8 LMK never reached production. As such, it was never implemented in any models or vehicles. However, it was slated to go into GM's light duty (half ton) pickup trucks – the Chevrolet Silverado 1500 and GMC Sierra 1500.
Replacement
In January 2018, General Motors announced a new engine that would effectively replace the 4.5L Duramax. The replacement, the 3.0L Duramax I-6, was announced for the 2019 Silverado 1500 and 2019 GMC Sierra 1500. It is an all-new design that is in no way related to the Duramax 4.5L V-8 LMK.