GM Duramax 3.0-Liter I-6 LM2 Turbo Diesel Engine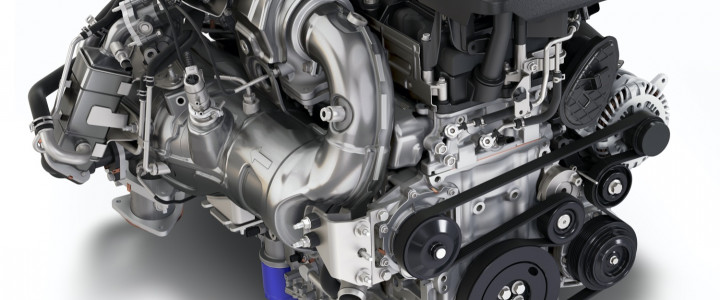 GM Duramax 3.0-Liter I-6 LM2 Turbo Diesel Engine
The GM Duramax 3.0L I-6 LM2 is a turbo-diesel engine produced by General Motors for use in various vehicles, primarily full-size half-ton pickup trucks and full-size SUVs. Colloquially known as "baby Duramax", the engine is an all-new design from the ground up.
In May 2018, GM Authority was first to report that the engine has been assigned GM RPO code LM2.
LM2 Engine Vitals

| | |
| --- | --- |
| Displacement: | 3.0L |
| Configuration: | Inline-six, DOHC |
| Fuel: | Diesel |
| Aspiration: | Forced induction (turbocharger) |
| Introduction: | 2019 model year |
| Discontinuation: | In production |
| Application: | Full-size pickup trucks & SUVs |
| Predecessor: | - |
| Successor: | LZ0 |
| Assembly: | GM Flint Engine Operations, MI, USA |
Overview
The cylinder block of the GM Duramax 3.0-liter LM2 is made of a cast aluminum alloy that provides the strength required to support the high combustion pressures that occur within a diesel engine, while also offering an approximately 25 percent mass savings over a comparable cast iron engine block. Iron cylinder liners are used within the aluminum block to insure truck durability.
Additional engine features include:
A high 15.0:1 compression ratio
Seven nodular iron main bearing caps that help ensure the block's strength under those high combustion pressures

Enables accurate location of the rotating assembly

A deep-skirt block design, where the block casting extends below the crankshaft centerline

Contributes to the engine's stiffness and refinement

Stiffness-enhancing aluminum lower crankcase extension attached to the main bearing caps

Forged steel crankshaft

Forged steel connecting rods and hypereutectic aluminum pistons

Alloys in the respective castings for the rods and pistons make them lightweight and durable

Silicon is blended with the aluminum for heat resistance and tolerance within the piston cylinders, which enhances performance and makes the engine quiet

A thick piston crown, which is the top of the piston
Reinforced top ring add strength to support tremendous cylinder pressures
Capable of exhaust brake, which is available in tow-haul mode, can provide additional driver confidence when towing, especially when going downhill

When paired with 10-speed automatic transmission
Compared to a DOHC V-6, the inline-six architecture offers greater efficiency from the reduced friction of operating only two camshafts and their associated valvetrain components. The I6 configuration offers the perfect balance of primary and secondary forces, without the need for balancing shafts.
"In addition to reduced friction, the architecture enables smooth operation," Menarini said. "The new Duramax 3.0L elevates the 2019 Silverado with one of the most refined and efficient diesel engines in the segment."
Along with supporting elements such as a tuned air induction system and other noise-attenuating elements, the 3.0L Duramax delivers exceptional quietness and smoothness at all engine speeds.
Specs
GM 3.0L LM2 I-6 Duramax Turbo Diesel Engine Specs
Type
3.0L I-6 Turbo-Diesel
GM RPO Code
LM2
Combustion System:
Compression ignition
Induction System:
Variable-geometry turbocharger
Displacement:
3000 cc
Engine Orientation:
Longitudinal
Compression Ratio:
15.0:1
Valve Configuration:
Dual overhead camshafts
Valves per Cylinder:
4
Valve Timing:
Fixed
Assembly Sites:
Flint, Michigan, USA
Firing Order:
1-5-3-6-2-4
Bore x Stroke:
84.00 x 90.00 mm
Fuel System:
Direction injection common rail
Fuel Type:
Diesel
Maximum Engine Speed:
5100
Emissions controls:
Low-pressure Exhaust Gas Recirculation (EGR); Selective Catalyst Reduction on Filter (SCRF)"
Materials
Block:
Lightweight aluminum
Cylinder Head:
Aluminum
Crankshaft:
Forged steel
Camshaft:
Powdered metal/sintered lobes
Connecting Rod:
Forged steel
Vehicle Applications
| Model Year | Vehicle | Transmission | Power (hp / kW) @ RPM | Torque (lb-ft / Nm @ RPM) |
| --- | --- | --- | --- | --- |
| 2019 – 2022 | Chevrolet Silverado 1500 | 10-speed automatic (MQB 10L80) | 277 / 206.6 @ 3750 | 460 / 623.7 @ 1500 |
| 2019 – 2022 | GMC Sierra 1500 | 10-speed automatic MQB 10L80 | 277 / 206.6 @ 3750 | 460 / 623.7 @ 1500 |
| 2021 – present | Chevrolet Tahoe | 10-speed automatic MQC 10L80 | 277 / 206.6 @ 3750 | 460 / 623.7 @ 1500 |
| 2021 – present | Chevrolet Suburban | 10-speed automatic MQC 10L80 | 277 / 206.6 @ 3750 | 460 / 623.7 @ 1500 |
| 2021 – present | GMC Yukon | 10-speed automatic MQC 10L80 | 277 / 206.6 @ 3750 | 460 / 623.7 @ 1500 |
| 2021 – present | GMC Yukon XL | 10-speed automatic MQC 10L80 | 277 / 206.6 @ 3750 | 460 / 623.7 @ 1500 |
| 2021 – present | Cadillac Escalade | 10-speed automatic MQC 10L80 | 277 / 206.6 @ 3750 | 460 / 623.7 @ 1500 |
| 2021 – present | Cadillac Escalade ESV | 10-speed automatic MQC 10L80 | 277 / 206.6 @ 3750 | 460 / 623.7 @ 1500 |
Pictures