GM 3.6 Liter V6 LLT Engine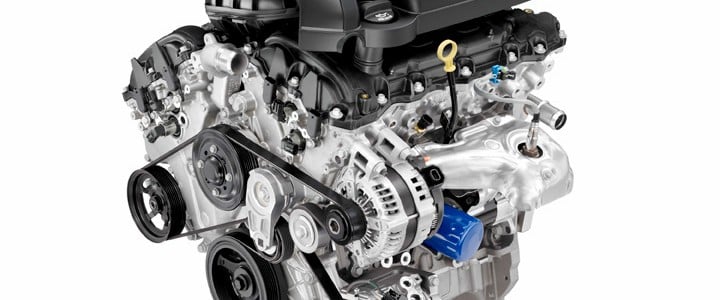 GM 3.6 Liter V6 LLT Engine
The 3.6-liter V6 LLT is an engine produced by General Motors for use in a wide variety of mid- and full-size vehicles. Part of GM's High Feature V6 VVT engine family, the LLT was among the first within the automaker to acquire direct injection. The engine was first superseded by the more efficient and powerful LFX and then the next-generation High Feature V6 LGX. The Lambda-based crossovers, the first-generation Chevrolet Traverse, Buick Enclave, and GMC Acadia, were the last vehicles to be equipped with the LLT unit.
Overview
The 3.6L V6 VVT DI (LLT) is part of GM's global family of high-feature V6 engines. Upon its release, it applied the most advanced automotive engine technology available, from state-of-the-art casting processes and full four-cam phasing to ultra-fast data processing and torque-based engine management.
The 3.6L LLT delivers a market-leading balance of good specific output, high torque over a broad rpm band, fuel economy, low emissions, and first-rate noise, vibration and harshness control, with exclusive durability-enhancing features and very low maintenance.
Engine highlights:
Aluminum Engine Block & Cylinder Heads: the engine block and cylinder heads are cast from A319 aluminum alloy. This aluminum-intensive construction means less weight and greater efficiency than conventional cast-iron engines – and less weight translates to improved vehicle fuel economy. The sand-mold-cast block features strong cast-in iron bore liners, six-bolt main caps, and inter-bay breather vents.
Rotating Assembly with Oil-Spray Cooled Pistons: the crankshaft is manufactured from forged steel and the connecting rods are a sinter forging, as used on other 3.6L V6 VVT engines. The pistons are made of lightweight cast aluminum and feature a friction-reducing polymer coating on the skirts, as well as fully floating wrist pins, which also help reduce friction. Less weight in the pistons means less reciprocating mass in the engine, which in turn means less inertia and greater operating efficiency.
The V6 VVT engine family was developed with pressure-actuated oil squirters in all applications. The jets reduce piston temperature, which in turn allows the engine to produce more power without reducing long-term durability.
Direct Injection: direct injection moves the point where fuel feeds into an engine closer to the point where it ignites, enabling greater combustion efficiency. It fosters a more complete burn of the fuel in the air-fuel mixture, and it operates at a lower temperature than conventional port injection. That allows the mixture to be leaner (less fuel and more air), so less fuel is required to produce the equivalent horsepower of a conventional, port injection fuel system. Direct injection also delivers reduced emissions, particularly cold-start emissions, which are cut by about 25 percent.
High-Pressure Engine-Driven Fuel Pump: an engine-driven high-pressure pump supplies fuel to the injectors to overcome the higher pressures inside the combustion chamber, as well as supply the multiple injection points of the direct injection nozzles. This variable-pressure high-pressure pump feeds a high-strength stainless steel fuel rail attached to the injectors.
Dual Overhead Cams with Four Valves per Cylinder and Silent Cam Drive: four-valves-per-cylinder with inverted-tooth chain cam drive contributes to the smoothness and high output of the LFX. The engine incorporates a timing chain with an inverted tooth design. These smaller links engage at a lower impact speed, which decreases the noise generated. In conjunction with the smaller pitch chain, the number of teeth on the sprockets are increased, which increases the meshing frequency and further reduces noise and vibration.
Variable Valve Timing (VVT): variable valve timing, or cam phasing, helps the 3.6L V6 deliver optimal performance and efficiency, and reduced emissions. It allows linear delivery of torque, with near-peak levels over a broad rpm range, and high specific output (horsepower per liter of displacement) without sacrificing overall engine response, or driveability.
Composite Intake Manifold and Fully Isolated Composite Camshaft Covers: the upper intake manifold for the 3.6L V6 is made from composite material and provides mass savings over an aluminum manifold, with a carefully designed structure that helps ensure quiet engine operation.
Specifications
GM 3.6L V6 LLT Engine Specs
Type:
3.6L V6
Displacement:
3564cc (217 ci)
Engine Orientation:
Longitudinal or Transverse
Compression ratio:
11.3:1
Valve configuration:
Dual overhead camshafts
Valves per cylinder:
4
Assembly sites:
St. Catharines, Ontario
Flint Engine South, Flint Michigan, USA
Ramos Arizpe, Mexico
Melbourne, Australia
Valve lifters:
Roller follower with hydraulic lash adjusters
Firing order:
1-2-3-4-5-6
Bore x stroke:
94 x 85.6 mm
Bore Center (mm):
103
Bore Area (cm2) (total engine bore area):
416.39
Fuel system:
DI
Fuel Type:
Regular Unleaded
Applications
Horsepower hp (kw)
Buick Enclave (with dual exhaust):
288 hp (215 kW) @ 6300 rpm SAE CERTIFIED
Chevrolet Traverse (with dual exhaust):
288 hp (215 kW) @ 6300 rpm SAE CERTIFIED
Chevrolet Traverse (with single exhaust):
281 hp (210 kW) @ 6300 rpm SAE CERTIFIED
GMC Acadia (with dual exhaust)
288 hp (215 kW) @ 6300 rpm SAE CERTIFIED
Applications
Torque lb.-ft. (Nm)
Buick Enclave (with dual exhaust)
270 lb.-ft. (366 Nm) @ 3400 rpm SAE CERTIFIED
Chevrolet Traverse (with dual exhaust)
270 lb.-ft. (366 Nm) @ 3400 rpm SAE CERTIFIED
Chevrolet Traverse (with single exhaust)
266 lb.-ft. (361 N) @ 3400 rpm SAE CERTIFIED
GMC Acadia (with dual exhaust)
270 lb-ft (366 Nm) @ 3400 rpm SAE CERTIFIED
Maximum Engine Speed:
6700 rpm
Engine Mass (kg/lbs) from engine plant as shipped weight:
164 / 361 (estimate)
Emissions controls:
Evaporative system
Dual catalytic converters
Positive crankcase ventilation
Materials
Block:
Sand cast aluminum (319) with cast in iron bore liners
Cylinder head:
Cast aluminum (319 semi permanent mold)
Intake manifold:
Aluminum (319 Upper and Lower)
Exhaust manifold:
High-silicon moly cast iron
Main bearing caps:
Sintered steel (CU infiltrated)
Crankshaft:
Forged steel (1038 V)
Camshaft:
Cast nodular iron
Connecting rods:
Sinter forged steel
Additional features:
Four-cam continuously variable cam phasing
Internal exhaust gas recirculation (EGR)
Pressure-actuated piston cooling jets
Torque-based engine management system
Secondary throat cut inlet ports
Direct injection fuel system
High-pressure, engine-driven fuel pump with stainless steel fuel rails
Internal front cover damper plates
Cartridge style oil filter
Extended life spark plugs
Extended life coolant
Extended life accessory drive belts
7.7mm IT chain system for all HFV6 applications
Coil-on-plug ignition
Structural cast-aluminum oil pan with steel baffles
5W30 GF4 Mineral Oil
Synthetic Oil for Cadillac applications
Vehicle Applications
GM 3.6L V6 LLT Engine Vehicle Applications
Vehicle
Drive Type
Transmission
Buick Enclave
AWD
M7X-6T75-AWD-CU
Buick Enclave
FWD
M7V6T75-CU
Chevrolet Traverse
AWD
M7X-6T75-AWD-CU
Chevrolet Traverse
FWD
M7V6T75-CU
GMC Acadia
AWD
M7X-6T75-AWD-CU
GMC Acadia
FWD
M7V6T75-CU