GM 1.2 Liter Ecotec I4 LL0 Engine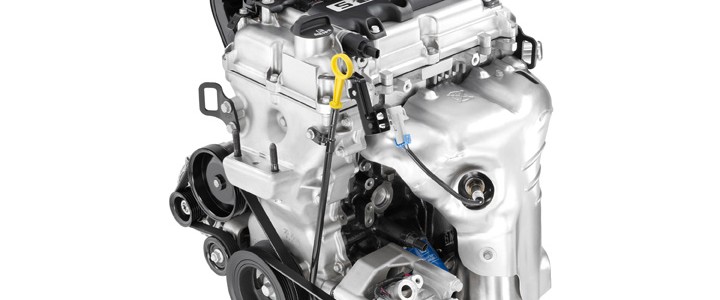 GM 1.2 Liter Ecotec I4 LL0 Engine
The 1.2-liter I4 Ecotec LL0 is an engine produced by General Motors for use in small and city vehicles. It is part of GM's Family A/B Ecotec range and is meant to combine performance with fuel economy. The LL0 (LL zero) is built in South Korea for use in the Chevrolet Spark.
As part of GM's range of small-displacement, power-dense four-cylinder engines, the Ecotec 1.2L is helping GM deliver more efficient yet fun-to-drive vehicles in North America. It leverages the technical expertise of engineers and designers around the globe, including South Korea.
This compact inline four-cylinder engine combines competitive performance, with sophisticated technologies such as dual continuously variable cam phasing (DCVCP), electronically controlled thermostat & low friction engine oil. Engine attributes include low maintenance, low emissions, and outstanding fuel economy.
Engine highlights:
Dual Continuously Variable Valve Timing: dual continuously variable cam phasing optimizes the 1.2L performance in all operating conditions. Cam phasing changes the timing of valve operation as circumstances such as rpm and engine load vary. It allows an outstanding balance of smooth torque delivery over a broad rpm range, good specific output at high rpm, good specific fuel consumption and minimal emissions.
Cylinder Block: grey cast iron provides an extremely durable foundation, optimized with a deep skirt that minimizes both wear and vibration. The block supports greater loads than that used in previous generation engines, and it improves the overall rigidity of the engine/transmission assembly. Water jackets have been optimized to significantly improve heat transfer with the help of coolant flow diverters.
High Performance Cylinder Head: the aluminum cylinder head has been optimized for the addition of variable valve timing and hydraulic lash adjuster's (HLA). The HLA's eliminate the need for future service intervals for lash adjustment. Valve size and cam profiles are carefully matched to the head's flow characteristics. Intake and exhaust ports were developed for high tumble, excellent air flow and fuel mixing. Through simulation optimized coolant passages and oil galleries have been designed to provide efficient cooling and optimized oil flow. The fatigue strength characteristics of the head structure were also improved.
Stainless Steel Exhaust Manifold with Close-Coupled Catalytic Converter: the 1.2L LL0 is equipped with a new four-into-one stainless steel exhaust manifold with the most advantageous runner shape to minimize the exhaust flow restrictions, and the most favorable O2 sensor position to monitor air-fuel imbalance within each cylinder. The stainless steel manifold is smoother for flow, and also lighter than cast iron. In addition, the thin wall runner with stainless steel has smaller thermal inertia and it can help with the catalytic converters fast light-off. Moving a smaller catalytic converter closer to the manifold allows the catalyst to heat more quickly. So positioned, the catalyst achieves light-off—the temperature at which exhaust emissions are most efficiently oxidized–sooner.
Advanced Cooling System: the 1.2L features an electronically controlled thermostat in a compact aluminum die cast housing. The electronic thermostat allows more precise temperature control than a conventional thermostat, and can be opened by the ECM, rather than at a default coolant temperature.
ETC (Electric Throttle Control): the ETC is used to adjust the load of a combustion engine controlled by the engine control unit (ECU) based on the accelerator pedal set value.
Low Mass Valvetrain: direct acting hydraulic tappets are applied to eliminate the need for future service intervals that would otherwise be required with mechanical tappets. While the assembled camshaft, valve spring retainer, and valves are low mass design.
Low Friction and High Wear Resistance Piston Ring: ring tension was optimized for both low friction and low oil consumption. A physical vapor deposition (PVD) coating was applied to the top and oil ring, resulting in less ring wear / better oil consumption at high mileage.
Less Reciprocating Mass: like the pistons, other reciprocating components in the 1.2L were developed for an optimum mix of strength, balance and low weight. The result is less reciprocating mass inside the engine, increasing efficiency. The forged steel connecting rods incorporate a weight-optimized I-beam design.
Cam drive system – Inverted tooth chain: the cam drive system employs a 6.25 mm inverted tooth chain, with hydraulic tensioner which controls proper tension through the entire engine speed. It provides excellent durability and a very low noise characteristic, as well as considerable space savings.
Lightweight Plastic Intake Manifold: the intake manifold is made by thermoplastic material to minimize weight and maximize the flow of induction air by reducing friction. Optimized PCV passage prevents both the PCV system and the throttle body from icing and it provides the minimized deviation of PCV distribution. The acoustic insulator is also integrated with the intake manifold which helps minimize noise.
Lubrication system: for improved customer satisfaction, the engine adopts GM's OLM (Oil Life Monitoring) System, which can provide optimized oil change intervals. Low weight Global "Dexos" 5W-20 engine oil is applied to reduce engine friction and improve fuel economy. Oil pump is packaged within the front cover which also incorporates the powertrain torque reaction axis mount. It is optimized for lubrication demand and supports new features such as DVCP and HLA. The spline design on oil pump is applied to reduce N&V. Dipstick is enhanced to improve interface and readability. Stamped steel oil pan is applied to the engine for low weight.
Ventilation system: aluminum material is used for robust cam cover design. The cam cover integrates the OCV (Oil Control Valve) to control DVCP. Both Intake and Exhaust OCV's are directly mounted to the cam cover, while lubrication passages are also designed directly into cam cover. Between the cam cover and cylinder head superior sealing is provided by a reusable PIP (Press In Place) gasket. The secondary cover improves PCV performance and prevents icing. PCV valve is mounted on cam cover where it is beneficial to control low flow at the low load conditions, and high flow at the high load conditions. Cam position sensors are mounted on the cam cover, radial to the target wheels, while a dual tang oil filler cap is used to improve removal and installation feel.
GM 1.2L I4 LL0 Engine Specs
Type:
I4 Fam A/B 1.2
Displacement:
1249cc (73 CID)
Engine Orientation:
Transverse
Compression ratio:
10.5:1
Valve configuration:
Dual Overhead Camshafts (DVCVP)
Valves per cylinder:
4
Assembly site:
Changwon, South Korea
Valve lifters:
Direct acting tappet with hydraulic lash adjuster
Firing order:
1 – 3 – 4 – 2
Bore x stroke:
70.50 x 80.00 mm
Bore Center: (mm)
75.50 mm
Bore Area:(cm2)
39.04
Fuel system:
MPFI
Fuel Type:
Regular unleaded
Maximum Engine Speed:
6500 rpm (MT), 6850 rpm (AT)
Horsepower hp (kW)
Chevrolet Spark:
84 hp (62.6 kW) @ 6400rpm SAE Certified
Torque lb-ft (Nm)
Chevrolet Spark:
83 lb.-ft. (112 Nm) @4200 rpm SAE Certified
Emissions Summary
GM System 0 Engine Management System with E83 ECM
Federal: Tier 2 BIN 4
California: BIN 4 ( ULEV2 Qualified )
Materials
Block:
Cast Grey Iron
Cylinder head:
Cast Aluminum
Intake manifold:
Composite
Exhaust manifold:
Fabricated Stainless Steel Maniverter 4-1
Crankshaft:
Cast Iron
Camshaft:
Assembly camshaft
Connecting rods:
Forged Steel
Additional features
Double Continuous Variable Cam Phasing (DCVCP)
Electronic Throttle Control
Electronic Controlled Cooling System
Hydraulic Tappets
Individual Coil on Plug with Driver
Silent Chain Driven Camshaft
Long life (100,000-mile) spark plugs
GML 1.2 I4 LL0 Engine Vehicle Applications

| Vehicle | Transmission |
| --- | --- |
| Chevrolet Spark | M4M-CVT7 |
| Chevrolet Spark | MX2-Y4M HD |