GM 3.6 Liter V6 LGX Engine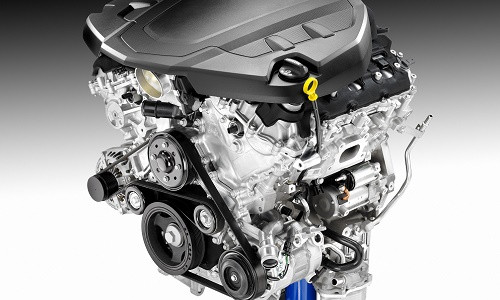 GM 3.6 Liter V6 LGX Engine
The 3.6 liter V6 engine (production code LGX) is a naturally-aspirated six-cylinder engine produced by General Motors for use in a broad range of vehicles. It is part of GM's fourth-generation high-feature DOHC V6 engine family and first launched on the 2016 Cadillac ATS, 2016 Cadillac CTS, and 2016 Cadillac CT6, before making its way to other vehicles.
Overview
The 3.6 liter V6 LGX engine is part of GM's high-feature V6 engine family. It is a clean-sheet design that shares little with the 3.6L six-cylinder LFX engine it replaces, and sets benchmarks for efficiency, refinement and durability compared to its predecessor.
LGX highlights include:
Aluminum deep-skirt cylinder block from the LFX mill
An enlarged bore of 95 mm (compared to 94 mm on the LFX)
Enlarged bore centers of 103 mm (compared to 106 mm on the LFX)
An all-new cylinder head design
A forged steel crankshaft
High-strength connecting rods and pistons
Oil-spray piston cooling
Active Fuel Management (cylinder deactivation) and Auto Stop-Start system generate fuel savings of 9 percent compared to the 3.6L V6 LFX
Improved Variable Valve Timing (VVT) with an 'intermediate park' feature
Reshaped piston tops to promote a better mix of the air and fuel during the direct injection process
Relocated oil pump under the cylinder block and inside the oil pan
Acoustic engine cover
Stronger, stiffer aluminum block with increased structure in the bulkheads for superior rigidity
Tough, refined rotating assembly with a stiff forged-steel crankshaft, friction-reducing polymer-coated pistons and strong high-copper-content, sinter-forged connecting rods
New four-cam phasing system with intermediate park technology that enhances efficiency by enabling late inlet valve closing in certain conditions
All-new, patented "targeted" cooling system that provides strategic cooling of the engine's hottest areas while simultaneously fostering faster warm-up to enhance efficiency
New, higher-flow cylinder heads that enhance direct injection performance and feature integrated exhaust manifolds
Revised, simplified timing drive system with cushioned chain sprockets contributing to quieter engine operation
All-new lubrication system with a variable-displacement, two-stage oil pump that enhances efficiency. It is located inside the oil pan, which contributes to greater noise abatement
Features
The all-new 3.6L V6 LGX is an all-new engine designed to be at the top of its class in performance, refinement, and fuel efficiency.
"This new 3.6L V-6 raises the bar for all naturally aspirated V6 engines in the industry and perfectly augments the CT6's new standard for sophistication," said Ameer Haider, assistant chief engineer for V-6 engines. "It builds on the established strengths of previous Cadillac engines, pushing the technologies to new heights and introducing new ones that take performance, refinement and efficiency to benchmark levels."
"The new 3.6L is designed to deliver peak performance, efficiency and refinement with maximum durability – and minimal maintenance," said Haider. "Those attributes put it at the forefront of naturally aspirated V-6 engine offered in any luxury car around the world."
Clean-Sheet Engine Design: the LGX is the fourth generation of GM's acclaimed Dual Over-Head Cam (DOHC) V6 engine family that sets benchmarks for efficiency, refinement, and durability.
Fuel-Saving Technologies: the LGX includes Active Fuel Management (cylinder deactivation) and stop/start technology to enhance fuel economy up to a GM-estimated 9 percent when compared to the outgoing 3.6L V6 LFX.
GM's Active Fuel Management system temporarily deactivates two (No. 2 and No. 5) of the engine's six cylinders in certain light-load driving conditions to enhance fuel efficiency and seamlessly reactivates them when the driver demands full power.
In addition, an efficiency-enhancing stop/start system shuts down the engine in certain driving conditions such as stop-and-go city driving to reduce fuel consumption. The engine automatically restarts when the driver takes his or her foot off the brake pedal.
Direct Injection: the all-new 3.6L V6 LGX advances performance and fuel economy-optimizing technologies introduced on previous generations, including direct injection and continuously variable valve timing (VVT). The motor continues to employ direct fuel injection to make the most of efficiency and performance. Along with the placement of the fuel injector in the combustion chamber, the piston top is carefully shaped to promote a healthy mix of air and fuel, and direct the fuel spray to ensure a more complete combustion.
A higher-capacity engine-driven fuel pump supports the higher output of the new engine and contributes better fuel atomization, which enhances performance, and reduced emissions.
Quiet Operation: the 3.6L V6 LGX features an all-new cam drive system that contributes to the new 3.6L being up to 4 dB quieter at idle and under low load driving conditions than the benchmark Nissan-Infiniti 3.7L V6.
Hydra-Matic 8L45: in the 2016 Cadillac CT6, the LGX will be mated to GM's all-new Hydra-Matic 8L45 paddle-shift eight-speed automatic transmission, elevating the CT6's driving experience with one of the luxury market's smoothest, quietest and most efficient powertrain combinations.
Stronger, Quieter Foundation: structurally, the all-new 3.6L V6 LGX is similar to the proven, award-winning design of GM's previous V6 engines, including an aluminum, deep-skirt cylinder block.
The optimal 60-degree cylinder angle is retained on the LGX, with the bore size enlarged from 94mm to 95mm and the bore centers stretched from 103mm to 106mm. The cylinder block features six-bolt main bearing caps and inter-bay breather vents that enhance power and oil flow management.
A larger crankshaft bore diameter and wider bearing cap bulkheads in the block provide higher main bearing load-carrying capability. The block also accommodates larger, 12mm cylinder head bolts to provide greater clamping strength for the engine's higher output.
The crankshaft is forged from 1538MV steel and inherently stiffer than a conventional cast-iron crankshaft, contributing significantly to the engine's smoothness, quietness and durability.
Attached to the crankshaft are high-strength connecting rods and pistons. The rods are sinter-forged and composed of a high-copper alloy that stands up to high heat and resists bending, while the polymer-coated hypereutectic pistons are designed to minimize friction, allowing for a tighter piston-to-bore clearance that results in quieter operation.
The new 3.6L V6 also incorporates oil-spray piston cooling, which helps reduce noise, lower combustion temperatures and enhance durability by drenching the underside of each piston and the surrounding cylinder wall in an extra layer of cooling, friction-reducing engine oil.
Continuously Variable Valve Timing With Intermediate Park Feature: camshaft phasing allows the greatest variances in valve timing to make the most of power and efficiency. The new 3.6L V6 LGX engine takes that technology to the next level with intermediate park technology for the intake camshaft phasers.
Because optimal part-load efficiency requires retarding the intake cams to reduce pumping losses, the effect also reduces the effective compression ratio, which affects the engine's cold-start performance. Conventional cam phasing system authority is limited by how far the intake cams can be retarded in the parked position without affecting cold starting.
Intermediate park technology, which incorporates an intermediate-lock intake variable valve timing cam phaser, allows the cams to be parked at the most favorable position for cold starting, while expanding the amount of intake cam retard for other conditions by adding another 20 degrees of intake phaser authority. This enhances fuel efficiency and reduces emissions.
Targeted Cooling System: unlike conventional systems, which force coolant flow from the front of the block to the back, the 3.6L LGX features a patented targeted cooling system that sends coolant simultaneously to each water jacket in the heads and block.
This new, parallel-flow design maximizes heat extraction in the area of the upper deck, intake and exhaust valve bridges in the heads and integrated exhaust manifold with a minimal amount of coolant. The result is more even and consistent cooling, which enhances performance, and faster engine warmup, which improves cold-start efficiency and reduces emissions.
Additionally, the strategic sizing of the coolant jackets in the head and the block reduces the cooling system thermal inertia, allowing the use of a smaller water pump, which requires about 50 percent less power to drive, enhancing fuel efficiency and even allowing a lower overall height of the cylinder block.
New Cylinder Head Design: an all-new cylinder head design builds on the airflow attributes of the current V6 LFX, supporting a broader power band that ensures excellent low-rpm torque, for strong power at take-off, and excellent airflow at high-rpm, for greater horsepower.
Engineers achieved this through increased in-cylinder mixture motion, a faster burn rate of the air-fuel mixture and attributes that took full advantage of the new intermediate park cam phasing system.
Highlights of the cylinder head design include:
The intake valves are 6 percent larger, resulting in a 5-percent increase in flow capacity and a significant 25 percent increase in in-cylinder mixture motion.
The exhaust valves are also 6 percent larger, for a 10-percent increase in flow capacity.
The injector angle was increased from 22 degrees to 24 degrees, which helps reduce emissions and oil dilution
The adoption of a smaller, 12mm spark plug (vs. the previous 14mm plug) allows it to be more centrally located in the cylinder for improved flame propagation and greater light-load efficiency.
A combustion chamber design to promote in-cylinder mixture motion, achieve a faster burn rate and increase dilution tolerance to take full advantage of the intermediate park cam phasing system.
The new head design also has improved combustion chamber cooling enabled by the patented targeted cooling system, which reduces the chance for knock and enhance high-load efficiency.
An integrated exhaust manifold rounds out the head's features, saving weight over a conventional, separate head/manifold assembly.
Refinement & Durability: a number of new and enhanced features are designed to make the all-new 3.6L V6 LGX one of the industry's quietest, smoothest and most durable engines:
Oiling system: the LGX features an all-new oiling system with a dual-pressure-control and variable-displacement vane pump that enhances efficiency by optimizing oil pressure as a function of engine speed. The oil pump is relocated beneath the cylinder block, inside the oil pan, contributing to the engine's smoother, quieter operation.
Two-piece structural oil pan: for stiffness and strength, the oil pan features an aluminum structural upper section while a stamped steel lower section provides optimal noise-absorption characteristics, for quieter performance.
Two-stage PCV system: this revolutionary system maintains low oil consumption, featuring a pre-separator between the block and the engine's rear cover and a high-efficiency separator in the center of the block's "V".
Camshaft drive: all-new, with a simpler design featuring two chains and six sprockets vs. the previous three chains and nine sprockets, with lower chain loads, which enhances durability. The lower tension of the chain drive, along with cushioned ring sprockets, also reduces noise and vibration.
High-flow intake manifold and acoustic cover: the lightweight composite intake manifold offers greater airflow capability than the current 3.6L engine, which matches with the higher-flow heads to support the new engine's greater output. A one piece engine cover mounts atop the manifold for exceptional noise isolation.
Specifications
| Type: | 3.6L V6 |
| --- | --- |
| Displacement: | 3564 cc (217 ci) |
| Engine Orientation: | Longitudinal or Transverse |
| Fuel type: | Regular Unleaded |
| Assembly site: | Romulus Powertrain, Michigan, USA |
| Bore x Stroke: | 95.0 x 85.8 |
| Compression ratio: | 11.5:1 |
Vehicle Applications
GM 3.6L V6 LGX Engine Vehicle Applications

| Year | Make | Model | Transmission | Power (hp / kW @ RPM) | Torque (lb-ft / Nm @ RPM) |
| --- | --- | --- | --- | --- | --- |
| 2016-2019 | Cadillac | ATS | 8-Speed Auto M5N | 335 / 250 @ 6800 | 285 / 386 @ 5300 |
| 2016-2019 | Cadillac | CTS | 8-Speed Auto M5N | 335 / 250 @ 6800 | 285 / 386 @ 5300 |
| 2016-2018 | Cadillac | CT6 | 8-Speed Auto M5N | 335 / 250 @ 6800 | 284 / 385 @ 5300 |
| 2019-present | Cadillac | CT6 | 10-Speed Auto MHS | 335 / 250 @ 6800 | 284 / 385 @ 5300 |
| 2017-2019 | Chevrolet | Camaro | 6-Speed MN6 / 8-speed MX0 | 335 / 250 @ 6800 | 284 / 383.4 @ 5300 |
| 2019-present | Chevrolet | Camaro | 6-Speed MN6 / 10-speed MX0 | 335 / 250 @ 6800 | 284 / 383.4 @ 5300 |
| 2017-2019 | Cadillac | XT5 | 8-Speed Auto MRC | 310 / 231.1 @ 6600 | 271 / 365.9 @ 5000 |
| 2020-present | Cadillac | XT5 | 9-Speed M3W | 310 / 231.1 @ 6600 | 271 / 365.9 @ 5000 |
| 2017-2019 | GMC | Acadia | 6-Speed Auto M7W (FWD) or M7U (AWD) | 310 / 231.1 @ 6600 | 271 / 365.9 @ 5000 rpm |
| 2020-present | GMC | Acadia | 9-Speed Auto M3W | 310 / 231.1 @ 6600 | 271 / 365.9 @ 5000 |
| 2019-present | Chevrolet | Blazer | 9-Speed Auto MV3 | 308 / 230 @ 6600 | 270 / 365 @ 5000 |
| 2018-present | Buick | Regal GS | 9-Speed Auto M3T | 310 / 231.1 @ 6800 rpm | 282 / 381 @ 5200 |
Manufacturing
The 3.6L V6 LGX engine is produced alongside the new 3.0L V6 Twin Turbo LGW engine at the GM Romulus Powertrain Operations assembly facility, near Detroit. The facility received a $540-million investment to build these next-generation V6 engines.
3.6L LGX V6 News
12

Exclusive to the RS trim.

2

It's one of three new hues for the 2023 model year.