GM 1.4-Liter Turbo I4 Ecotec LE2 Engine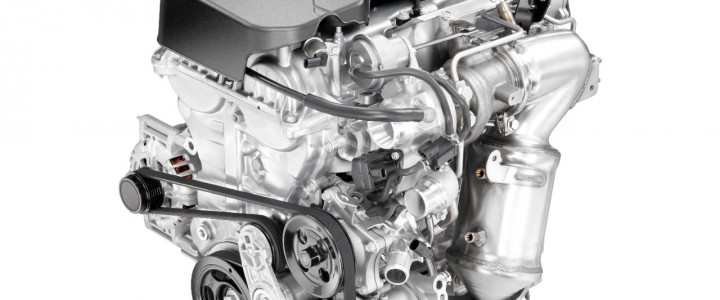 GM 1.4-Liter Turbo I4 Ecotec LE2 Engine
The LE2 is a turbo-charged 1.4-liter four-cylinder engine produced by General Motors for use in small (compact and subcompact) vehicles. The LE2 is part of an all-new, modular family of engines launching in the 2015-2016 time period.
The new family of engines was engineered to deliver strong performance with excellent efficiency and is part of a clean-sheet design and engineering process that leveraged the diverse experience of GM's global resources.
"The new Ecotec architecture represents the most advanced and efficient family of small-car gas engines in GM's history," said Tom Sutter, global chief engineer. "Along with performance and efficiency targets, we've also aimed for segment-challenging refinement with low noise and vibration – and we've hit the bulls-eye."
The new 1.4-liter turbocharged four-cylinder Ecotec is known by its LE2 production code. Notable technologies and features of the new engine include:
Direct injection helps the motor make about 11 percent more horsepower and nearly 20 percent more torque than the Encore's standard 1.4L I4 LUV engine, making for a greater feeling of power on demand, particularly at low- and mid-range engine speeds.
Engine stop/Start contributes to reduced fuel consumption in stop-and-go driving by automatically shutting down the engine when the vehicle comes to a stop under certain driving conditions, such as a stoplight. The engine automatically restarts when the driver takes his or her foot off the brake.
Aluminum cylinder block and head that enhance performance and efficiency

Reduced friction configuration, including low-friction piston rings, a low-friction camshaft drive, and a low-friction oil pump, further enhancing efficiency

Aluminum bedplate on the engine block enhances strength and refinement

Variable-flow oil pump enhances efficiency

Piston-cooling oil jets contribute to optimal performance, efficiency and refinement

Dual-overhead-cam cylinder head with integrated exhaust manifold saves weight to enhance performance and efficiency

Premium inverted-tooth camshaft drive chain contributes to segment-challenging levels of refinement and low noise
Although the LE2 was first announced in the all-new 2016 Chevrolet Cruze, the first vehicle to be powered by the engine is the 2016 Buick Encore, specifically the 2016 Encore Sport Touring model.
Full specifications for the LE2 are currently not available. However, we do have the following preliminary specs that apply to the 2016 Chevy Cruze:
| Engine: | Ecotec 1.4L turbocharged DOHC I4 LE2 |
| --- | --- |
| Displacement (cu. in. / cc): | 85 / 1399 |
| Bore and stroke (in. / mm): | 2.91 x 3.20 / 74 x 81.3 |
| Block material: | cast aluminum |
| Cylinder head material: | cast aluminum |
| Valvetrain: | dual overhead camshafts, four valves per cylinder, continuously variable valve timing |
| Ignition system: | coil on plug |
| Fuel delivery: | direct injection with electronic throttle control |
| Compression ratio: | 10:1 |
| Horsepower (hp / kW @ rpm): | 153 / 112 @ 5600 (est.) |
| Torque (lb-ft / Nm @ rpm): | 177 / 240 @ 2000-4000 (est.) |
| Recommended fuel: | regular unleaded |
| Max engine speed (rpm): | TBD |
| Emissions controls: | close-coupled and underfloor catalytic converters; pre- and post-oxygen sensors |
| EPA estimated  fuel economy (FWD) (city / hwy / combined): | TBD |
| EPA estimated  fuel economy (AWD) (city / hwy / combined): | TBD |