GM 5.3 Liter V8 L8B EcoTec3 Engine With eAssist Mild Hybrid System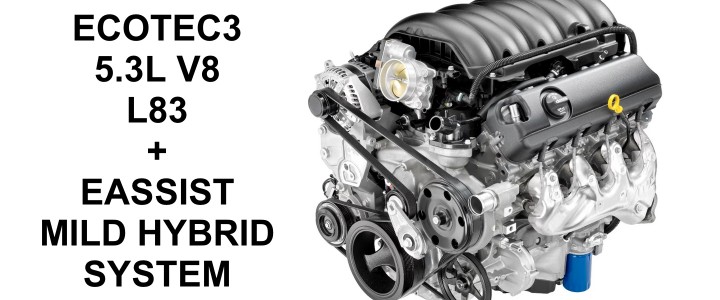 GM 5.3 Liter V8 L8B EcoTec3 Engine With eAssist Mild Hybrid System
The L8B is a powertrain system produced by General Motors for use in pickup trucks and SUVs. The system is based around the 5.3L L83 engine and two components:
The5.3-liter V-8 L83 gasoline engine, which is part of GM's EcoTec3 Gen V Small Block engine family adapted for pickup trucks, and
A mild hybrid belt alternator-starter (BAS) system with a compact lithium-ion battery pack called eAssist by GM
Overview
The 5.3L L83 V-8 engine is mated to a mild hybrid eAssist system in order to deliver uncompromised capability and better fuel economy – up to 13 percent – in city driving. The system leverages Chevrolet's expertise in electrification by using battery cells from the Malibu Hybrid and software controls developed for the Chevrolet Volt.
The mild hybrid belt alternator-starter (BAS) system with a compact lithium-ion battery  is joined with the 5.3L EcoTec L83 V-8 engine and 8-speed automatic transmission to provide:
Electric Power Boost: the on-board electric motor provides up to 13 horsepower and 44 pound-feet of supplemental power during acceleration and passing. The electric motor also enables the Active Fuel Management (AFM) system on the 5.3L V-8 engine to operate in 4-cylinder mode for longer periods, resulting in additional fuel economy benefits.
Stop/Start capability: added fuel savings are achieved by seamlessly turning the engine off when stopped at a traffic light or in congested traffic and turning the engine back on when the driver's foot lifts off the brake pedal.
Regenerative Braking: by using the on-board electric motor as a generator, the energy recovered while braking is converted to electricity to recharge the onboard battery system.
These features deliver a 13 percent improvement in city fuel economy, based on EPA estimates, enabling the 2016 Silverado eAssist and 2016 Sierra eAssist to achieve an EPA estimated 18 mpg city – a 2 mpg improvement over the equivalent Silverado 1500 with the 5.3L V-8 and 8-speed automatic transmission. EPA estimated highway fuel economy for the Silverado eAssist/Sierra eAssist is 24 mpg.The combined rating is 20 mpg.
Power for the eAssist system is supplied by a 24-cell, air-cooled 0.45 kWh lithium-ion battery pack located under the center console (or front bench seat) that uses the same battery cells as the Chevrolet Malibu Hybrid. It weighs nearly 15 percent less than the previous generation eAssist system, yet provides up to 15 kW of power to the electric motor.
A reengineered power inverter module is now liquid cooled and moved underhood for improved packaging and performance. The software used to control the battery system is based off a modified version of the software for the Chevrolet Volt.
The compact induction motor, located on the accessory drive, provides peak re-gen capability of 15kW resulting from advanced software controls based off those used in the Volt. The motor, which features a stator design leveraged from the Volt and Malibu Hybrid, acts like an electric torque booster, providing up to 44 pound-feet (60 Nm) and up to 13 horsepower (9.7 kW) of additional boost in high-load situations.
This new generation of eAssist is also more modular than the previous system, meaning it could be more easily used in front-wheel or rear-wheel drive powertrain configurations while being capable of using more or fewer cells, based on the power needs for each vehicle application.
Specifications
Type:
5.3L V8
Displacement (cu in / cc):
325 / 5328
Bore & stroke (in / mm):
3.78 x 3.62 / 96 x 92
Block material:
cast aluminum
Cylinder head material:
cast aluminum
Valvetrain:
overhead valve, two valves per cylinder, variable valve timing
Ignition system:
coil near plug, platinum-tipped spark plugs, low-resistance spark plug wires
Fuel delivery:
direct fuel injection with Active Fuel Management
Compression ratio:
11.0:1
Horsepower
On gasoline (hp / kW @ rpm):
355 / 250 @ 5600 (SAE certified)
On E85 (hp / kW @ rpm):
380 / 283 @ 5600 (E85 – SAE certified)
Torque
On gasoline (lb-ft / Nm @ rpm):
383 / 519 @ 4100 (SAE certified)
On E85 (lb-ft / Nm @ rpm)
416 / 564 @ 4100 (SAE certified)
Recommended fuel:
regular unleaded or E85
Maximum engine speed (rpm):
5800
Emissions controls:
close-coupled catalytic converter, Quick Sync 58X ignition, returnless fuel rail, fast-response O2 sensor
Estimated fuel economy
2WD (City / Hwy):
16 / 23
4WD (City / Hwy):
16 / 22
Manufacturing
The GM L8B engine is produced at the following two GM plants:
Vehicle Applications
The L8B eAssist system was introduced on the 2016 Chevrolet Silverado 1500 and and 2016 GMC Sierra 1500.
From a marketing standpoint, the L8B eAssist application in the Silverado and Sierra is targeted at customers and small business owners "who use their trucks for more urban driving", according to GM. In these use cases, the addition of eAssist "can further reduce their fuel costs without sacrificing the utility they expect in a full-size truck", says Sandor Piszar, marketing director for Chevrolet Trucks.
GM 5.3 Liter V8 EcoTec3 L8B Engine Vehicle Applications

| Vehicle | Transmission |
| --- | --- |
| 2016-2018 Chevrolet Silverado 1500 | Hydra-Matic 8L90 + BAS |
| 2016-2018 GMC Sierra | Hydra-Matic 8L90 +BAS |
Cost
The eAssist propulsion system carries a $500 premium over a comparably-equipped vehicle (a two-wheel drive Silverado 1500 Crew Cab in 1LT trim, for instance).
Launch
Initially, Chevrolet will offered approximately 500 Silverado eAssist trucks for the 2016 model year, exclusively through California dealers. Based on feedback from these initial customers, Chevrolet will adjust production for 2017 model year.
EcoTec3 Engine Family
EcoTec3 Engine Family Highlights
Advanced combustion system increases power and efficiency
Seamlessly switches to four-cylinder operation under light loads
Rugged hardware engineered to help keep operating costs down
Best-in-class V8 fuel economy
EcoTec3 Engine Family Overview
The EcoTec3 engine family represents the fifth generation of GM Small Block engines, replaces the fourth-generation known as Vortec. It features three state-of-the-art technologies to make the most of power, torque and efficiency across a broad range of operating conditions:
Direct injection
Cylinder deactivation
Continuously variable valve timing
"We believe these are the most technologically advanced engines ever offered in light-duty pickups, and they are 100 percent truck – specifically designed for the way customers use trucks in the real world," said Jordan Lee, Small Block chief engineer and program manager.
"They have all the power and torque needed to confidently handle the tough jobs, and they seamlessly switch to four-cylinder mode to increase efficiency during light-load driving.
"This is technology no other truck maker can match, and we offer it in every one of our EcoTec3 engines, for every one of our customers," said Lee. "It is not an extra cost feature. You get our best and most sophisticated technology regardless of trim level."
Although they share only a handful of parts with previous Silverado engines, the new EcoTec3 engines build on experience gained from millions of trucks and billions of real-world customer miles, while incorporating the latest in advanced materials and combustion systems.
"The combination of straightforward mechanical systems, the latest in materials, and an advanced combustion system enable us to improve power and efficiency, while also reducing noise and vibration," said Lee. "We think truck customers will find our new engines to be the right tools for the toughest jobs, while helping hold down ownership costs over the long run."
The EcoTec3 lineup consists of the following powerplants:
Advanced Combustion System
At the heart of the new EcoTec3 engine family is an advanced combustion system that maximizes the potential of the direct fuel injection system, cylinder deactivation, continuously variable valve timing and other technologies.
Development of this advanced combustion system involved extensive design and engineering by GM's global powertrain organization. More than 100 iterations of the combustion systems were evaluated through computer modeling before a final design was selected for each engine variant. The overall engine design involved more than 10 million hours of computational CPU time, with the combustion process alone accounting for more than 6 million of those CPU hours.
"Owning a truck doesn't mean settling for second-best technology," said Lee. "Our new EcoTec3 engines harness some of the most advanced powertrain technologies in the world to meet the specialized demands of truck owners."
For example, truck engines often need to provide maximum power under heavy load for long periods of time, such as towing a trailer up a mountain grade or slogging through mud at a job site. A rugged, large displacement engine is well suited to reliably providing this power and torque, year in and year out.
"For the 2014 Silverado 1500, these larger displacement EcoTec3 engines can now instantly switch to four-cylinder mode to improve efficiency when less power is required. It gives customers the best of both worlds – a rugged truck engine when they need it, with improved efficiency in light-load driving," said Lee.
The ability to more precisely control combustion also enables the new engines to run with a higher compression ratio – 11.0:1 for the versions with regular fuel recommended. This higher compression is one of the best ways to simultaneously increases both power and efficiency.
This increased efficiency can now be maintained over a broader range of operating conditions. For example, when towing a trailer on a hot summer day, Silverado's advanced combustion system can reduce the need to trim back spark advance to control detonation, helping maintain both performance and real-world fuel efficiency, even when the going gets really tough.
Emissions are also reduced, particularly during cold starts, when hydrocarbon emissions are cut by about 25 percent.
Direct Injection
The new EcoTec3 engines use direct fuel injection, which precisely meters fuel directly into the cylinders, to optimize combustion over a broad range of conditions. The engines also feature a new cylinder-head design and a new, sculpted piston to optimize the mixing of air and fuel in the engine and the burning of the mixture to create power.
The heads features smaller combustion chambers shaped to complement the unique topography of the piston heads. The smaller chamber size and sculpted pistons produce a compression ratio of 11.0:1 or higher, depending on the engine, while the heads features large, rectangular intake ports with a slight twist to enhance mixture motion.
To further enhance combustion, the intake and exhaust valve positions have been switched from previous versions, and the valves are now slightly canted toward the cylinder centerline. Also, the spark plug angle has been revised and the electrode is now closer to the center of the chamber to support optimal combustion.
The pistons feature unique sculpted topography that was optimized via extensive computer analysis to precisely direct the fuel spray for better mixing and more complete combustion. The contours of the piston heads are machined after casting to ensure dimensional accuracy – essential for precise control of mixture motion and the compression ratio.
Cylinder Deactivation
Cylinder deactivation, also known as Active Fuel Management (AFM), is now standard on all three EcoTec3 engines. The vehicles that are powered by the engines feature improved engine mounts, electronic throttle control, adaptive exhaust systems, improved aerodynamics, low-rolling resistance tires, and other technologies that help the engines operate in four-cylinder mode for longer periods of time, further increasing efficiency.
"GM pioneered cylinder deactivation technology, and we consider it a great technology for improving the efficiency of full-size trucks," said Lee.
The system uses oil pressure, controlled by the powertrain control module, to deactivate the lifters on selected cylinders, closing the valves for those cylinders. It deactivates four of the cylinders on the V-8 engines and two cylinders on the V-6 under light load conditions – operating the engines as a V-4 – and seamlessly reactivates the cylinders when the driver demands greater power. The transition takes less than 20 milliseconds and is virtually imperceptible.
"This is another great example of using a relatively simple mechanical system and powerful software to provide a real benefit to our customers," said Lee.
EcoTec3 Engine Family Features
Proven truck engine designs: although the EcoTec3 engines are all new, sharing just a handful of small parts with previous engines, they build on a foundation of more than 100 million Small Block engines and billions of real-world customer miles.
Engines based on the Small Block architecture are typically smaller and lighter than competitive engines with overhead camshafts, and typically have lower friction. Although package size is usually not a concern with full-size pickups, lighter weight and lower friction can both contribute to improved efficiency.
Weight-saving aluminum engine blocks: all three engines use lightweight aluminum blocks with cast-in iron cylinder liners. The blocks were developed with math-based tools and data acquired in GM's racing programs, providing a light, rigid foundation for a smooth and strong engine.
The deep-skirt block design helps maximize strength and minimize vibration. Cross-bolted main bearing caps are secured to the block with four main bolts and two cross bolts each. A structural aluminum oil pan further stiffens the bottom of the block. The result is an engine that is quieter, smoother and more dependable, even under the toughest conditions.
Advanced oiling system: the oiling system incorporates a new variable-displacement oil pump that enables more efficient oil delivery, based the engine's operating conditions. Its dual-pressure control enables operation at a very efficient oil pressure at lower rpm, and then delivers higher pressure at higher engine speeds to provide a more robust lubrication.
Oil capacity has been increased to six quarts for the 4.3L V6 and eight quarts for the V8 engines. All engines use GM's Dexos oil for increased fuel efficiency and longer oil life, and V8s are engineered to use 0W/20 oil to improve lubrication and reduce friction.
All trucks also feature GM's oil life monitor, which better protects engines by recommending oil changes based on actual engine operating conditions and can save owners' money by avoiding unnecessary oil changes.
Oil-jet piston cooling: at higher engine speeds, small jets spray oil on the underside of each piston. This helps reduce piston temperature, enabling the engine to maintain maximum horsepower and torque, and also reduces engine noise.
PCV-integrated rocker covers: new domed rocker covers house a patent-pending integrated positive crankcase ventilation system that enhances oil life, reduces oil consumption and reduces exhaust emissions. The domed sections of the covers contain baffles that separate oil and air from the crankcase gases, with about three times the oil/air separation capability of previous engines.
Exhaust manifolds: the exhaust manifolds were developed to improve durability and sealing and reduce operating noise. The cast iron manifolds feature saw cuts along their cylinder head mounting flange, which split the flange into three separate sections on the V6 and four separate sections on the V8s, allowing each section to move under extreme hot-cold temperature fluctuations to virtually eliminate movement of the exhaust manifold gaskets. That helps ensure proper sealing for the life of the engine and reduces the chance of gasket failure. The exhaust manifolds also feature triple-layer stainless steel heat shields, which limit heat transfer to the engine bay and help further reduce noise.
Additional features and technologies of the new EcoTec3 engines include:

A revised cooling system with an offset water pump and thermostat for more efficient performance
An air induction humidity sensor ensures optimal combustion efficiency, regardless of the surrounding air's humidity
All engines feature an engine-driven mechanical vacuum pump to enhance braking performance
58X ignition system with individual ignition coil modules and iridium-tip spark plugs
All-new E92 engine controller
General Motors' investment in the new EcoTec3 engine family has created or retained more than 1,600 jobs in five North American plants, including in the GM Tonawanda engine plant in New York.