GM 6.0 Liter V8 Small Block L76 Engine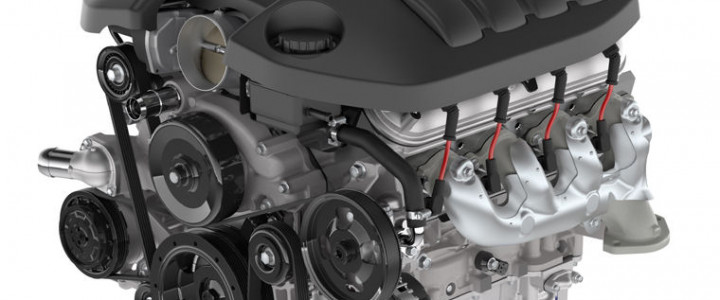 GM 6.0 Liter V8 Small Block L76 Engine
The 6.0 liter V8 L76 engine was produced by General Motors for use in trucks and performance sedans. It is part of GM's Gen IV Small Block engine family and was first introduced in the 2006 Holden Commodore sedan.
6.0L L76 Engine Vitals

| Displacement: | 6.0L / 364 cu. in. |
| --- | --- |
| Aspiration: | Natural |
| Vehicles: | Chevrolet Avalanche, Chevrolet Silverado, Chevrolet Suburban 1500, GMC Sierra, GMC Yukon XL, Holden Commodore, Pontiac G8 |
| Introduced: | 2007 model year |
| Discontinued: | 2009 |
| Predecessor: | LQ9 / Gen 3 Small Block |
| Successor: | L9H / Gen 4 Small Block |
| Assembly: | Romulus, Michigan and Saint Catherines, Ontario, Canada |
There are two specific variants of the L76, one for GM trucks and the other for sedans, and they feature several key performance differences.
Overview
The 6.0L L76 engine debuted in the 2006 Holden Commodore, and was eventually used in several other sedan and truck applications. It is extremely similar to the the 6.0L LS2 engine that debuted in the 2005 Chevrolet Corvette C6, featuring an all-aluminum construction.
The key difference between these Gen IV engines is the inclusion of General Motors' Active Fuel Management system, which was sometimes referred to as "Displacement on Demand." Put simply, LS2 engines with this system were designated as L76.
Due to differences in tuning between the truck and sedan variants of the L76, power ratings are 355 horsepower and 384 pound-feet of torque in the cars, and 367 horsepower and 375 pound-feet of torque in trucks.
Engine highlights include:
Cylinder block: the LS2/L76 cylinder block shares two key design elements with GM's original small-block V8: a 90-degree cylinder angle and 4.400-inch bore centers. The bore and stroke dimensions are: 4.00-inch (101.6 mm) bore x 3.62-inch (92 mm) stroke.
Oiling System: the oiling system is a lightly-tweaked version of what was seen in the Gen III engines. The oil pump is still driven by the crankshaft. However, the addition of active fuel management used in the L76 required a redesign of the oil galleries to maintain adequate oil pressure throughout the engine as various cylinders were deactivated and reactivated in use.
Rotating assembly and windage tray: within the Gen IV block is a durable rotating assembly that includes a steel crankshaft and 6.098-inch-long, powder-metal connecting rods, as well as hypereutectic cast aluminum-alloy pistons. The pistons have a flat top design, and the piston rings have been redesigned to have less friction.
The crankshaft in the Gen IV small block is located with grey iron main caps, comparable to what was found in the Gen III engines.
PCV System: the positive crankcase ventilation system design of the LS2 was lifted from the LS6 engine, which itself, was redesigned from the LS1. Instead of pulling crankcase gases and engine oil blow-by from the valve cover, the system, instead, had its pickup in the valley cover, in between the cylinder banks, beneath the intake manifold. This designed system is better able to capture built up crankcase gases, rather than capture excess oil moving around the valvetrain, reducing possible oil consumption issues noted on early LS1 engines.
Camshaft Design: also rotating inside the engine block is a hydraulic roller-lifter camshaft, however, while the LS2/L76 pulls many design cues from the LS6 before, the newer engine features a notably less aggressive cam profile, with less lift and duration, with comparable LSA. There are slight differences in spec between the car and truck variants of the L76.

The car L76 camshaft's specifications lift include: 0.478/0.466-intake/exhaust lift, 196/208-crank angle degrees intake/exhaust duration at 0.050 tappet lift and 116-degree cam angle lobe separation.
The truck L76 camshaft's specifications lift include: 0.466/0.478-intake/exhaust lift, 196/208-crank angle degrees intake/exhaust duration at 0.050 tappet lift and 116-degree cam angle lobe separation.

Cylinder Head Design: the L76 features different cylinder heads than what is used on the LS2 engine, and are denoted by their "823" casting number. They are still aluminum, but feature rectangular intake ports common with LS3 V8, D-shaped exhaust ports and have a 70cc combustion chamber.

Steel intake and exhaust valves are used in the aluminum alloy heads, and they measure 2.165-inch (55.0mm) intake and 1.59-inch (40.4mm) in diameter. The valves are held at 15 degrees intake/15 degrees exhaust angles.
Valvetrain components include beehive valve springs and roller-pivot rocker arms with a 1.7 ratio – the amount of movement on the valve side of the rocker arm in comparison with the pushrod side.
Pushrod design is common to the Gen III engine, and they measure 7.385-inches long.

Fuel Injection System: sequential port-fuel injection is utilized on all Gen IV engines. Port-fuel injection places the injectors on a fuel rail mounted the intake manifold. From there, the injectors spray fuel into the intake ports, just ahead of the combustion chamber. The fuel then mixes with incoming air before going through the combustion cycle. Sedan L76 injectors are rated at 42 lb/hr @ 58 psi, while truck injectors are rated at 30 lb/hr @ 58 psi.

The LS2 utilizes a conventional in-tank fuel pump, with an in-line fuel filter.

Active Fuel Management: Active Fuel Management temporarily deactivates four of the cylinders and seamlessly reactivates them when the driver demands full power. When cylinders are deactivated, the engine's pumping work is reduced, which translates into real-world fuel economy improvements.
The key to AFM's efficiency and seamless operation is a set of two-stage hydraulic valve lifters, which allows the lifters of deactivated cylinders to operate without actuating the valves. In engineering terms, this allows the working cylinders to achieve better thermal, volumetric and mechanical efficiency and lowering cyclical combustion variation from cylinder to cylinder. As a result, AFM delivers better fuel economy and lower operating costs. The only mechanical components required are special valve lifters for cylinders that are deactivated, and their control system. Active Fuel Management relies on three primary components: Collapsible or "de-ac" (deactivation) valve lifters, a Lifter Oil Manifold Assembly (LOMA) and the engine controller, which determines when to deactivate cylinders.
Exhaust Manifolds: the Gen IV manifolds weigh 1/3rd less than the Gen III manifolds, a function of reduced wall thickness, from 4mm to 3mm. GM claims they also offer a four percent improvement in flow.
Intake Manifold and Electronic Throttle: all Gen IV engines now feature electronic throttle control, which allows for the deletion of an idle-air control motor. The throttle body into the intake manifold measures 87mm (3.43-inches) for the trucks and 90mm (3.55-inches) for sedans. The manifold design used on the sedans is common to what is found on the LS3 V8 engine.
Cooling System: the Gen IV cooling system sees just a light tweak compared to the Gen III engines with a redesigned water pump that is both lighter than the Gen III setup as well as less likely to leak with age, a somewhat common issue with Gen III blocks.
Ignition System: the Gen IV has a more efficient coil-near-plug ignition system with redesigned coil packs.

Unlike some early LS2 engines that use the older 24-tooth reluctor wheel, all L76 engines use the newer 58-tooth setup, which provided more accurate crank position data to the ECU. This system would go on to be standard equipment on all LS-based small block engines going forward.

E38 Engine Controller: operation and performance of the Gen IV is overseen by several different ECMs depending on the model year and crank reluctor wheel setup on the engine. Most L76 engines use an engine controller marked as E38 or E40.
Specifications
Type:
6.0L Gen IV V8 Small Block
Displacement:
6.0L (5965cc / 364 ci)
Engine orientation:
Longitudinal
Compression ratio:
10.4:1 (cars), 9.7:1 (trucks)
Valve configuration:
Overhead valves
Valves per cylinder:
2
Assembly site:
Romulus, Michigan and Saint Catherines, Ontario, Canada
Valve lifters:
Hydraulic roller
Firing order:
1 – 8 – 7 – 2 – 6 – 5 – 4 – 3
Bore x stroke:
101.6 x 92mm
Fuel system:
Sequential Port Fuel Injection
Fuel type:
Premium Recommended
Maximum Engine Speed:
6500 RPM
Materials
Block:
Cast aluminum
Cylinder head:
Cast aluminum
Intake manifold:
Composite
Exhaust manifold:
Cast Iron
Main bearing caps:
Cast Iron
Crankshaft:
Cast Iron
Camshaft:
Billet Steel
Connecting rods:
Forged Powder Metal
Additional features
Active Fuel Management
Electronic throttle control
Oil Life Monitor System
58x crank timing
Emissions controls
Catalytic converter
Three-way catalyst
Positive crankcase ventilation
Vehicle Applications
GM 6.0L V8 Small Block L76 Engine Vehicle Applications
Year
Make
Model
Transmission
Power (hp / kW @ RPM)
Torque (lb-ft / Nm @ RPM)
2007-2013
Chevrolet
Avalanche
4L60E (4-speed auto) / 6L80 (2009+, 6-speed auto)
367 / 274 kW @ 6000
375 / 508 Nm @ 4400
2007-2009
Chevrolet
Silverado 1500
4L60E (4-speed auto)
367 / 274 kW @ 6000
375 / 508 Nm @ 4400
2007-2009
Chevrolet
Suburban 1500
4L60E (4-speed auto)
367 / 274 kW @ 6000
375 / 508 Nm @ 4400
2007-2009
GMC
Sierra 1500
4L60E (4-speed auto)
367 / 274 kW @ 6000
375 / 508 Nm @ 4400
2007-2009
GMC
Yukon XL
4L60E (4-speed auto)
367 / 274 kW @ 6000
375 / 508 Nm @ 4400
2006-2010
Holden
Commodore
6L80E (6-speed auto)
348 / 260 kW @ 6000
381 / 517 Nm @ 4400
2007-2009
Pontiac
G8 GT
6L80E (6-speed auto)
361 / 269 kW @ 6000
385 / 522 Nm @ 4400
Gen IV Small Block Engine Family
Other members of the Gen IV Small Block engine family include:
Gen IV Vortec motors for pickup trucks, consisted of the following engines:
6.0L V8 LY6
6.0L V8 LFA
6.0L V8 LZ1
4.8L V8 LY2
5.3L V8 LH6
5.3L V8 LY5
5.3L V8 LH8
5.3L V8 LH9
6.2L V8 L92