GM 6.6 Liter LMM V-8 Duramax Turbo Diesel Engine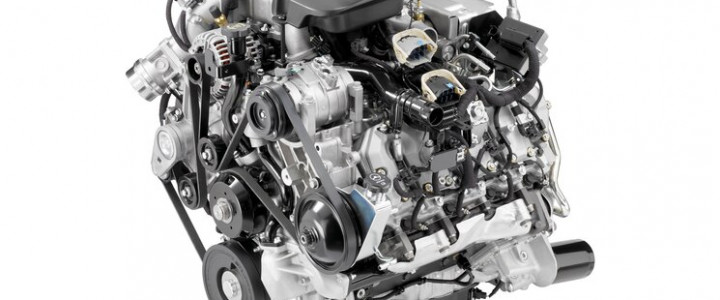 GM 6.6 Liter LMM V-8 Duramax Turbo Diesel Engine
The 6.6-liter LMM Duramax V8 diesel engine was introduced midway through the 2007 model year, when it replaced the 6.6 liter LBZ Duramax variant. As such, it powered Chevrolet Silverado Heavy-Duty and GMC Sierra Heavy-Duty pickup trucks through 2010. During that time, the LMM had an SAE-certified rating of 365 horsepower and 660 pound-feet of torque.
Notably, GM was able to improve the Duramax V8's performance despite more restrictive emissions regulations. Another accomplishment during this time period is the fact that the millionth Duramax V8 engine built was an LMM, assembled in April 2007.
6.6L LMM Engine Vitals

| Displacement: | 6.6L / 403 cu. in. |
| --- | --- |
| Aspiration: | Natural |
| Vehicles: | Chevrolet Silverado HD, GMC Sierra HD |
| Introduced: | 2007 model year |
| Discontinued: | 2010 model year |
| Predecessor: | LBZ Duramax V8 |
| Successor: | LGH Duramax V8 |
| Assembly: | Moraine, Ohio, USA |
Overview
The LMM's release was a response to tightening emissions controls, though that didn't prevent GM from devising innovative ways to refine the power plant. For instance, the engineers added an intake airflow valve, which regulates Exhaust Gas Temperatures (EGTs). GM also implemented a revised head design featured more efficient and effective coolant passages.
The ability to dissipate heat is already a critical component in powertrain management, however, it became even more prominent with the addition of the Diesel Particulate Filter (DPF) and increased Exhaust Gas Recirculation (EGR), which was due to a then-new regulation that required nitrogen oxide (NOx) emissions to be reduced by 50 percent. In order to compensate for the extra duty, a larger EGR cooler was fitted to the LMM Duramax V8.
Despite the more stringent emission controls, the LMM still managed to pose an increase of 5 horsepower and 10 pound-feet of torque compared to its predecessor. Another refined bit of hardware featured on the LMM is a revised fuel injector design. While the LBZ was equipped with a 7-hole, 158-degree injector nozzle, the LMM returned to a 6-hole nozzle design with a 159-degree range.
One unfortunate similarity between the LMM and the LBZ are the infamous pistons, which are prone to cracking under heavy load.
Specifications
GM 6.6L LMM V-8 Duramax Turbo Diesel Engine Specs
Type
6.6L V-8 Turbo-Diesel
GM RPO Code
LMM
Displacement
403 ci
Valve Configuration
Overhead
Valves Per Cylinder
4
Assembly Site
Moraine, Ohio, USA
Valve Lifters
Mechanical roller
Firing Order
1 – 2 – 7 – 8 – 4 – 5 – 6 – 3
Bore x Stroke
4.055 in. / 103 mm x 3.897 in. / 99 mm
Fuel System
Direct injection with high-pressure common rail w/ Bosch CP3 pump
Fuel Type
Diesel
Fuel Tank Size:
26 Gallons
Maximum Powered Speed
3250 rpm
Emissions Controls
Exhaust Gas Recirculation (EGR), Diesel Oxidation Catalyst (DOC), Diesel Particulate Filter (DPF)
Block
Cast iron w/ deep skirt
Cylinder Head
Cast aluminum
Intake Manifold
Cast aluminum
Exhaust Manifold
Cast nodular iron with steel pipe extension
Main Bearing Caps
Cast nodular iron
Crankshaft
Forged steel
Camshaft
Steel
Connecting Rods
Forged Steel
Engine Oil Capacity
10 qt./9.5L w/ Filter
Engine Mass:
Approximately 835 pounds
Vehicle Applications
GM 6.6L LMM V-8 Duramax Turbo Diesel Engine Vehicle Applications

| Year | Make | Model | Transmission | Power (hp / kW) @ RPM | Torque (lb-ft / Nm) @ RPM |
| --- | --- | --- | --- | --- | --- |
| 2007.5-2010 | Chevrolet | Silverado HD | Allison 1000 6-Speed Automatic or ZF S6-650 6-Speed Manual | 365 / 272 @3200 | 660 / 895 @1600 |
| 2007.5-2010 | GMC | Sierra HD | Allison 1000 6-Speed Automatic or ZF S6-650 6-Speed Manual | 365 / 272 @3200 | 660 / 895 @1600 |
Manufacturing
The 6.6L Duramax LMM engine was manufactured at the GM Duramax plant in Moraine, Ohio, USA.