GM 5.7 Liter V8 Small Block LS6 Engine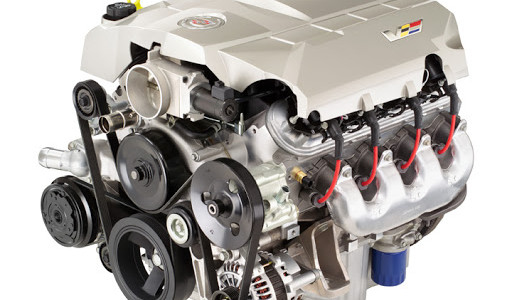 GM 5.7 Liter V8 Small Block LS6 Engine
The 5.7L LS6 V8 engine is part of GM's Gen III Small Block engine family, and was briefly produced by General Motors for use in two high-performance vehicles: the C5-generation Chevrolet Corvette Z06 and the first-generation Cadillac CTS-V.
5.7L LS6 Engine Vitals

| Displacement: | 5.7L / 346 cu. in. |
| --- | --- |
| Aspiration: | Natural |
| Introduced: | 2001 model year |
| Discontinued: | 2005 |
| Predecessor: | LS1 / Gen 3 Small Block |
| Successor: | LS2 |
| Assembly: | Saint Catherines, Ontario, Canada |
This is not the first time Chevy used the LS6 designation, as a completely different engine based on the automaker's big block V8 architecture used the same LS6 RPO Code and displaced a massive 7.4-liters (454 cubic-inches). The big block LS6 was manufactured from 1970 to 1976 in several General Motors products, including the Chevrolet Caprice, Chevelle, Corvette, El Camino, and Monte Carlo as well as the GMC Sprint.
To clarify, the old school big block LS6 V8 has no mechanical relation to this third-gen small block LS6 motor.
Overview
The 5.7L LS6 debuted in the 2001 Chevrolet Corvette Z06 as a high-performance variant of the LS1 engine found in the standard Corvette C5. It carried on the same basic architecture and principles of the LS1, including the block design and overall engine displacement, with some performance-enhancing upgrades added.
When the LS6 was introduced in 2002, it produced 385 horsepower and later saw a bump to 405 horsepower and 400 pound-feet of torque in 2002. Both figures are healthy improvements over the standard LS1 engine's 350 horsepower.
The LS6 featured a higher-flowing intake, stiffer valvetrain and a more aggressive camshaft than the LS1 engine. Additionally, the Z06 featured an ultra lightweight titanium exhaust system, which offered a marginal increase in power.
Other LS6 engine highlights include:
Cylinder Block: the Gen III cylinder block shares key design elements with GM's original small-block V8: 90-degree cylinder angle and 4.400-inch bore centers.

The bore and stroke dimensions are: 3.90-inch (99 mm) bore x 3.62-inch (92 mm) stroke.
The majority of the bottom end components are common to the LS1 engine.

Rotating Assembly: within the Gen III block is a durable rotating assembly that includes a cast iron crankshaft and 6.098-inch-long, powder-metal connecting rods, as well as M142 hypereutectic cast aluminum-alloy pistons.

The connecting rods have an I-beam design, and are common to the LS1 engine.

Cylinder Head Design: the LS6 cylinder heads were lightly revised from what was featured on the LS1 engine, still featuring all-aluminum construction.

Compared to the LS1 cylinder head design, the LS6 head features a slightly smaller, 65cc combustion chamber, this it what gives he LS6 the extra 0.4 on the 10.5:1 compression ratio. This is offset by slightly larger intake runners, with 210cc of displacement and exhaust runners with 75cc of displacement. Curiously, while both the LS1 and LS6 feature Cathedral intake port shapes, the LS6 utilizes a D-shape exhaust port compared to the LS1's oval port.
Steel intake and exhaust valves are used in the aluminum alloy heads, with 2.00-inch (50.8mm) intake and 1.55-inch (40mm) sodium-filled exhaust valves. The valves are held at 15 degrees intake/15 degrees exhaust angles.
Valvetrain components include beehive valve springs and roller-pivot rocker arms with a 1.7 ratio – the amount of movement on the valve side of the rocker arm in comparison with the pushrod side. Unfortunately, late model LS6 engines are been known to crack the updated yellow-colored valve springs.
Pushrod design is common to the LS1 engine, and measure 7.385-inches long.

Camshaft Design: the LS6 engine uses a hydraulic roller-lifter camshaft. Much like the LS1 engine, the LS6 received two slightly varied cam specifications depending on the application and model year.

The LS6 found in the 2001 Corvette Z06 has the following camshaft specifications:

0.525/0.525-intake/exhaust lift
204/211-crank angle degrees intake/exhaust duration at 0.050 tappet lift
116-degree cam angle lobe separation

The LS6 found in the 2002-2004 Z06 and the first-gen Cadillac CTS-V has the following cam specifications:

0.555/0.551-intake/exhaust lift
204/218-crank angle degrees intake/exhaust duration at 0.050 tappet lift
117.5-degree cam angle lobe separation

Exhaust Manifolds: the LS6 engine uses a cast iron "four-into-one" short-header exhaust manifold design that is common to the LS1 engine.
Intake Manifold: the LS6 features a higher-flowing intake manifold compared to the LS1.

It also utilizes slightly larger 30 pound-per-hour fuel injectors, an upgrade that eventually became standard on later LS1 engines.

Oiling System: the oiling system is common to the LS1 engine, with a conventional "wet sump" design with the oil pickup being rear-mounted in the oil pan.

The oil pump is on the front of the block, and the oil filter is near the rear of the engine.
All Gen III engines are designed to be used with GM's AC Delco motor oil; the LS6 5.7L uses 5W30.

PCV System: General Motors redesigned the positive crankcase ventilation system from the LS1 to the LS6.

Instead of pulling crankcase gases and engine oil blow-by from the valve cover, the system, instead, had its pickup in the valley cover, in between the cylinder banks, beneath the intake manifold.
This designed system is better able to capture built up crankcase gases, rather than capture excess oil moving around the valvetrain, reducing possible oil consumption issues noted on early LS1 engines.

Cooling System: the LS6 features a cooling system that is common to the LS1 engine, with a belt-driven water pump, front-mounted radiator and an electric fan. No oiling cooling provisions were added or made for the LS6.
Fuel Injection System: port-fuel injection is utilized on all Gen III engines. Port-fuel injection places the injectors on a fuel rail mounted the intake manifold. From there, the injectors spray fuel into the intake ports, just ahead of the combustion chamber. The fuel then mixes with incoming air before going through the combustion cycle.

The LS6 utilizes a conventional in-tank fuel pump, with an in-line fuel filter.

24X Ignition System: All Gen III engines use a 24X crankshaft reluctor wheel to keep engine time.
P59 Engine Controller: The LS6 PCM is similar to the LS1 unit, however, there were three different engine controllers used across the life of the LS1 engine. The LS6 uses the latest of the three units, GM part #12200411.
General Specifications
Type:
5.7L Gen III V8 Small Block
Displacement:
5.7L (5670cc / 346 ci)
Engine orientation:
Longitudinal
Engine Mass: 458 pounds / 207.745 kilograms
Compression ratio:
10.5:1
Valve configuration:
Overhead valves
Valves per cylinder:
2
Assembly site:
St. Catherine's, Ontario, Canado
Valve lifters:
Hydraulic roller
Firing order:
1 – 8 – 7 – 2 – 6 – 5 – 4 – 3
Bore x stroke:
99 x 92mm
Fuel system:
Sequential Port-fuel Injection
Fuel type:
Premium Recommended
Maximum Engine Speed:
6500 RPM
Emissions controls
Catalytic converter
Positive crankcase ventilation
Materials
Block:
Cast aluminum
Cylinder head:
Cast aluminum
Intake manifold:
Composite
Exhaust manifold:
Cast Iron
Main bearing caps:
Steel
Crankshaft:
Cast Iron
Camshaft:
Billet Steel
Connecting rods:
Forged Powder Metal
Vehicle Applications
GM 5.7L V8 Small Block LS6 Engine Vehicle Applications

| Year | Make | Model | Transmission | Power (hp / kW @ RPM) | Torque (lb-ft / Nm @ RPM) |
| --- | --- | --- | --- | --- | --- |
| 2001 | Chevrolet | Corvette C5 Z06 | 6-speed manual (MM12) | 385 / 287 kW @ 6000 | 385 / 522 Nm @ 4800 |
| 2002-2004 | Chevrolet | Corvette C5 Z06 | 6-speed manual (MM12) | 405 / 302 kW @ 6000 | 400 / 542 Nm @ 4800 |
| 2004-2005 | Cadillac | CTS-V | 6-speed manual (T-56) | 400 / 302 kW @ 6000 | 395 / 536 Nm @ 4800 |
Gen III Small Block Engine Family
Other members of the Gen III Small Block engine family include:
Vortech 4800
Vortech 5300

5.3 V8 LM7
5.3 V8 L59
5.3 V8 LM4
5.3 V8 L33

Vortech 6000
Gallery
6.0 V8 LS6 News
1

Designed specifically for forced induction setups.