GM 5.3 Liter V8 Small Block LS4 Engine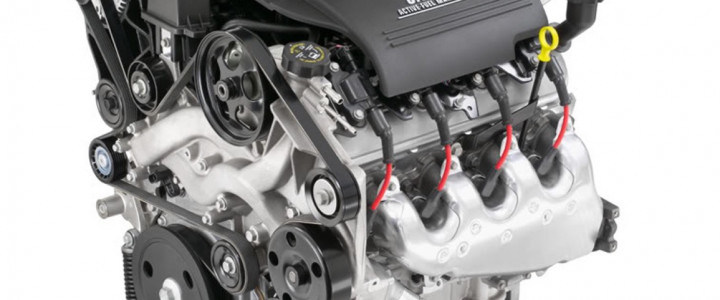 GM 5.3 Liter V8 Small Block LS4 Engine
The LS4 is an engine produced by General Motors for full-size vehicles. Displacing 5.3 liters in a V8 configuration, the LS4 is the only member of the Small Block engine family to be offered in a transverse configuration. Based on the fourth-generation architecture, the LS4 was used in full-size passenger cars, includng the Chevrolet Impala SS and Monte Carlo SS, Buick LaCrosse Super, and Pontiac Gran Prix GXP.
5.3L LS4 Engine Vitals

| Displacement: | 5.3L / 325 cu. in. |
| --- | --- |
| Aspiration: | Natural |
| Vehicles: | Chevrolet Impala SS, Monte Carlo SS, Buick LaCrosse Super, Pontiac Grand Prix GXP |
| Introduced: | 2005 model year |
| Discontinued: | 2009 |
| Predecessor: | LS1 / Gen 3 Small Block |
| Successor: | LS3 / Gen 4 Small Block |
| Assembly: | Saint Catherines, Ontario, Canada |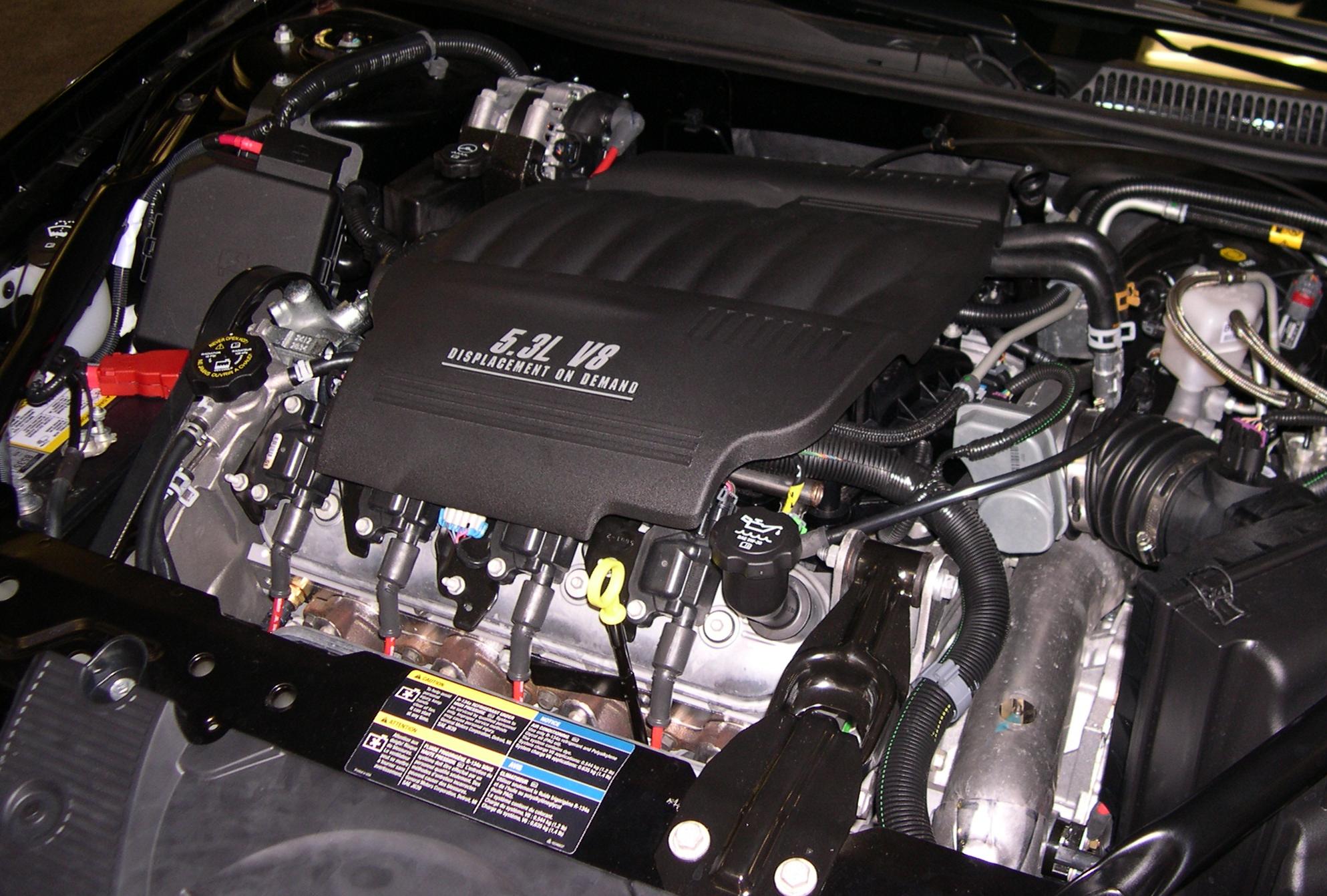 While the 5.3L LS4 V8 was the first car engine to feature Active Fuel Management (cylinder deactivation) technology, it was not Flex Fuel capable and did not have variable valve timing. As mentioned, the LS4 is unique as it was the only member of the LS family to feature a transverse configuration, as it was used in front-wheel drive applications.
When it was introduced in the 2005 Pontiac Grand Prix GTP, it created the first V8-powered Grand Prix since the last rear-drive platform in 1987. A year later, the LS4 powered the return of two iconic cars: The Chevrolet Impala SS and Monte Carlo SS.
The LS4's front-wheel drive provisions resulted in several key distinctions between it and other LS-based motors:
Start provision is located on the transmission rather than the engine block itself
Mated to a 60-degree V6 bellhousing
Application-specific motor mounts
Smaller intake manifold than other LS engines

Throttle body provision placed on opposite end

Modified crankshaft, timing cover, and accessory drive belt system for front-wheel drive applications
With a returnless fuel injection system as well as revised sealing technology for the intake system, the 5.3L LS4 V8 generates essentially zero evaporative emissions.
Engine highlights:
Cylinder Block: Aluminum, 325 cubic-inch, six-bolt block with three main thrust bearings. The cross-bolted main-bearing caps limit crank flex and stiffen the engine's structure.
Cylinder Heads and Valvetrain:
Intake Manifold:
Advanced MAP Sensor: An advanced manifold absolute pressure (MAP) sensor completes upgrades to the 5.3L LS4's control system. The MAP sensor is a variable resistor used to monitor the difference between atmospheric and manifold pressure, which tends to increase when the engine is operating under a higher load or at wide-open throttle. The ECM uses information from the MAP sensor to adjust spark timing and fuel delivery to optimize performance and minimize emissions.

In the LS4, the sensor has been moved to a new location on the intake manifold further from the throttle body. This improves fidelity by isolating the sensor from disturbances caused by the throttle's movement, and takes full advantage of the E67 ECM's capabilities.
The LS4 also utilizes a 4-bolt, 76 mm throttle body

Ignition System: from 2005 until earl 2007, the LS4 utilized a 24x camshaft reluctor ring. Then, from mid-2007 til 2009, the LS4 was fitted with an advanced 58X crankshaft position encoder to ensure that ignition timing is accurate throughout its operating range. The new 58X crankshaft ring and sensor provide more immediate, accurate information on the crankshaft's position during rotation. This allows the engine control module to adjust ignition timing with greater precision, which optimizes performance and economy. Engine starting is also more consistent in all operating conditions.
E67 Engine Control Module (ECM): an advanced controller manages the multitude of operations that occur within the 5.3L car V8 every split second. The E67 is the high-line controller in GM's new family of three engine control modules (ECM), which will direct nearly all the engines in Powertrain's line-up. It features 32-bit processing, compared to conventional 16-bit processing, with 32 megabytes of flash memory, 128 kilobytes of RAM and a high-speed CAN bus. It synchronizes more than 100 functions, from spark timing to cruise control operation to traction control calculations, and it will work in vehicles with different generation vehicle wiring systems, or LANs.
Specifications
GM 5.3L V8 Small Block LS4 Engine Specs
Type:
5.3L Gen IV V8 Small Block
Displacement:
5328 cc (325 ci)
Engine Orientation
Transverse
Compression ratio:
10:1
Bore Center (mm)
124.81
Engine Mass (kg/lbs)
216.8 / 478
Valve configuration:
Overhead valves
Valves per cylinder:
2
Assembly site:
–
Valve lifters:
Hydraulic roller
Firing order:
1 – 8 – 7 – 2 – 6 – 5 – 4 – 3
Bore x stroke:
96 x 92 mm
Fuel system:
Sequential fuel injection (SFI)
Fuel type:
Premium fuel recommended, not required.
Maximum Engine Speed:
6000 RPM
Materials
Block:
Cast aluminum
Cylinder head:
Cast aluminum
Intake manifold:
Composite
Exhaust manifold:
Cast nodular iron
Main bearing caps:
Powder metal
Crankshaft:
Cast nodular iron with undercut and rolled fillets
Camshaft:
Hollow steel
Connecting rods:
Powdered metal
Additional features
Extended life spark plugs
Extended life coolant
Active Fuel Management
Oil Life Monitor System
Oil Level Sensor
Electronic throttle control
Extended life accessory drive belt
Emissions controls
Catalytic converter
Three-way catalyst
Positive crankcase ventilation
Vehicle Applications
GM 5.3L V8 Small Block LS4 Vehicle Applications

| Year | Make | Model | Transmission | Power (hp / kW) | Torque (lb-ft / Nm) |
| --- | --- | --- | --- | --- | --- |
| 2005-2008 | Pontiac | Grand Prix GXP | 4-Speed Auto (4T65E-HD) | 303 / 226 | 323 / 438 |
| 2006-2007 | Chevrolet | Monte Carlo SS | 4-Speed Auto (4T65E-HD) | 303 / 226 | 323 / 438 |
| 2006-2009 | Chevrolet | Impala SS | 4-Speed Auto (4T65E-HD) | 303 / 226 | 323 / 438 |
| 2008-2009 | Buick | LaCrosse Super | 4-Speed Auto (4T65E-HD) | 303 / 226 | 323 / 438 |
Manufacturing
The 5.3L LS4 engine was manufactured at the Saint Catherines plant in Ontario, Canada.
Gen IV Small Block Engine Family
Other members of the Gen IV Small Block engine family include:
Gen IV Vortec motors for pickup trucks, consisted of the following engines:
6.0L V8 LY6
6.0L V8 LFA
6.0L V8 LZ1
4.8L V8 LY2
5.3L V8 LH6
5.3L V8 LY5
5.3L V8 LH8
5.3L V8 LH9
6.2L V8 L92