GM Defense Infantry Squad Vehicle (ISV)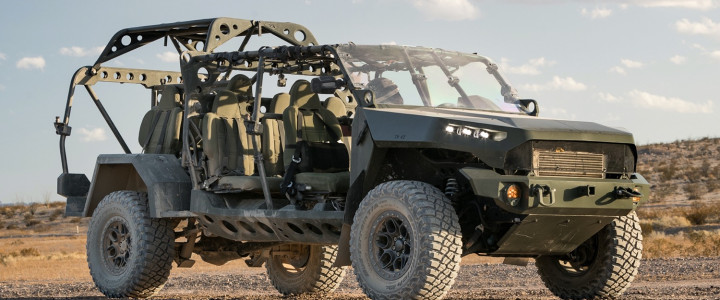 GM Defense Infantry Squad Vehicle (ISV)
The GM Defense ISV (Infantry Squad Vehicle) is a military-grade vehicle commissioned for the U.S. military. The model is based on the Chevrolet Colorado ZR2, and utilizes Chevrolet Performance off-road racing components. In fact, as much as 70 percent of the General Motors ISV incorporates commercial-off-the-shelf (COTS) components from the Colorado ZR2. It brings mobility to the battlefield with increased transportability and is the culmination of an 18-week development period and a partnership with global engineering firm Ricardo.
Initially, the company was set to deliver 649 examples of the GM ISV to the U.S. military at a cost of $214.3 million USD – as per the government contract it was awarded in June of 2020 – and has the capacity to produce up to 2,065 vehicles over an eight-year period should the need arise. GM Defense recently inaugurated the North Carolina facility that will handle production of the ISV.
GM Defense Infantry Squad Vehicle (ISV) Quick Facts

| | |
| --- | --- |
| Assembly location | Concord, North Carolina, USA |
| Layout | Front-Engined, Longitudinal |
| Engine | Duramax 2.8L I-4 LWN |
| Transmission | 6-Speed Auto |
| Drive wheels | Four-Wheel Drive with Hi/Lo functionality |

Mechanical Overview
Transportability
The open-cockpit design allows for easy egress and ingress, and can carry up to nine passengers. Other objectives include a 5,000 curb weight capacity, and the ability to be carried inside a CH-47 Chinook helicopter or slung-lifted by a UH-60 Blackhawk helicopter.
The GM Defense ISV also has the ability to transport wounded soldiers on a stretcher.
Powertrain
As we mentioned, the GM Defense ISV is primarily based on the Chevy Colorado ZR2 off-road performance pickup truck. As such, the GM ISV is powered exclusively by the Duramax turbo-diesel 2.8L LWN I4 engine, which is paired with a 6-speed automatic transmission and a four-wheel-drivetrain configuration. The automaker says that it is currently focused on meeting the objectives set fourth by its customer, the U.S. military, but that it's possible for future iterations to incorporate hybrid technology, including fuel cell technology. To that end, an electric variant – referred to as the All Electric Concept Vehicle – was recently unveiled and utilizes the GM E-Crate powertrain derived from the Bolt EV. To clarify, this variant is currently just a concept.
Suspension
The ISV incorporates the MultiMatic Dynamic Suspensions Spool Valve (DSSV) dampers developed for the civilian-spec Colorado ZR2, however, the GM ISV's DSSV dampers actually use a unique tune that's specific to the military-spec vehicle, as GM Authority reported. According to Mark Dickens, the tuning differences for the GM ISV's DSSV dampers stems from the military vehicle's higher Gross Vehicle Weight Rating (GVWR), given the GM ISV weighs more than a standard, unladen Chevy Colorado ZR2. The custom suspension tuning enables the GM ISV to have greater suspension travel.
Technology
The GM Defense ISV uses the Live Gauges C127 product, which is a full-color, high-resolution (800×480) digital gauge with a screen measuring seven inches diagonally. Set inside a protected enclosure, the gauge cluster in question is supplied by MoTeC – a self-described "world leader in twenty-first century motorsport technology." The ultra-bright, anti-reflective TFT LCD makes it easy to view in direct sunlight, while numerous configurable layouts are also present. The device also offers data logging to a USB drive, auxiliary controls and programmable LEDs all in one streamlined device.
GM Defense ISV Production
The first 27 units of ISV were built in Michigan at GM's Milford Proving Ground facility, while the remaining units are set to be built at General Motors' existing technical center in Concord, North Carolina. Renovations at the plant are expected to continue into early spring, with the production line set to start in on May 4th of 2021.
The very first GM ISV unit was delivered to the U.S. Army back in October 2020. Prior to its completion, GM worked with U.S. soldiers in an effort to refine and optimize the final product.
"The value we bring to our Army customer is our willingness to listen and adapt," GM Defense chief engineer, Mark Dickens, said in a statement. "During Soldier testing, the feedback we received was paramount in delivering a vehicle that met Soldiers' needs, while maximizing safety and performance and taking their comfort into consideration. The production ISV we're delivering today is an evolution from our original prototype design, and it's certainly a vehicle that is a source of pride for the team."
And while some quick math would suggest that each unit costs $330,200 – based on the $214.3 million contract that procured the initial 649 units – GM Defense has gone on the record to say that this isn't a strictly accurate figure. As such, actual GM Defense Infantry Squad Vehicle pricing remains a mystery.
In terms of profitability, GM Defense believes there is potential for other, military contracts in the future. In fact, the subsidiary believes there's enough potential to support a $25 billion market.
GM Defense Infantry Squad Vehicle Photos
GM ISV News
2

Combining GM Defense's ISV with Black Sage's C-UAS solution.

24

Full-rate production given the go-ahead.