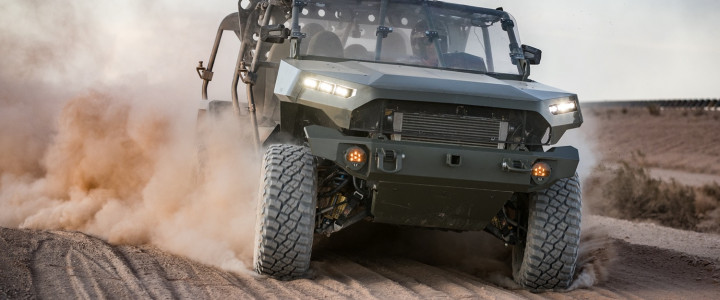 GM Defense
General Motors formed the GM Defense subsidiary in 1949, which was acquired by General Dynamics in 2003, and later became part of the General Dynamics Land Systems division.
General Motors reestablished the military vehicle and technology division back in 2017 as GM Defense LLC. The Current leadership includes Steve duMont as the newly appointed President of GM Defense, Rick Kewley who became the Executive Chief Engineer in March of 2021, and Mark D. Dickens as the Architectural Chief Engineer.
Notably, the automaker has been actively involved with the U.S. military since World War I, when ninety percent of GM's truck production was directed toward war manufacturing with over 8,500 trucks going to the war effort.
Military Support Effort Timeline
1914 – World War I: 90 percent of GM's truck production was directed toward war manufacturing with over 8,500 trucks going to the war effort.
1939 – World War II: More than 100 GM plants had been converted to produce, "an avalanche of weapons" totaling $12,322,000,000 in 1945 dollars. Over 113,000 employees entered the service during the war.

GM DUKW WWI Amphibious Landing Craft:
General Dwight D. Eisenhower called the DUKW, "one of the most valuable pieces of equipment produced by the United States during the war."

1950 – Korean War: Continuing support for the Military effort, GM manufactures J65 Turbo Jet aircraft engines, over 8 million bazooka shells, and 5,431 anti-aircraft guns.
1965 – Vietnam War: General Motors built 20mm automatic anti-aircraft guns, and was the largest producer of the M-16 rifle with over 469,000 built.
1983: GM introduces the Commercial Utility Cargo Vehicle (CUCV) for military use and delivered over 70,000 units.
2012 – Fuel Cell Technology Support: After 3.2 million consumer-driven miles accumulated through General Motors' Project Driveway, the U.S. military partners with GM to demonstrate the practicality and applicability of hydrogen fuel cell technology, with the world's first military fuel cell vehicle fleet.

Unmanned Undersea Vehicle (UUV): General Motors, the Office of Naval Research and the U.S. Naval Research Laboratory are cooperating to incorporate automotive hydrogen fuel cell systems into the next generation of autonomous unmanned undersea vehicles.

2016 – Chevy Colorado ZH2 Concept: GM and U.S. Army TARDEC partner to develop and successfully test the Chevrolet Colorado ZH2 fuel cell electric truck, with low acoustical and heat signatures as well as the advantages of on-board water production, exportable electric power and off-road capability.
2018 – Silent Utility Rover Universal Superstructure (SURUS) Concept: The first autonomous fuel cell vehicle with an adaptable superstructure can be configured as a truck, cargo, command center, ambulance and mobile power generator. Benefits include quiet and odor-free operation, exceptional off-road mobility and maneuverability, field configurable and on-board water generation.

Chevy Silverado ZH2 Concept: The first heavy duty truck architecture capable of supporting the next generation of vehicle requirements for higher payload, flexible configuration, longer range, and faster re-fueling times with more compact & capable propulsion system.

2019 – ISV (Infantry Squad Vehicle): The Army Selects GM Defense's Infantry Squad Vehicle (ISV) to compete for a future acquisition of a highly mobile, all-terrain vehicle capable of carrying 9 soldiers at appropriate speeds both on- and off-road. Based on the Chevrolet Colorado frame and featuring 90 percent commercial off-the-shelf parts, ISV demonstrates GM Defense's engineering and manufacturing capability and capacity for flexibility and innovation.
GM Defense News
0

More-effective delivery of military solutions to global customers.

5

Full production expected next year.