OnStar Theft Alarm Notification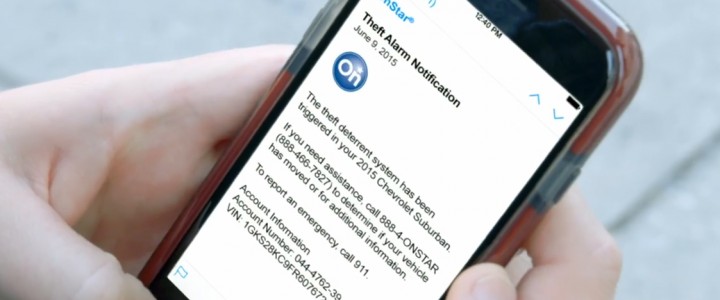 OnStar Theft Alarm Notification
Theft Alarm Notification is an OnStar feature that alerts vehicle owners when their car alarm sounds.
Part of the OnStar Stolen Vehicle Assistance feature set, Theft Alarm Notification delivers owners extra peace of mind every time they lock their vehicle's doors. If the car alarm sounds, OnStar will immediately notify the owner by email, text message (SMS), or a phone call — based on the owner's preference — to quickly and safely recover the vehicle. After the owner reports their vehicle as stolen, they should contact OnStar for Stolen Vehicle Assistance.
Notes Of Interest
Theft Alarm Notifications are sent only to the vehicle's owner using contact information configured during the first OnStar call.
OnStar does not notify police of a Theft Alarm Notification; that is up to the owner at his or her discretion.
The Theft Alarm Notification service may alert you to a theft in progress. As such:

Always use caution and good judgment.
Do not approach the vehicle unless you are certain the situation is safe.

Your vehicle's electrical systems and your smartphone (or other device) must be operative and sending/receiving data via wireless services and GPS satellite signals for the Theft Alarm Notification service to function properly.
Not available for fleet and rental account vehicles.
Finally, OnStar states that it "is not responsible for the acts of third parties" and that the Theft Alarm Notification service "is subject to OnStar Terms & Conditions and Privacy Statement".