OnStar Location Manager
Location Manager is a feature of the OnStar RemoteLink mobile app as well as the myChevrolet, myCadillac, myBuick and myGMC mobile apps, that allows users to find their vehicle on a map.
The feature is particularly useful when a driver forgot where he or she parked their vehicle.
OnStar Location Manager also integrates with OnStar FamilyLink, enabling subscribers to see their vehicle's location on a map at any time. This feature is useful when family members travel on their own.
How It Works
To use Location Manager, users need to launch one of the aforementioned mobile applications and enter the section entitled "Navigation".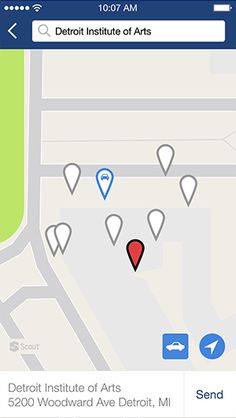 There, users will be shown a map with two icons: one in the shape of a car and the other in the shape of an arrow.
Tapping on the icon in the shape of a car will locate the vehicle and show it on the map.
Tapping on the icon in the shape of an arrow will show the location of the user's mobile device on the map.
Users can also search for a destination or point of interest and send it to their vehicle. Once they get in and start their car, route guidance will begin.