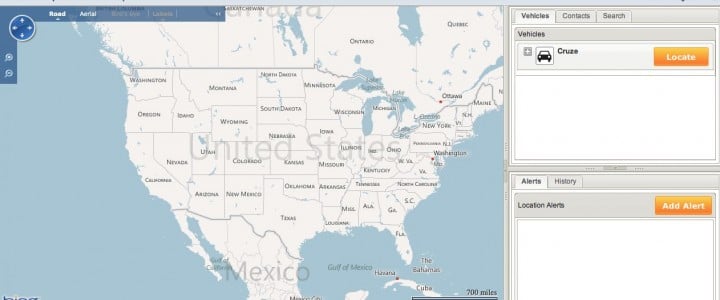 OnStar Family Link
Family Link is an add-on feature of OnStar that enables vehicle owners to access the location of their OnStar-equipped vehicle and receive email or text/SMS-based alerts about the vehicle's location. The service aims to bring peace of mind for families in such cases as when a parent's vehicle is being driven by a teenager.
Features
Family Link consists of four features:
Vehicle Locate
Scheduled Alerts
Boundary Alerts
Destinations Arrival/Departure Alerts
Vehicle Locate
Vehicle Locate allows users to find out where their vehicle is at any time. Accessing Family Link online shows a map with the vehicle's exact location.
Usability examples:
If you've got a new driver in the house and Vehicle Locate gives you peace of mind as he takes to the road.
If your family member is driving across the state to visit a friend, use the Vehicle Locate feature to check on her progress.
If your spouse is unreachable and driving in inclement weather, the Vehicle Locate feature can help you determine when he might be home safe and sound.
Scheduled Alerts
Scheduled Alerts allows users to set up email or text message (SMS) notifications, which then lets the vehicle owner know the location of their vehicle. Owners can choose the day, time and frequency of the alerts.
Usability example: if a teen driver is supposed to be at a friend's house for a sleepover, parents can check the location of the vehicle.
Boundary Alerts
Boundary Alerts sends the vehicle owner an alert any time the vehicle enters or exits a specified boundary. The owner can pick the size of the boundary radius.
Usability example: receive a Boundary Alert if the vehicle comes within five miles of downtown or leaves a 40 mile radius around a predetermined area, such as the owner's house.
Destination Arrival/Departure Alerts
Destination/Departure alerts sends an alert when your vehicle leaves or arrives at a location on days that you choose.
Usability example: if your teen driver drives to school every day, you can be notified when the vehicle arrives at school on Monday through Friday.
Pricing
OnStar Family Link is priced at $3.99 per month in addition to an OnStar subscription.