General Motors Night Vision Technology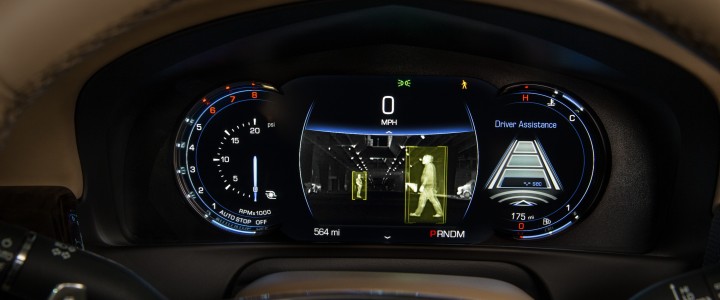 General Motors Night Vision Technology
Night Vision is a General Motors active safety technology that provides the driver an infrared night vision image of the area lit beyond a vehicle's headlamps in order to detect pedestrians or large animals.
Initial Introduction
The first series production car with night vision was the 2000 Cadillac DeVille.
Developed in conjunction with Raytheon, the system utilized a passive infrared sensor camera mounted behind the vehicle's grille. The sensor detected infrared radiation, which was then processed by the system's computer, and the image was then displayed on the windshield using a head-up display (HUD). The image was black and white, with warmer objects appearing in white and cooler objects in black. Cadillac discontinued the Night Vision option in 2004.
Enhanced Night Vision
After nearly 12 years, General Motors re-introduced night vision technology as Enhanced Night Vision on the 2016 Cadillac CT6. The system uses a dedicated infrared camera mounted in the upper corner of the grille to identify people, large animals and more via heat signatures. It then displays them in the vehicle's Driver Information Center (DIC).
Vehicle Availability
Currently, Enhanced Night Vision is available on the Cadillac CT6 and 2021 Cadillac Escalade.